Motorola Unleashes an Android Onslaught
Motorola delivered on its rumored Android tablet Wednesday. It presented the Xoom, a tablet running Android 3.0, aka "Honeycomb." The tablet will have 4G capabilities using Verizon's network. Another star of Motorola's show was the Atrix, a heavily powered smartphone that can connect with a docking station to create a laptop- or desktop-like form factor.
Motorola launched a salvo of mobile devices Wednesday at its press event at the Consumer Electronics show, including a new tablet device running Android 3.0, aka "Honeycomb."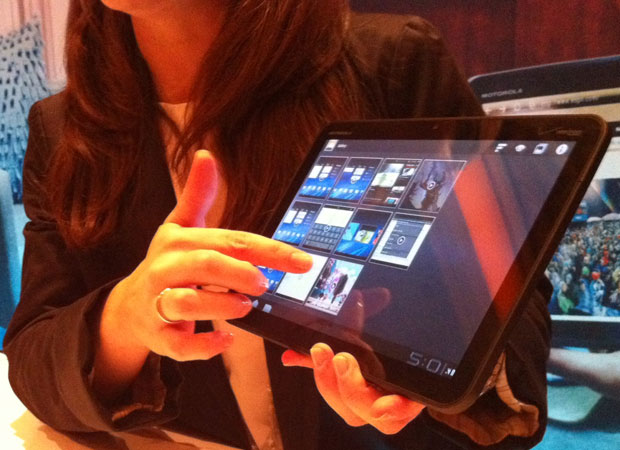 The Motorola Xoom
The launch comes a day after Motorola Mobility split into its own company, a move that the market reacted favorably toward Tuesday.
In addition to the tablet, named the "Xoom," Motorola launched the Cliq 2 and Droid Bionic handsets, as well as the Atrix, which Motorola called the most powerful smartphone on the market.
Honeycomb's Big, Yeah Yeah Yeah
Expectations surrounding the Motorola tablet were running high long before this week. In December, a teaser video surfaced on the Web implying Motorola had a tablet device in store, and rumors suggested it would run the Android 3.0 operating system.
"We have seen the market for tablets grow over the last 12 months, and I've been asked many times whether we're going to enter this space," Motorola Mobility CEO Sanjay Jha told the audience.
Jha then proved the hearsay true in unveiling the Xoom. It will run Honeycomb, the first version of Android made specifically for tablet computers.
"It's been designed ground-up for the tablet," said Jha.
The 1.6-lb. Xoom features a 5 megapixel rear-mounted camera that can capture 720p HD video as well as a 2 MP front-facing camera for video chat. It runs on a dual-core chip providing a total of 2 Ghz of processing power. Its battery boasts up to 10 hours of video playback, it can run Flash 10.1, and it contains 32 GB of on-board memory. Its demensions are 9.8 by 6.6 by 0.5 inches. Diagonally, its screen measures 10.1 inches.
In terms of network compatibility, Motorola plans to first launch a 3G-compatible Xoom in the first quarter of this year, then expand the line with a 4G unit in the second quarter. However, users of the 3G version will be able to partake in 4G eventually.
"All the 3G devices will be upgradable to 4G," Jha said.
Xoom will debut with Verizon Wireless as its cellular carrier in the U.S.
Smartphone, Expanded
Xoom shared the spotlight with another new Motorola offering: the Atrix 4G, an Android smartphone that's compatible with a range of docking accessories that enable it to transform into a desktop- or laptop-like form factor.
The phone itself features a dual-core processor that offers 2 Ghz of power, as well as 1 GB of RAM, leading Motorola to claim the Atrix is the "world's most powerful smartphone." It also features a fingerprint reader for secure and fast locking and unlocking.
Perhaps the most notable feature of the Atrix is its compatibility with several accessories that can turn it into a device more like a small laptop or desktop computer, as demonstrated by Seang Chau, VP and chief software engineer at Motorola Mobility. The company will offer a dock with USB ports and an HDMI plug, enabling the user to navigate the phone's features using a full-sized keyboard, monitor and mouse. The unit is still powered entirely by the phone, with no performance assistance from the accessories.
Another accessory will provide a laptop form factor.
Using the docking accessory, the user can interact with the phone using a desktop-like GUI, including a resizable window that mirrors the phone's standard handset GUI. Phone functionalities like the ability to make calls is integrated, and the desktop GUI was demoed running a full desktop version of Firefox as well as Flash 10.1.
The Motorola Atrix laptop dock and desktop dock.
The Atrix will debut in the U.S. exclusively on AT&T in the first quarter, a departure from Motorola's traditionally close ties with Verizon, which has launched a number of flagship Motorola Android phones over the last year. With the Atrix, it appears AT&T will have a premium Android phone to offer if its partnership with Apple for exclusive U.S. rights to the iPhone comes to an end. Expectations are high that Apple's phone will officially expand to Verizon in the coming weeks.
Runners-Up
Two other smartphones made their debut on the Motorola stage Wednesday: The Cliq 2 and the Droid Bionic.
The Cliq 2 grows from its predecessor to offer a variety of business-oriented features to its set of social functions. The 1 GHz Android phone features a slide-out keyboard with a diamond-shaped key layout, which Motorola claims facilitates easier typing. Users can customize the device to use different profiles for "home," "work" and "weekend."
The business end relates to what Motorola called "IT friendly" features for functions like security and calendaring.
The Cliq 2 comes to T-Mobile on Jan. 19.
Finally, Motorola added yet another device to its Droid family of Verizon phones with the Droid Bionic, Motorola's first 4G LTE phone. Like the Atrix, the Bionic features a dual-core processor, though it packs about half the memory at 512 Mb. The Bionic will feature 4G video chat as well as HD video capabilities.
"This device will be available in early second quarter with Verizon Wireless," Jha remarked.