Job Hunt Express: A Helpful App for Catching the Employment Train
Even in the best of times, job hunting is a taxing task, but in these economic conditions, it can be a crushing experience. Fruitless replies to job notices, dead-end interviews and inhuman human resource departments can grind a job seekers' resolve to dust.
One way to beat the no-job blues is to purge the word "unemployed" from your vocabulary. You're not unemployed. You've got a new full-time job. That job is finding a new job.
Moreover, that full-time job is a sales job. So what could be better than applying to your employment search sales force automation techniques that have been proven to work?
That's the thinking behind the Microsoft Windows application Job Hunt Express (US$29.95), introduced this summer by JRBM Software, of Cumberland, R.I.
Turn Ordeal Into Opportunity
"Everything is different now," according to JRBM cofounder J.R. Rodrigues.
"In the past nine months, the job hunt has become an unfamiliar and overwhelming ordeal for the typical candidate," he continued. "It is no longer enough to send out a few resumes and wait for a call back. Instead, it has morphed into a high-volume strategy and numbers game in which job seekers must apply to many more open positions, follow up more frequently with recruiters and hiring managers, and network with more business and social contacts than ever before.
"To complicate matters further," he added, "job hunters must seek out and follow through with widely scattered online job postings, newspaper job listings, recruiters, friends/colleagues, job fairs, and other networking events."
Job Hunt Express is designed to improve the quantity and quality of a job seeker's efforts. It furnishes you with a central place to store job search information. Then it allows you to organize that information so your job ferreting efforts can be pursued strategically, effectively and consistently.
Three-Pane Approach
The software's interface is built around three window panes.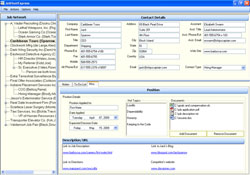 Horizontal planes contain contact info as
well as notes, to-do's and miscellaneous items.
(click image to enlarge)
A vertical pane along the left side of the interface contains a job contact tree. The tree structure -- which emulates an outline - -allows you to logically store and structure items like job leads, recruiters, network contacts, job fair dates and such.
Two horizontal panes abut the job contact pane. They display more detailed information about items in the contact tree.
So when you select an item on the tree, information about that item -- company name, contact name, address, phone numbers, etc. -- will appear in one of the horizontal panes.
One drawback to the information in the horizontal contact pane is that it's static. For instance, you can't click on a phone number and automatically dial it if you have an internal modem. There's no field for Skype, the Internet voice call service. In addition, you can't click on an email address and send a message from your default email program, nor can you click a URL and be taken directly to a Web site, although you can do that elsewhere.
Notes, To-Do's and More
The other horizontal pane has three tabs -- Notes, To Do and Misc.
The Notes feature permits you to add comments to items on the contact tree. Each comment is automatically time-stamped, so they form a kind of journal for the item.
There appeared to be no size limit on a note. However, when the program's window wasn't maximized, the scroll bar didn't work properly in long notes. For example, with the window reduced to about a third of my display, I could not scroll to the bottom of a 982-word note.
Two To-Do Views
The To Do feature gives you a way to keep tabs on what you're doing to find a job. It can act as a tacit boss, pushing you to be proactive in your employment search and to effectively manage your time. In states that require reporting of weekly efforts to find a job in order to collect benefits, the To Do feature can be very helpful in expediting fulfillment of that demand.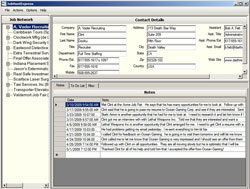 In the Notes section, each comment
is automatically time-stamped,
so they form a kind of journal for the item.
(click image to enlarge)
To Do items appear in table form. They can be tagged by date, time and completion via a check box.
By pressing F9, a second To Do view appears. It displays your tasks in two lists. One is tasks due for action today; the other shows incomplete tasks from the past. This view offers a quick way to see what you need to do immediately and what may have fallen into the cracks in the past.
Attach Documents, Launch Links
The miscellaneous tab includes fields for the name of the position that you applied for, when you applied for it and when it's expected to be filled. There's an area for listing hot topics related to the job and to attach documents relevant to it. A cover letter written in Microsoft Word, for instance, could be linked to item. There's also an area for attaching Web addresses. Unlike other places in the program, clicking a URL in the address area will take you directly to the desired Internet location.
When you're on your way out the door for an interview, the application has a handy print function that gives you a neatly organized report on your potential job. It includes company info, job data, your notes on the position and your To Do detail.
For job seekers unfamilar with database software or personal information managers, or disinclined to customize off-the-shelf software, Job Hunt Express is an easy-to-use and affordable alternative. For those users, its targeted approach to managing an employment search can take some of the drudgery out of looking for a new gig and the helplessness that accompanies the loss of a job.