AVG Anti-Virus Pro Rolls Heavy Artillery Onto Deserted Battlefield
By Patrick Nelson
Jan 6, 2012 5:00 AM PT

AVG Anti-Virus Pro, an app from AVG Mobilation, is available for US$4.99 (premium upgrade version) at the Android Market. I've always been a fan of antivirus maker AVG. That's primarily because of the intense pain I felt when renewing staple Norton Symantec AntiVirus subscriptions back in the day, when the PC was our sole method of connectivity and Norton was our sole method of antivirus protection.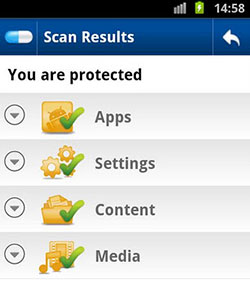 AVG came along in due course, and provided a free, PC-based solution that seemed to work just as well as Norton -- or just as poorly, depending on whether you'd just been attacked by an easy-to-remove virus or a mega-death-sentence type virus that required a total hard-drive format anyway.
I felt there was a certain amount of honesty from a company that provided a free product, and I have stuck with them off and on for years -- of course, going off them when hit by a virus, and going back on them when hit by a subscription renewal from an AVG competitor.
I discovered AVG's business model is just a little different from the old Norton subscription model though, and AVG hits you up for a premium upgrade if you need any human help or advice removing viruses.
Smartphone Security
It's only a matter of time now before our 21st century tools for communication and computing -- the smartphone, tablet, in-car infotainment system, smart-fridge and so on -- get viruses, or so I would expect to be told by urban survivalists and, of course, antivirus software peddlers. Well, I'm going to be ready for it.
After a disappointing experience with Norton's security product for Android, which I tested a few weeks ago, the app kept hitting me up for upgrades-for-functionality -- nothing changes.
I decided to give AVG a shot. As I said, nothing changes.
Purchasing the App
The app successfully charged my credit card the $4.99 (I'm not going to write "nothing changes" again) and dutifully appeared within my apps drawer on my phone, the burly Motorola Photon.
I was also, surprisingly, able to load it onto an industrial-strength, diamond-plate-adorned Toshiba Thrive Android 3.1 tablet straight from the Android Market with the same $4.99 purchase.
I was surprised, because AVG sell a tablet-specific product for $9.99, and I would have though AVG or Android Market would have tried to offload that on me too.
Scanning My Systems
Both devices ran through a drive scan and both provided a set of alerts tabbed as Apps, Settings, Content and Media. The Toshiba passed everything with flying colors -- which I was pleased about because I'd only just unboxed it about an hour earlier.
The Motorola showed trouble with Settings and Content. I was able to drill down and identify settings changes that could be made to improve security. However, all of the alerts were related to the rooting I had done on the phone, so I knew all about the issues already.
The app did offer to mark a suspicious SMS text message that it thought might be involved in an evil phishing attempt. It marked a text from my mother via Google Voice advising me of a remote family member's holiday gift requirements.
Cool Feature
Touching the "Menu" option provided for the same kind of settings that you'd get on a PC antivirus install, where you can adjust scan frequency, safe Web-surfing and so on.
One excellent, fun thing that I discovered within the menus was a device location-type feature that offers to track your phone if it's lost or stolen, and offers you an opportunity to map, lock, unlock and more using a Web browser.
This worked, and despite an initial scare when the Web browser first showed me and my phone near Lagos, Nigeria -- not Los Angeles, California -- this was worth the $4.99 alone. Particularly after the app had found a disappointing lack of viruses to kill off.

---