Snapseed for Mac OS X Makes Your Photos Pop
MacNewsWorld

Snapseed, an app from Nik Software, is available for US$19.99 at the Mac App Store.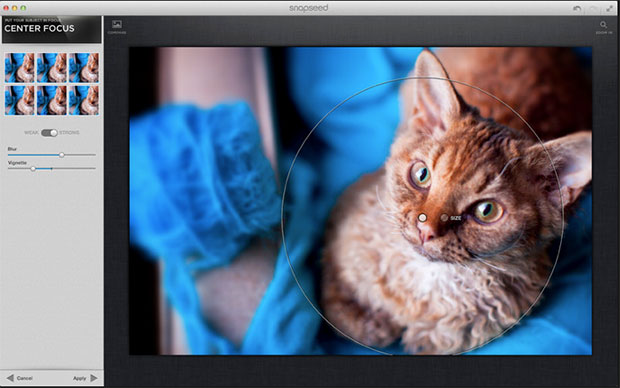 Snapseed
The app that won Apple's coveted iPad App of the Year award, Snapseed by Nik Software, has made it to the Mac App Store and therefore, Mac OS X. Not only is this cool for photography-loving Mac users, it's cool because it brings some awesome filter and editing effects to the masses.
As near as I can tell, Nik Software has been around since 1995 and has pretty much focused on photo pros or prosumer sorts of customers -- I never heard of them until Snapseed hit the Apple App Store.
Fast forward to 2012, and Snapseed has me rethinking how I handle my photos.
What Is Snapseed?
Snapseed is basically a photo enhancement app that uses preset imaging filters to let you apply effects to a photo in real time. You can change the focus, make a photo look old, add a nifty border, and apply many of the standard editing effects you can find in everything from iPhoto to Photoshop -- like changing the brightness, contrast, saturation, adding light to shadows, cropping, etc.
Snapseed is not a storage and manipulation app like iPhoto, nor is it a full editing app like Photoshop or Pixelmator. It's all about applying filters to create a new look in a photo.
How Does It Work?
Easy enough: Like some newer photo-editing sorts of apps, all you have to do is drag and drop a photo onto the open Snapseed app to get rolling. You can use old-school menu navigation, too, though. I was a bit worried that I would have to use the Mac's menu/finder system to find photos to edit that are buried deep in my massive iPhoto library, but luckily you can also drag and drop a photo from iPhoto into Snapseed to edit it. (Once you edit it, though, you'll have to save it then import it back into iPhoto if that's where you want it. I like it this way since I don't want to mess with the originals in my iPhoto library.)
Once your photo is selected, you have a set of icons at the left that provide the types of adjustments and effects you can make. These icons look terrible, by the way, almost as if they are product images for separate filters or box covers for retail sale with a tiny little barcode at the top right. I don't know where these came from or why there is indecipherable text across the top of the icons, but I sure as heck hope Nik Software makes an update to Snapseed that cleans up these icons. In the meantime, you'll just have to ignore the stumble of these icons and focus on the effects.
The top set of icons (lets call them controls) give you basic adjustments. "Tune Image" gives you basic automatic enhancements or you can make it darker, lighter or moody. (Seriously, "Moody" is one of the settings.)
Crop & Straighten lets you crop and straighten the image, and Details lets you sharpen the photo. Don't ignore this effect. "Structure" somehow adds a bit of magic to sharpen and enhance some photos in ways I don't understand... yet it works.
Creative Adjustments
Beyond the basics, Snapseed not only gives you additional effects like Black & White, it takes these effects to new levels of refinement and ease of application. You can turn a photo black and white, then add more grain to it to make it look older. Or apply a color filter (yes, to black and white) which will give the photo a whole new look.
All I can say is to step through the color filters of your black and white photos before you save them -- they can change the feel of the photo in surprising ways. If I were a professional photographer, I'm sure I would know what's going on here, but since I'm a shutter-snapping regular guy, I just see the effects... and like them.
My current favorite effect is Center Focus with an "Old Lens." For some reason, this effect lets you blur out the edges of your photo to make the center really grab your attention. Of course, you can easily modify the amount of blur or even the location of the "center" to change where the focus of the photo is located.
The Drama effect is cool. On landscape photos of rocks and mountains, you can brighten the shot or make it darker. The "Dark 2" effect can be downright creepy -- it somehow turned bright and airy photos of rock outcroppings into ominous shards of granite that could easily have come out of the "Lord of the Rings" movies.
Other effects like Frames do what you might expect -- add really cool border options to your photos. Grunge will make your digital photos look like old print photos that have been used and abused, while Vintage just makes them look like print photos that were taken with older cameras and have since aged.
Tilt-Shift can give you the uncanny ability to make a photo appear surreal and miniaturized... but the effect seems best suited to things like cities and cars. I've been frantically looking for an old shot I took of a marina that has some awesome boats and the sea, but I haven't found it yet. When I do, I'll apply this filter straightaway.
Snapseed Is Abnormal
There's something going on with Snapseed; the app is surprisingly engaging, and it's not due to its controls or design -- even though the controls are generally intuitive. No, there's something more, and it took me 24 hours to figure it out.
Snapseed has the uncanny ability to evoke emotion in your photos.
I don't know how to explain it any better than that. To understand it, apply some filters and then click the button that lets you instantly toggle from the original photo to the filtered photo... and you'll see what I mean.
At $19.99 in the Mac App Store, Snapseed is priced a bit more than an impulse purchase for most consumers, but for me, it's been well worth it. I'm glad I made the leap. In fact, Snapseed has already entered rarified air for me: Snapseed encourages you to think about photos differently, and if you're lucky, you might even start taking and framing new photos with Snapseed's effects in mind. I've already started casting my mind into the future, camera in hand, ready to try new shots for Snapseed. I can't think of any greater praise than that.

---