Apple Remakes Final Cut Pro X
MacNewsWorld
Apple announced an update Tuesday of its video editing software Final Cut Pro aimed at quelling dissatisfaction with the product among professional media producers.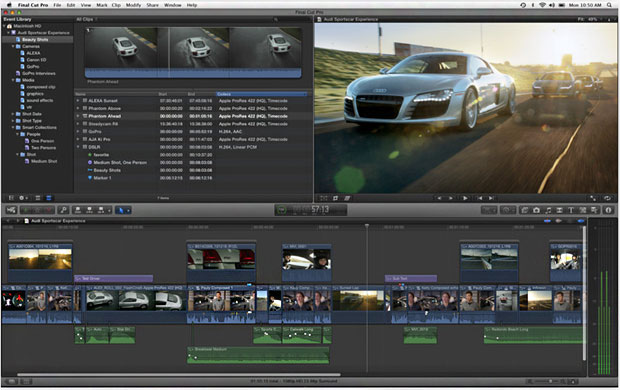 Final Cut Pro X
This latest version of the software, release 10.0.3, is available from the Apple's App Store as a free upgrade for existing Final Cut Pro X users and for US$299 for new users. A 30-day free trial version is also available.
Many of the professional features removed from Final Cut Pro X when Apple redesigned the program last June have been restored in this update of the software. They include reintroduction of multicam and XML support, better plugin support and advanced chroma keying.
There's even broadcast monitoring, although that feature is still in beta form. Broadcast monitoring lets the user connect from within Final Cut to tools that are used to determine if a movie project meets broadcast specifications.
Pro Progress?
When Apple's Final Cut Pro X was originally introduced last summer, it incited the ire of many professionals, including Walter Biscardi, of Biscardi Creative Media. Writing in Creative Cow magazine, Biscardi declared it the worst product launch he'd ever seen from Apple -- or from any software maker.
A fan of previous versions of Final Cut, Biscardi derided the X edition for what he saw as a lack of functionality and an inability to open older projects.
Apple did not respond to our request to comment for this story, but many of the features in the latest release of Final Cut Pro are clearly meant to address criticisms of the application by production professionals.
Better Color Correction
One problem cited by critics, for example, was the lack of backward compatibility and XML support. In the upgrade, not only are powerful XML applications supported by the product, but they can be used to move projects created in past versions of Final Cut Pro into the latest release.
Multicam support, all but gutted from the software, has been resurrected. Multicam clips can include up to 64 angles of video with multiple formats, frame sizes and frame rates. In addition, precise editing can be performed within a clip with the software's Angle Editor.
Final Cut Pro's color correction capabilities were also a sore point with professionals. The new broadcast monitoring feature should help solve that.
Festina Lente
Sketchy plugin support was another annoyance with Apple's pro editor. That, too, appears to have been cleared up.
"We are so fired up," Andrew Little, CEO of Red Giant, maker of a color grading plugin, told MacNewsWorld.
Until the latest version of Final Cut was released, he explained, his company's plugin didn't work with the program. "It was painful," he said. "We worked for months trying to get it to work."
In addition to smothering fires set by the initial release of Final Cut Pro X, this latest version of the program also improves its performance, according to Meredith Hanrahan, chief marketing officer for GenArts, a maker of visual effects software.
"It's fast," she told MacNewsWorld. "You have the power, because it's GPU accelerated, for fast rendering times."
Another positive of the latest release of the software is its ability to streamline the workflow for an editor without sacrificing the quality of what they see during the editing process, she added.
"These guys have tight turnaround times," she explained. "This is designed for them to get their work done fast without compromising quality."