RingCentral Didn't Ring My Chimes
By Patrick Nelson
Jun 1, 2012 5:00 AM PT

RingCentral, an app from RingCentral, is available for free at Google Play, with various monthly rate structures for the accompanying service. I've been looking for an alternative to Google's Google Voice product that provides one number for all my phones -- mobiles and landline -- and includes online voicemail and discounted calling.
Google Voice is a fine product, and I've had exemplary use out of it, but it has a couple of failings related to a lack of international functionality: You can't make cheap on-mobile device Google Voice calls from outside the U.S., and the entire system is dependent on a U.S. cellphone network being the carrier.
RingCentral's pitch caught my attention: "Take your business calls, voice messages, and faxes anywhere. Manage your RingCentral phone system directly from your Android phone."
That, plus a "Sign Up, start your free trial" website button made me think it was worth a shot.
Free Trial
Unfortunately, things rapidly spiraled downhill. The "Sign Up, start your free trial" button leads you to a one-user 1,000 minute option for US$39.99/month.
The no-risk 30 day trial involves paying the horrific $39.99 per month, plus tax, on signup -- which for me (I'm located in California) would come to $51.20 down.
You can later cancel if you don't like the service.
Upon further perusal of the site, I came up with a $9.99 a month plan, prepaid for a year -- thus a $119 outlay -- with 100 free domestic minutes per month.
Plan Details
I suffered total sensory feature overload reading about both plans. The 1,000 minute plan included such things as Cloud PBX and free unlimited Internet fax worth a purported $39.99/month.
The 100 minute plan offered an "Additional Free feature: Internet Fax." The 100 minute plan tried to get me to upgrade for inbound and outbound calling.
The Hounding Begins
In fact, after an afternoon's burdensome researching of plans and signing up, I needed a break, and luckily, because it was a holiday weekend eve, I went away.
However, during the course of the weekend, I was barraged by two voicemails and seven emails from RingCentral about this or that -- often trying to upsell me additional features like number porting.
Feature Double-Talk
I won't bore you with further feature tedium. Who knows what I would get? I ordered both plans eventually -- the $9.99 one costing me a sneaky $14.99 because I wanted monthly billing, not annual. Add tax to that and $9.99 became $18.63 a month.
I planned to cancel one plan, if not both at this stage.
The holy grail -- that is, VoiP calls placed and received over a 3G connection as well as WiFi -- kept me going though.
The App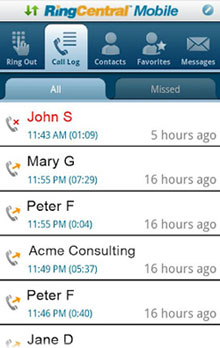 The potentially complicated Android app installation onto a phone using the 1,000 minute account went seamlessly, which is unusual for something like this.
I was able to successfully configure the call flows using the PC.
And Now: Tests
The app made good-sounding calls flawlessly over both a 3G connection, and a WiFi connection.
The app did not receive a placed test call from another phone when the app-installed phone was set to WiFi and the 3G radio was on -- though nonfunctioning due to an inactive SIM card.
The call went straight to voicemail without ringing the phone or creating a notification. The call showed in the Recent Call Log within the app as a missed call.
The app also did not receive a call when the 3G radio was fully functional and WiFi was switched off. Again, the call went to voicemail. I double-checked the call flow within the account setup area and believed it to be correct -- it should have rung the phone.
Other Stuff
Cool PC features include the ability to fax documents from Dropbox and other cloud storage solutions, including Google Docs replacement Drive.
However, I did not find a way to perform this fax documents feature using the Android phone-based app.
My Experience
Overall, I wasn't happy with the RingCentral experience. Researching international calling rates, I discovered that RingCentral charges a non-included $0.04 a minute to call a some overseas landline numbers (UK).
This rate compares unfavorably with Google's $0.02 to the UK with no monthly fee, and VoiP provider Skype's $0.023 to the UK, also with no subscription.
In Conclusion
I don't doubt that with a bit more patience than I have, it would be possible to end up with an acceptable all-in-one PC cloud-based virtual phone system that could handle multiple employees, call flows, faxes and ultimately save money over a hard-wired phone system.
Primarily based on single-user cost -- and the fact that the Android app that I wanted did not ring the phone or otherwise notify me of calls and sent calls straight to voicemail -- I decided to pass on RingCentral and its app as a keeper.

---