Chrome Bookmarks and Tabs Shine Across All iDevices
MacNewsWorld

Chrome, an app from Google, is available for free at the App Store.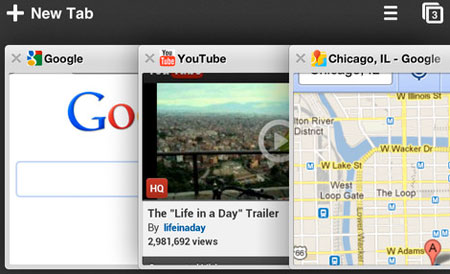 Chrome for iOS
Despite the blood feud going on between Apple and Google, the latter has successfully landed a mobile version of Chrome in the former's iOS App Store.
For iPhone and iPad users who are fond of Chrome on the desktop, this could get interesting. Chrome for iOS promises some nice-looking syncing abilities that allow you to automatically make your mobile browsing experience match what you do on your desktop.
For instance, Chrome lets you sync bookmarks. Bookmark something on the desktop, and the next time you fire up Chrome for iOS, that page has been marked too, in exactly the same place and folder as on the desktop.
That feature, however, only brings it neck-and-neck with Apple's native Safari browser. It does bookmark syncing too, courtesy of iCloud.
What Chrome has over Safari (for the time being, anyway) is tab syncing. With that, you can make your iPad or iPhone browsing session exactly the same as the one on your desktop. Get up from the desk, walk out the door, and see all the same tabs lined up on the iOS browser just as you left them.
Speed and Appearance
Syncing tabs is a great feature, but it doesn't make for a very compelling reason to use Chrome over Safari if the rest of the browser fails to measure up. There have been reports that Chrome on iOS may be at a speed disadvantage due to its inability to use the Nitro Javascript engine.
So is Chrome for iOS painfully slow? No. Not painfully slow, not irritatingly slow, not any kind of slow I can perceive without a stopwatch and two matching iPads sitting side by side. On my relatively ancient model (an original running iOS 5.1.1), pages load about as fast as they do on Safari. Maybe there's a lag, but if there is, it's negligible. Chrome on iOS gets me around the Web as fast as I expect my rickety old iPad to take me.
Appearance-wise, Chrome lovers will be in familiar territory. The tab and toolbar layout is virtually identical to the desktop version. The bookmarking star is right where it's supposed to be, but there's also a microphone icon for doing a voice-activated search. Next to that is a three-bar icon, which is the options menu, much like the wrench on the desktop version.
Those options include opening a new tab, opening up a new incognito tab, or going directly to your email. You can also search the page, access the Settings menu (for scrubbing browsing data, adjusting privacy settings, etc.), and see about using a site's desktop page rather than the mobile version.
The options menu is also where you go to access the browser's various syncing capabilities: Other Devices and Bookmarks.
Enter the Sync
In order to use these features, you'll need to sign into Chrome -- in the iOS app as well as on the desktop. I'd never signed into Chrome before, but doing so is very easy. Just remember to give it permission to sync everything across devices. Worried about Google knowing too much about your browsing habits? That's what aliases are for. Make a burner account used only for the purpose of syncing up Chrome sessions.
Things didn't work out for me the first time. Perhaps I didn't do things in the correct order. Maybe I needed to sign into the desktop version first and explicitly allow permission to sync. But after taking a few stabs at it, I eventually got everything to fall into place within five minutes.
I went to the Bookmarks feature in the options menu. At first I found that all my bookmarks were indeed synced across all devices -- but they'd somehow been rearranged on the desktop version. Quit, relaunch ... OK, now everything's back in place. That was odd.
Anyway, you can select Mobile Bookmarks, Other Bookmarks, or Desktop Bookmarks. Bookmarking a new page through the iOS app will give you the option to save it under any of these categories, so you can add bookmarks to your desktop Chrome from a mobile.
Swipe the bookmarks page to the right, and you'll see the Other Devices screen, which lists all the open tabs on all the devices running a synched and signed-on version of Chrome. Refreshing the list seems to be an automatic process. The only way I could figure out how to manually compel it to refresh was to send the browser to an actual site -- pick a page, any page -- and then return to the Other Devices interface via the options menu. It would be nice to have a button that does this manually without that little runaround.
Bottom Line
Chrome on iOS may not use Nitro Javascript, but during casual use, I wasn't able to discern any speed disadvantages that may cause.
The system's bookmark- and tab-syncing abilities work, and they're a great way to keep a session alive when you need to get moving. They're relatively simple to set up, and the interface is straightforward. Later we'll have to see what Apple does with Mountain Lion, which will reportedly feature tab-syncing for Safari.