Bad Piggies Indulges a Little Creative Nastiness
MacNewsWorld
Bad Piggies, an app for iPhone, iPod touch and iPad by Rovio, is available for 99 US cents from the iOS App Store.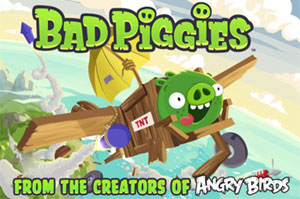 Bad Piggies is the latest game from Rovio, creators of Angry Birds.
The ever-popular Angry Birds franchise has spawned a spinoff, known as Bad Piggies. In this adventure, rather than playing the part of the birds who are trying to thwart the pigs' kidnap attempts, the player is cast in the role of builder of piggy transports.
The app is accompanied by the familiar upbeat music and cheerful wacky sound effects Angry Birds fans already know and love. It offers a challenge that can be frustrating at times but ultimately very rewarding once you solve each puzzle.
Build a Pig-Mover
Given an ever-changing assortment of items, your task is to construct a vehicle that helps the pig get to the place where a piece of a map is hidden. According to the Bad Piggies backstory, the map pieces, when reassembled, direct them to where they can find some nice bird eggs. Construction materials can include boxes of wood or metal, wooden or metal wheels, bottle rockets, fans, balloons, wings and umbrellas.
At the beginning of each level, the player is confronted with a grid pattern. Each of the squares will accommodate one or more items, such as a box, a wheel or a box with the pig inside. Certain items, particularly those that provide propulsion, must be anchored to the side of a box or they'll fall right off and be useless.
You earn stars by propelling the piggy to its destination, a spot on the screen where the map segment lies in suspended animation. Along the way are obstacles such as hills, gaps and bumps. Additional levels have the pigs going airborne, with objects blocking your way from above and in front as well.
Earn Stars
Players can earn up to three stars per level, and they are awarded for different achievements such as completing the course, doing so within a time limit, and finishing while also touching star boxes along the way. This is where Bad Piggies departs the most from the scoring system we know from Angry Birds. Once you achieve a star, you keep it -- with the exception of the one earned for completing the course. So if you hit the star box once, you've already earned that star and are freed up to try to earn the others. Accumulating stars for each level allows you to unlock a bonus level. There is one after each four levels, and you must earn 10 of the available 12 stars to unlock the bonus.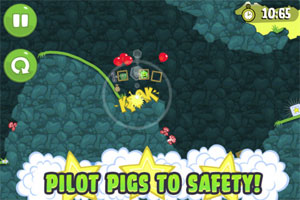 Players build contraptions to transport the piggies to their destination.
As a member of the Angry Birds family, Bad Piggies lives up to the earned reputation of being deceptively simple. "Sure," you may think, "slap some wheels on a box, let it fly and see what happens." But as any fan of the franchise knows well, it takes a bit of clever tinkering to get things just right. And sometimes the obvious solution isn't necessarily the one that will get you the most stars.
Growing Family
So far, there are two "worlds" available, plus a "sandbox" world that allows you to tinker and craft a vehicle that will navigate a long and challenging course. The sandbox is an extension of the existing worlds, so there is a sandbox for building ground vehicles and another for flying contraptions. Players can earn additional construction materials by performing well in the levels of each corresponding world.
Additional expansion worlds have been promised, and Rovio tends to deliver on these with some degree of regularity, so the game should be kept fresh for those who conquer its many levels.
As mobile games go, Bad Piggies lives up to the standard set by Angry Birds. It's a fun way to pass the time and a challenging puzzle game that's absolutely worth the 99 cents you pay for it.