Apple May Give Next-Gen iPhone a Splash of Color
MacNewsWorld
This year will be the year of an iPhone of many colors and even different sizes, according to the latest Apple speculation by analyst Brian White at Topeka Capital Markets.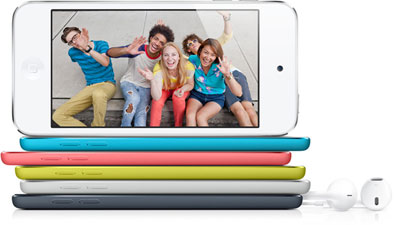 Apple's newest smartphone might come in three screen sizes, White reportedly predicted in a research note. The smallest version would have a 3.5-inch screen, another would have a 4-inch screen, which is the same size as the current iPhone 5 model. A third version would be bigger and have a bigger display screen.
The next iPhone might also come in a variety of colors including pink, yellow, blue, white and silver, and black and slate, with as many as eight color options available, he said.
That larger, colored iPhone might be available as soon as May or June, according to White's sources. The release would come less than one year after Apple's iPhone 5 launch. In the past, Apple has typically waited about a year between launches.
Apple and White did not respond to our requests to comment for this story.
Too Much, Too Soon
There is no doubt that Apple is well aware of the increased competition in the market and could be in a hurry to put another device out there, said Ramon Llamas, senior research analyst at IDC Mobile Devices Technology and Trends. Given its history with product launches and business strategy, though, Apple probably isn't going to rush an iPhone release simply to put it on shelves, he said.
"If you're Tim Cook, you're thinking if you want to pay more attention to how to keep growing that bottom line and keep investors happy, or continue with the same approach from Apple, which is do what we can do and manage products and releases how they will work best for us. Apple usually does things in their own time, and I'm having a hard time buying this May or June timeline," Llamas told MacNewsWorld.
While it's probable that Apple is definitely in a testing phase for its next smartphone, consumers likely have a standard wait for the finished product, said Colin Gibbs, analyst at GigaOm Pro.
"It typically takes a year or longer to create a state-of-the-art smartphone, so no one should be surprised Apple is in the testing stages with the next iPhone. And while it's possible that Apple could launch the next iPhone this spring or summer, I'm not expected to see it until a little later in the year," he told MacNewsWorld.
When it does launch, though, it could be in a variety of colors, said Gibbs. Apple has already tested the waters with releasing colored devices when it revamped its iPod line last fall, so it's not too much of a stretch to believe it would want the new twist with its smartphone, as well.
"I wouldn't be surprised if the new iPhone becomes available in some new colors," he said. "That could be done pretty cheaply, and it would give Apple a new marketing angle."
All Shapes and Sizes?
The various sizes might be a different story, however, Gibbs noted. An iPhone release with more than one screen size would be a first for Apple. The company does have models of the iPhone with different screen sizes, but the change was generational. The iPhone 5's 4-inch screen was the first display size increase since the device's debut -- previous models have a 3.5-inch screen.
Even with the half-inch upgrade, the iPhone 5's screen is still smaller than many top Apple competitors, including Samsung models that run up to 5.5 inches. In addition to following the trend of a larger display, however, White also predicted that Apple might go smaller, or at least back to a 3.5-inch model.
The smaller size, which doesn't use as much material and therefore could possibly be sold at a lower price, may help Apple penetrate emerging markets such as China, India or Latin America. While the company has acknowledged it is always looking for ways to break into those markets, however, it might not believe that a compromised iPhone is the way to do it, said Llamas.
"One thing Apple refuses to do is short-change a customer on the experience," he said. "The one thing Apple has always made it a priority to do is deliver a product that is just right and to make it a compelling experience. With a smaller size, they might stand more to lose than they have to gain."
Developers were already thrilled that Apple had decided to go with a larger screen to better accommodate apps, Llamas noted, and going back to a smaller version could offer a diminished return on consumer experience. In addition, the price of an iPhone isn't the only concern for many consumers in developing markets -- it is also the price of a data plan. So, a small price decrease for a device might not be the only barrier to massive adoption overseas, he pointed out.
"A smaller screen might look good on paper as a way to grow margins and stay out on front, but the practical side raises so many questions," he said. "Ultimately, when you already have a tried and true device that there is still demand for, it might be more of a challenge to say yes to some of those changes."