BizVizz Brand Transparency App: Great Promise, Ho-Hum Delivery
MacNewsWorld

BizVizz is a free app available in the iTunes App Store.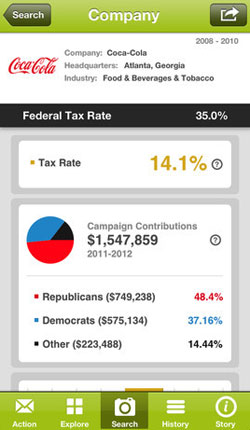 Behind every big name brand is a big company. These companies might do good for the world or they might not. Or like most people, they could be inconsistent, doing good in some ways but snatching more than their fair share in others.
A new app called BizVizz seeks to share financial information about these big companies while you are shopping, and in so doing, reveal the dirt that might be swept under their rugs -- which, of course, may help you change your buying choices to reflect your values.
BizVizz has been a What's Hot selection in the iTunes App Store since shortly after its launch, so I decided to give it a tap or two.
How It Works
To share the details behind 300 of America's largest corporations -- covering 900 brands -- BizVizz lets you explore these companies by sorting via tax rate, profit or popularity. For instance, you can see at a glance that General Electric (GE) has a mind-blowing -45.3 percent (that's right, negative) tax rate. The app reveals that the average U.S. federal tax rate paid by each company from 2008 to 2010 was 35 percent.
The GE tax rate data comes from Citizens for Tax Justice and the Institute on Taxation and Economic Policy. So how is a -45.3 percent tax rate possible? I'm not quite sure. Meanwhile, FedEx comes in at 0.9 percent.
PepsiCo has a 24.8 percent tax rate, and competitor Coca-Cola is at 14.1 percent. One handy feature here lets you compare a company to the industry in which it plays, which makes it easy to see the differences between Coke and Pepsi.
In case you're wondering, Apple has a 31.3 percent tax rate while HP stands at 3.7 percent, Oracle 29.7 percent, and Intel 31.5 percent.
What's missing here is context. What I'd like to know is how and why HP can operate with a 3.7 percent tax rate while Oracle pays 29.7 percent. Are there loopholes? Is it smart business? Or is there some nefarious action involving international business activity that lets one company enjoy the spoils of American life while taking advantage of more favorable business conditions elsewhere in the world? If your corporation essentially loses money one year but makes money in other years, does that affect the tax rate calculation? And what about profits before taxes? Profit with a 30 percent tax rate is a very different thing than profit with a 2 percent tax rate.
BizVizz doesn't answer these questions.
See a Brand, Snap a Pic
One brilliant element of BizVizz is the ability for you to see a brand while you're out and about, point your iPhone's camera at the brand image on a package or tag, and then use the visual image to kickoff a search inside of the app. In this way, I learned that my Nabisco Vanilla Wafers are actually owned and produced by Mondelez International, which is headquartered in Deerfield, Ill. It has a tax rate of 18 percent, and in 2011-2012 donated US$830,190 in campaign contributions. Republicans received 53.77 percent of that money, but Barack Obama was the "top recipient" with $21,945 -- which seems odd until you dig down deeper into a web page from Influence Explorer that shows that the Republican National Committee received $30,976.
Does this information really mean anything? Not really, unless a company is seriously skewed toward a political party you don't like. What's more telling is how these companies lobby various levels of government to get what they need or want. Lobbying, however, isn't exactly available in any sort of easy snapshot within BizVizz.
BizVizz provides additional information such as subsidies from various governments. Local governments often compete with each other on tax rates in order to attract big businesses to come to their cities and states, and presumably bring well-paying jobs along with an economic boost. On the flip side, if one big business brings jobs and stability, how does that affect small businesses that are getting hit with higher tax rates? There's an important correlation here with how we treat U.S. small businesses, but what it all means is beyond me. Half the time, I just want to buy and use an iPhone and keep paying my own household bills.
Still, I'm not immune to caring about our country and how it works -- particularly when it comes to powerful and influential corporations, governments, and policy. Which brings up my next point: After playing around with BizVizz, I'm still unsure how it's going to affect my buying habits and how I view companies.
Great Idea, Fundamental Flaws
BizVizz, I believe, came about through admirable intentions. According to the app, its makers, while creating the documentary "As Goes Janesville" -- about how a town survives losing a GM plant and Wisconsin's war over unions -- saw leaders give away tax dollars to a prospective company without even holding a public hearing. "That inspired us to make corporate practices more visible," the BizVizz team says in the "story" portion of the app.
As for the vision of BizVizz, it's important to read that story section because it provides the context for the information presented. BizVizz says, "We think that our tough economic times demand all of us to do our part. So why are many corporations getting tax breaks and government subsidies despite huge profits? Maybe it's their reward for campaign contributions? We've set out to get the facts. Now you have them, too! Share what you discover and get involved -- we'll send you alerts to tell you how."
By digging deeper, you'll learn that BizVizz has broader aspirations than just the app. BizVizz has an API effort that aims to make corporate data accessible by sifting through hundreds of regulatory documents, financial statements and advocacy reports. The free and open API would allow developers to build apps with the data and let researchers easily access the information from one trusted source.
BizVizz claims to provide all this information to turn you "into a smart, conscious consumer." The trouble is, I'm not sure how this information is going to do that. Moreover, the profits and tax rate information isn't exactly up-to-date. It's based on 2008, 2009 and 2010 financial reports. 2010 seems like a long time ago to me. Just look at Apple, which has changed a lot since 2010. But within BizVizz, I'm not sure how. Is Apple still paying the same tax rate? Or has the company moved profits offshore in ways that reflect its global nature? I don't know.
I'm also not convinced that relatively small political contributions by corporations are making a big difference in politics. It's the backdoor lobbying efforts, the deals done in the dark, the non-public efforts of influence that could get us closer to understanding and trusting our favorite brands. Trouble is, some of these companies pay third-party lobbyists to solicit on behalf or against a regulation that might affect their industry and business. It's muddy stuff.
There's More Beneath BizVizz
You can connect to various partners through the app to learn more, but it may or may not result in something easy to read and consume -- remember how Influence Explorer provided additional information about Mondelez International's political donations? The resulting drill-down site wasn't exactly optimized for my iPhone 5 screen. I can't imagine trying to puzzle through that information while standing inside a retail store trying to decide which box of crackers to buy.
Plus, there's a portion of the app called "Action" where BizVizz can communicate with you as a message center of sorts, where users can be informed about relevant news, campaigns, legislation and reports. Time will tell if this becomes helpful or world-changing.
All-in-all, the thing that interests me most about BizVizz isn't so much what it is right now, but the future it represents: Consumer and citizen-oriented corporate governance in the palm of your hand. To take it a step further, as politics in America moves beyond blatant lies and manipulation -- or at least, if organizations with the funding and willpower to create smart, fact-based mobile apps arise -- it's not so hard to imagine a future where politicians could be scanned and scrutinized. I'm talking about an app that could instantly compare a politician's words to actions, votes, donors, lobbyists and committees he or she works with.
Any of these future apps could be astoundingly great -- or carefully crafted manipulation apps. We'll see. One way or another, BizVizz reminds me that they're coming.

---