Automatic Link Kicks Your Car's Brain Into High Gear
A new smartphone app and plug-in device unveiled Tuesday promises to give cars some of the same tech-based features available only from certain factory models or through services like OnStar.
Automatic Labs announced the Automatic Link, a combination iOS app and dongle for automotive diagnostics. The device only works if the owner's iPhone with the Automatic app installed comes along for the ride. The phone connects to the dongle when the car is being driven, and disconnects when the owner walks away from the vehicle.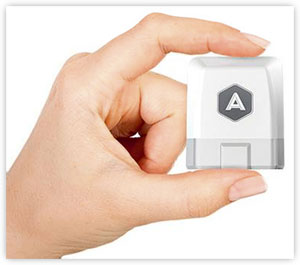 The Automatic Link Dongle From Automatic Labs
The dongle plugs into the On-board Diagnostics II (OBD II) port that's found in vehicles made after 1996. Auto mechanics plug computers into this port to check on the health of a car's engine.
"The key here is the app that translates what the reader is seeing into something a regular driver could use in real time," said Rob Enderle, principal analyst at the Enderle Group. "I have one I bought off Amazon, but it works like a regular reader and doesn't provide real time information."
Enderle got the BAFX ELM 327 Bluetooth OBD2 scan tool, which is Android compatible and available for US$24. "There are plenty of OBD II solutions out there already," Mark Fitzgerald, an associate director at Strategy Analytics told TechNewsWorld. "I have one in my car and it relays a bunch of real time."
Automatic Labs did not respond to a request to comment for this story. The company is now taking pre-orders for the Link, with shipment expected in May.
Automatic Link Features
The Automatic Link uses a smartphone's GPS, data plan and Bluetooth 4.0 technology. It offers what Automatic Labs calls "subtle automatic cues" -- when drivers stomp on the gas or brakes, or exceed the speed limit -- and displays detailed information about how much a user drives and where. It also displays the actual gas consumption for all trips, detects fillups and tracks local gas prices.
If a driver is involved in a crash, the Automatic Link will report the crash to 911, first responders or other local authorities. The user's name, location and vehicle description will be sent, provided the Link is plugged in and the user is logged into the Automatic app. It will then send a text message to the driver's family to keep them informed.
The Automatic Link will also alert drivers with a push notification when the "check engine" light comes on, then retrieve the engine trouble codes, show the driver what they mean, and in some instances offer possible solutions. It also remembers where drivers parked their vehicles.
There's a one-time charge of $69.95 for the Automatic Link and app. Users will get over-the-air software updates when they are available.
An Android version of the app will ship this fall.
Instant Smart Car?
"Anything with a dongle screams niche or non-mass market," Roger Lanctot, an associate director at Strategy Analytics, told TechNewsWorld. "It's the kind of product that sounds great in theory, but needs a value added partner like a wireless carrier or insurance company to have it make sense."
Insurance companies already offer similar dongles that track users' driving habits and the distances they drive so they can fine-tune their coverage.
Some features of the Automatic Link may be redundant; many late-model cars offer mileage consumption details while on the move, for example.
However, "an app like this can give you the information your dash doesn't with regard to the nature of the problem, what you need to do about it, and -- most important -- when," Enderle told TechNewsWorld. "Often an idiot light comes on when the problem is catastrophic, and then you still may not know whether you can keep driving or should stop the car immediately."
The Automatic Link may be able to save a user money in other ways, thanks to the detailed information about OBD II codes, Enderle suggested. "When you go to a mechanic, you'll have a better chance of not being screwed because you know what is actually wrong."
The auto industry "won't care" about the Automatic Link, Lanctot said. "There were three similar products launched at the Consumer Electronics Show from Audiovox, Directed, and Verizon and Delphi."