Colorful Asha 210 Aims for Social Butterfly Status
Mobile phone maker Nokia on Wednesday announced the latest addition to its low-cost Asha feature phone line, the Asha 210.
Aimed at emerging markets, the device has a QWERTY keyboard and support for Facebook, Twitter and popular email accounts such as Gmail. It has a dedicated WhatsApp button for access to instant messaging.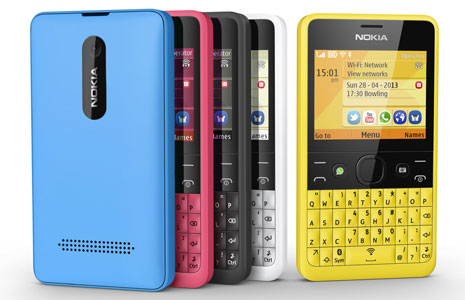 The Nokia Asha 210
The Asha 210 will be available in single or dual-SIM models. It will have a 2 MP smart camera that has a dedicated key. Chat screen notifications are supported, and the phone comes with a YouTube app for direct video streaming. Nokia's Bluetooth-based Slam content sharing feature, which debuted in the first Asha devices in November, has been built into the 210.
Battery life is up to 46 days on a single charge. The Asha 210 will be available in yellow, cyan, black, magenta and white. It will sell for about US$72, and the phone will begin shipping in the second quarter.
"The social and messaging capabilities of the phone are its primary selling point, along with its dual SIMs, Nokia colors and branding, and device reliability," Carl Howe, a research vice president at the Yankee Group, told TechNewsWorld. "It's intended to be a step up from a feature phone, but not truly a smartphone. On the plus side, it has awesome battery life, something that we may not appreciate as much as people who have limited access to electricity throughout the day."
The Asha 210's Features
The Asha 210's camera has a built-in voice guide for users taking self-portraits, and offers fast editing of images directly from the camera app. Nokia is emphasizing easy sharing of images to social networks. However, this is not a 3G phone, so "if you take videos or pictures, be prepared to wait while those files upload, unless you do it via WiFi," Howe noted.
Nokia's Slam feature lets Asha 210 users transfer content such as images or videos to other Bluetooth-enabled phones.
The Asha 210 comes with Nokia's Xpress Browser, which uses the company's cloud technology to reduce data content by up to 90 percent. "Most of the applications on this device run in the cloud," Michael Morgan, a senior analyst at ABI Research, told TechNewsWorld. "It's as close to a smartphone experience as you can get without running the applications natively on a device."
The phone is equipped with Nokia Nearby, a location-based Web app that lets users discover nearby restaurants, shopping and other places of interest.
The focus on social media and geolocation capabilities isn't new, Morgan said. "We've seen this before in the HTC phone with the Facebook button."
Asha's Social Media Relevance
The Asha 210 is a feature phone that runs Symbian 60, a stripped-down version of the Symbian operating system, Morgan said. "Other feature phones don't have social network buttons, so in that world this does represent innovation." However, that's not as meaningful as having social network support. "To me it's not about the button, it's about the software."
While it's "interesting to see Nokia work on that space and hold the feature phone market in relevance, it's time to admit that this is just not going to work," he added. "This is priced at $72 and we have $50 Android phones. "
Competition from even lower-cost Android smartphones is the greatest threat to the Asha 210, Morgan said. The line "was very successful, closing 10 million units in one quarter, but the numbers are starting to drop and, with $50 Android phones, they've lost one of their core tenets around pricing."
Nokia will have to cut the price of the Asha 210 if it wants to succeed, but "they're not trying to use crappy components to make a cheap phone, and then you run right into that low-end Android wall, and that's where the whole thing falls apart."