CallNote Dials Up Clean, Easy Skype Recordings
MacNewsWorld

CallNote is available for Macs from Kanda Software in both free and premium (US$19.99) versions. Recording phone calls has always been a gray area of the law. That's because there are both state and federal wiretapping laws that govern the practice.
Federal law allows a conversation to be recorded if one party consents to it. Some states use that rule, too, but others require the consent of everyone on the call.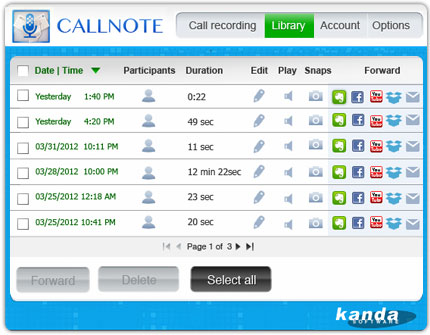 Nevertheless, those uncertainties haven't deterred people from recording phone calls or kept Radio Shack from making analog devices to enable those recordings. Remember suction cup microphones? How about those little black boxes with modular inputs?
Not only could those devices be annoying to operate -- suction cup mics losing their suction, and conversations entering the black box sometimes disappeared -- but their audio quality could be wildly inconsistent.
We're not talking broadcast quality here. We're talking intelligibility.
Ah, the glory of digital recording. With Microsoft's Skype and a nifty little program called CallNote, the uncertainties of analog phone recording can be put in the dustbin of obsolete tech.
Easy Installation
CallNote, made by Kanda Software, comes in two editions. The free version records phone calls made through Skype. There's also a premium version for US$19.95 that records video calls and Skype chats.
CallNote is easy to setup. You should launch Skype before you run CallNote. Otherwise, the call recorder will tell you that it can't find Skype and put a crimp in your setup.
After installing CallNote, when you go to the call recording section of the program for the first time, it will try to connect to Skype.
Skype will then issue a warning to you: Do you want CallNote to access Skype? Approve access and you're good to go.
When you make a voice call with Skype, you can record it with CallNote either manually or automatically.
Auto Recording
Manual recording requires that you keep CallNote open on your desktop. As your call is connecting in Skype, you need to click on the CallNote window, then click on record.
You can also configure CallNote to record a call as soon as it starts in Skype. That method removes a lot of the rigamarole involved in recording the calls manually.
Also from the recording window, you can choose to have CallNote automatically notify call participants that the call is being recorded.
In addition, there are options for recording chat messages and video calls in the recording window. Those options are disabled in the free version of CallNote.
Recorded calls are stored in the CallNote library. They appear in a table format. Columns are Date and Time, Participants, Duration, Edit, Play, Snaps and Forward.
Add A Note
The Date and Time column can be sorted in ascending or descending order with the click of an arrow.
When your cursor hovers over the icon in the Participants column, a bubble will appear displaying information about the participants in the call, while the length of the call is displayed in the Duration column.
Clicking the Edit icon in a recording entry pops up a window containing information about the call. In the window you can change the name of the recording and give it a subject.
You can also add notes about the call. Date, time, participant and duration information are automatically recorded in the note field.
Text in notes can be styled with a number of tools. Tools on the style bar include bold, italic, underline and strikethrough; subscript and superscripts; font, font size and color; paragraph styles; highlight text; remove formatting; bullet and number lists; indent and outdent paragraphs; and align text -- left, right, centered and justified.
You can play the recording from the note, as well as from the Play column in the library entry. When you choose to play the recording, CallNote sends it to iTunes. That can be annoying if you'd rather not have phone call recordings saved with your music.
Evernote and Dropbox Support
Photos captured from video sessions will be noted in the Snaps column.
CallNote also gives you a nice array of places where you forward your recordings without leaving the program.
You can send them to Facebook or YouTube, stash them in DropBox or attach them to an email. You can also send them to Evernote.
Evernote is a popular notebook program. One reason it's so popular is you can use it on almost any platform -- desktop, laptop or mobile -- which makes it easy to share information among applications on those platforms.
That means a phone call recorded on a MacBook can be pulled into a Windows machine and archived later in Amazon Cloud. Recordings are MP3 files, so they can be played on any device as well.
After recording a phone call, you may want to transcribe it. NCH Software makes an excellent free program called ExpressScribe that fits the bill perfectly. The MP3 recordings of your phone call can be simply dragged into the app for transcription.
With Skype and CallNote, the bad old days of recording analog phone calls will become a distant memory -- one you'll be glad to forget.

---