Nothing Nutty About Acorn 4's Powerful, Affordable Image Editor
MacNewsWorld

Acorn 4 is available for US$29.99.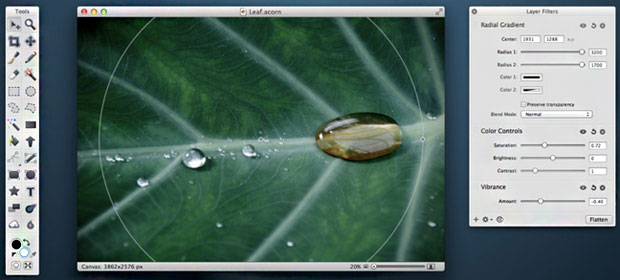 Acorn 4's tagline says all you need to know about the app. It's "The Image Editor for Humans."
Image editors are like a new pair of shoes. You have to walk in them awhile before they get comfortable. With this latest version of Acorn -- the first major overhaul since 2011 -- author Gus Mueller keeps that comfort period short and sweet.
He's also keeping the price of the program in a comfortable zone. Although you can pay an arm and a leg for an image editor like Adobe Photoshop, which sells for more than $600, you can also pay as little as $15 for a program like Pixelmator. At $50 -- $30 if purchased before the end of the month -- Acorn 4 is in the middle of the pack of non-professional editor programs.
Mueller doesn't try to overwhelm his users with Acorn's interface. Its main floating palette, for example, is nice and simple -- some might say too simple, although I didn't find that the case.
Non-Destructive Filters
On the palette, you've got your basic pan, zoom and move tools. There is a crop tool and some drawing implements -- pen, brushes and shapes, including stars and arrows.
There are also your selection tools (rectangle, ellipse, polygon and freehand), modification implements (clone, dodge, burn, smudge and erase), and magic wand, flood and text tools.
You are by no means limited to the palette tools. There are plenty of additional features located in the menus on the Apple bar -- many of them new.
For example, non-destructive filters have been added to Acorn's feature mix. Not only can you chain filters like posterize and blur together, but you can do so with the confidence that you can change your mind at a later time.
Levels and Curves
You can also fine-tune an image with Acorn's levels and curves features.
Levels allows you to control the blacks, white and midtones in a photo with a histogram. At one end of the histogram is a slider for the black point; at the other, the white point; and in the middle, the midtones. By moving the sliders, you can make the subject of an image pop better.
Curves lets you control the color in a photo -- RGB, red, green and blue. RGB or a color is represented by a line graph. You can grab the line at any point and bend it to add or subtract colors in the image.
Curves and levels are the stuff of a professional quality image editor.
Text Without the Hoops
Layers are another professional feature found in Acorn 4. Layers are like transparent screens that can be stacked on an image. You can use layers like masks -- cut a hole in it to expose a portion of an image under the layer, or add shapes or text to them without changing the original picture.
With this version of Acorn, you can select multiple layers and move, delete or reposition them.
Another new feature in the latest version of Acorn is the ability to control the center point and radius of a filter directly on the image. For creating gradients -- where one color morphs into another -- or blur effects, that's a very handy feature to have.
Some programs make you jump through hoops to place text on an image. Not Acorn. After clicking on the text tool, a small box will appear on your image. You can grab the handles on the box to resize it.
You can rotate a text box by hovering your cursor on the box's edge and waiting for the cursor to change to two circular arrows. Then you move the circular arrows to where you want to rotate the box and click. The process is a bit clumsy and not entirely intuitive.
86 Unwanted Objects
In addition to the new rotating text feature, this version of Acorn lets you customize your text from a single floating palette.
From the palette, you can choose your font family and typeface -- regular, light, oblique, bold, etc. -- as well as size and characteristics, such as bold, italic and underline.
You can also control your type's baseline, kerning, line height, spacing, alignment and stroke, as well as blending and opacity.
This edition also has some features to help you quickly clean up images. For example, Instant Alpha can quickly remove unwanted pixels from an image, and Quickmask lets you swiftly zoom in and edit selections with ease.
If you like to automate your imaging tasks, Acorn lets you create scripts for it with Automator, AppleScript or JavaScript. In fact, you can even write plug-ins for it in Python, JavaScript or Objective-C.
Another useful non-image editing feature: creating a layered image from all the windows you have open on your computer.
Although a major update hasn't be made to Acorn 4 in three years, those familiar with the software will find the wait was worth it. As for new users, they'll be treated to a spry app with an excellent arsenal of features for creating memorable images.

---