Opera Tantalizes With Its Next Browser
MacNewsWorld
In the browser wars, Opera is hardly noticed. In can barely be seen on a battlefield dominated by the likes of Microsoft, Google, Mozilla and Apple. Nevertheless, the little browser that could keeps chugging on.
It recently released a beta version of what will be the next version of the browser. While it would be unfair to rate a beta version of a product, it's still worth taking a hands-on tour of the browser called "Opera Next."
A distinctive feature about this version of Opera is something you can't see because it's under the hood. The browser's developers yanked out the software's old rendering engine, Presto, and replaced it with the Chromium engine used in Google's Chrome browser.
Theoretically, switching out the engine should improve the browser's performance. My browser of choice on my MacBook Air is Chrome, and I have to say Opera Next is noticeably perkier. Then again, Chrome was spry, too, when I first installed it. Once I started weighing it down with extensions, though, it lost a step or two. Only time will tell how much pep Opera Next will have when it's carrying a load of applets.
Stashing Items
If sleek's your thing, you'll love Opera Next. Tabs to Web pages you have open are displayed at the top of the browser window, along with a plus-sign icon for adding new tabs.
Below the tab row is a combination address and search bar. If you type or paste an Internet address on the bar, you can go to that location. If you type words you'd like to search for on the Web, the browser will do that for you, too. That's how Chrome works and it not only saves time, but reduces the clutter created by having separate address and search fields.
On the same line as the address bar are icons for moving backward and forward through Web pages you've viewed in a tab, re-rendering pages, adding or removing "speed dial" items and "stashing" items.
Stash is a handy tool for quickly saving a series of Web pages for reference later. For example, say you're searching for rain slickers. As you discover Web pages that contain slickers you'll consider buying, you can click the stash heart located inside the address bar and it will be stored in the browser's stash area.
Gray Cell Gem
You can access the stash by opening up a new tab. New tabs display, by default, a Web page containing buttons to access three core features of Opera Next -- stash, speed dial and discover.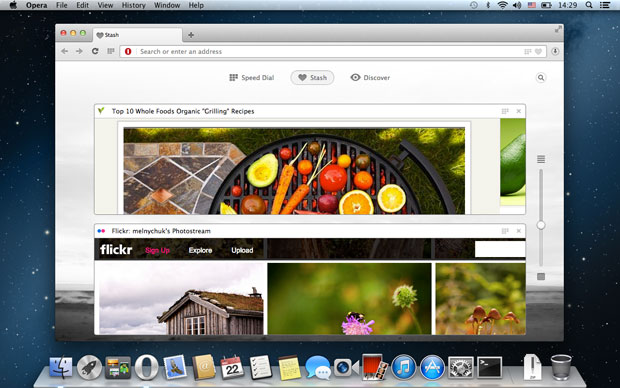 Opening up a new tab to access speed dial, stash and discover is a little awkward. If they could be accessed from the menu bar or better yet, from individual icons, it would improve access.
When you open stash, you'll see the items you stored there in a collapsed view. That allows you to see more items on a page.
If you want to expand an item, there's a slider control beside the item list that can be used to increase the visibility of the items in the stash. You can display a quarter of a page for each item, for example, or more or less.
Currently, I use Evernote Web clipper to perform stash functions. Having the functionality built into the browser is a gem of an idea.
Cruising on the Infobahn
Speed dial has mobile application written all over it. It functions like a library for bookmarks, but the bookmarks are large thumbnails -- more like billboards -- instead of tiny text.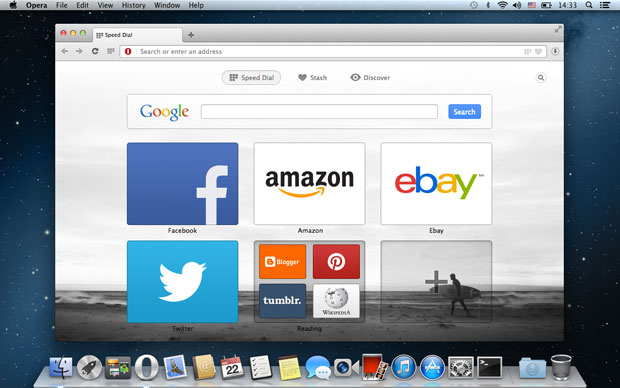 Organizing bookmarks displayed the traditional way can be onerous. With speed dial, it's like organizing folders on an iPad. You drag one billboard onto another and a folder with smaller versions of the billboards is created for the pair. Once the folder is created, you can drag as many billboards into it as you'd like.
If you drag too may billboards into a folder, you can lose sight of some of them. That could create a hassle when you try to find a particular one later. Opera's developers, though, foresaw that problem and added a speed dial-specific search to find anything in the section, no matter where it might be hidden.
The third leg of the Opera Next tripod is discover. It's designed to help you discover content that's not only interesting but also relevant to your interests.
Stories are displayed on the discover page in Flipboard fashion -- lots of photos with a few words.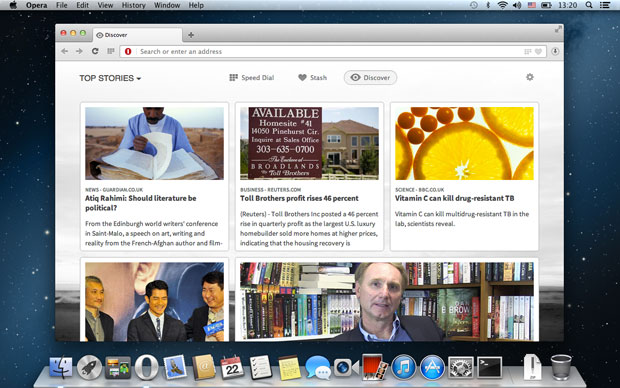 You can customize the content on the page by country and language, as well as by subject matter. Currently, there are 13 subjects to choose from: arts, business, entertainment, food, health, lifestyle, living, motoring, news, science, sports, technology and travel.
It's not clear how stories are chosen for the discovery page, but a little more transparency in that area would be useful in making the section truly personal for the browser's users.
Although Opera Next is a beta program, it has the polish of a finished product. For users straining under browser bloat, Opera Next is worth a test drive to see what it feels like to take a sports car onto the infobahn.

---