Airmail Flies Into Sparrow's Email Space
MacNewsWorld

Airmail by Bloop S.R.L. is available in the Mac App Store for US$1.99.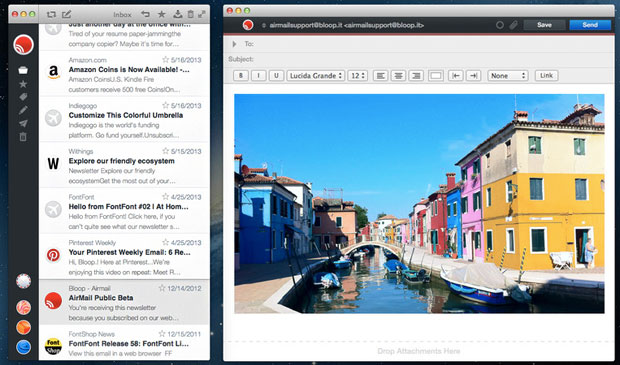 Two schools of thought have begun to emerge about email. One says the technology has passed its prime and needs to be replaced by some kind of social networking technology along the lines of Facebook. The other maintains that email can be saved by better software, like Airmail.
Airmail is being compared to Sparrow, a popular email client that became too popular for its own survival. Google bought it and absorbed it into Searchzilla's digestive system.
Airmail is being compared to Sparrow because it has a clean and simple interface that belies the power of the program.
True, the software is a work in progress, but the work that's been done so far is laudable.
Client Without POP
One immediate problem with Airmail is its lack of support for POP3 email services and Microsoft ActiveSync. If your primary email account is Gmail or Yahoo Mail, or an IMAP service like Google Apps, you'll love Airmail. If you're using Outlook.com or Verizon FiOS, you'll find the program wanting.
There are workarounds for that deficiency. For instance, you can forward all your email from a POP3 service to a Gmail account. Workarounds, though, aren't what a program that's promising simplicity should be forcing on some of its users.
However, Airmail's developers at Bloop recognize that the absence of POP3 and ActiveSync support may be giving some prospective users pause, and they are working on adding those services to it.
While I eventually warmed up to Airmail, I almost threw in the towel when I tried to get it up and running, but that was no fault of the software, as I came to realize.
!@#$%&* 2FA
When I tried to set up my Gmail account in Airmail, I kept getting login errors. After going through the exercise of manually configuring the account and still meeting with failure, it occurred to me that Google's two-factor authentication might be interfering with the connection.
Google 2FA -- which sends a code to your cellphone when your Google account is accessed from an unfamiliar source -- blocks apps from accessing your account with your Google password. For those apps, you have to create an app-specific password to tap into your Google account.
The process is a pain in the cheeks. What's worse, there are no error messages telling you that you need to create a password for an app. It's a classic case of forcing users to choose between security and convenience and when that happens, convenience usually wins.
Once that hurdle was vaulted, all of Airmail's installation pieces fell into place nicely. Gmail configured itself, as did Yahoo Mail and my ECT Google Apps account.
4 Column Design
Airwave is organized on a four-column layout. If that's too unwieldy for you, you can hide any column you'd prefer not to look at.
All your accounts are identified in a thin column at the left edge of the interface. Each account is assigned a picture, and a badge appears on each telling you how many unread messages you have in the account.
At the top of the account strip is the Airmail logo. Clicking it will show you all the mail in all the in-boxes in all your accounts.
Folders and labels for your accounts are displayed in the second column. They're color-coded and can be customized.
One problem with lists of folders and labels is that you tend to keep adding to them. As you do, it becomes more difficult to display what you want when you want it.
Airmail addresses that hassle by placing a search field above your accounts. As you type a search term, the software will dynamically display folders and labels that match it.
Quick Header Search
Below the accounts section in the column, there are some default filters that the developers thought would be useful. For example, they let you view all the messages you received today or all the mail in all your accounts.
They also permit you to view "muted" conversations. Muting can be useful for tightening up on which conversations you want to appear in your in-box. It will hide a conversation from sight. Once it's out of sight, though, it can also end up being out of mind, so a filter that lets you view muted conversations can be very useful.
In the third column, you can see headers for the messages in your accounts.
You can filter what appears in the header column by choosing a folder or label in the accounts column or by searching the column with the search tool at the top of it.
As with folder and label search, items will appear dynamically in the header column as you type your search term.
In addition, there are buttons below the search tool that let you quickly refine your query. The buttons will darken depending on where the messages that match your search term can be found.
Click on "subject" and all the messages containing your search term in the subject line will appear. The same can be done for "body," "name" and "attachments."
Almost an Alternative to Apple Mail
The final and largest column in the layout shows the content of a message.
There are also some tools for acting on the message. There's a "quick reply" tool, as well as reply, forward and trash tools.
What's more, there's a pull-down menu for performing tasks like marking up messages as unread, spam, important and starred; archiving messages; and moving them to other folders or accounts.
Airmail supports some features you'd expect from an OS X app -- integration with the notification center and address book (it will import your Gmail contacts into your Mac), support of full-screen display and dictation.
It also allows you to drag and drop attachments into messages, display images inline in your emails, and stash attachments in DropBox.
Organizing email workflow in AirMail is much easier than in Apple's native email app. Its interface and design is smoother to use, too. If only it supported all email account types, it would be a viable alternative to the Apple app.
Want to Suggest a Mac App for Review?
Is there a Mac app you'd like to suggest for review? Something you think other Mac users would love to know about? Something you find intriguing but are hesitant to buy?
Please send your ideas to me, and I'll consider them for a future Mac app review.
And use the Talkback feature below to add your comments!

---