Opera Mail Sings but It's Sometimes Off-Key
MacNewsWorld

At one time, all the major browsers had email programs cooked into them. The practice was largely discontinued as webmail became more robust. One holdout -- until recently -- was Opera.
With the introduction of Opera Next, its next-generation browser based on Chromium, Opera has stripped its email program from its Web navigator and given it legs of its own.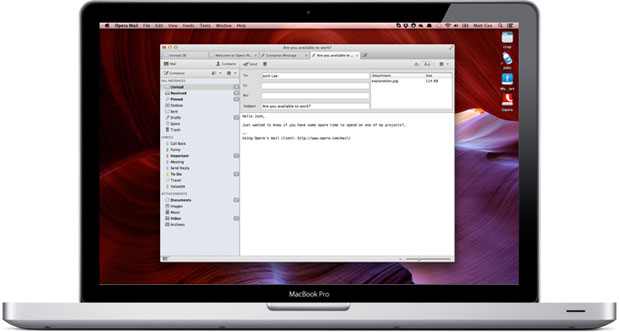 A problem with many email programs embedded in browsers is they tend to be lightweight on the feature side. That's not the case with the new free standalone edition of Opera Mail.
The Mac version of Opera Mail has a number of muscular mail-handling features, including creating tabs for individual emails, conversation threading, message labeling and automatic segregation of mailing lists.
Messy Setup
Setting up Opera Mail can be a little nettlesome. Like most email clients these days, it's designed to automatically set up accounts by giving it an email address and password, but every mailbox I set up needed manual intervention.
For Gmail, for example, the Opera Mail choked the first time I tried pulling in mail from the Google service. Admittedly, that was expected, as I have two-factor authentication activated on the account. That requires a unique password to be created to access Gmail with a new program, and I initally tried my true Google password.
After inserting a new unique password furnished by Google into the account setup, though, the connection with Gmail still failed. I had to open the properties window for the account and paste my password into the incoming POP server settings.
Everything worked fine after that -- until I tried to send a message. Then I got another error response. Once again I had to open the account properties window and paste my unique password into a field -- this time in the Outgoing SMTP server settings.
You'd think that by default, the program would be smart enough to use the password in the incoming settings for the outgoing settings, too.
3-Column Approach
The same snag occurred with my Verizon FiOS account. These setup foibles starkly contrast with another new email program I recently reviewed, Airmail, which -- although not supporting POP -- had no trouble auto connecting to IMAP and Gmail accounts.
Once you get an account working, Opera Mail has some nice features, although its basic interface sticks close to Apple's native email program.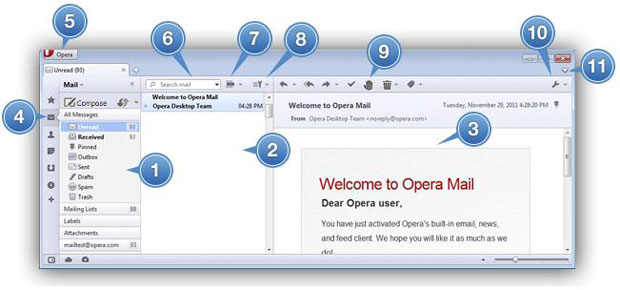 Mail panel and views
Message list
Selected message display
Mail panel selector
Main menu with options for Opera Mail
Search mail field
Show Message Thread icon
Settings for This View icon
Mail toolbar
Default Mail Settings icon
Closed Tabs icon
It has a three-column layout -- one for folders, message headers and message content.
The folder column is initially divided into sections for all messages, mailing lists, labels and mailbox accounts.
Everything From Every Mailbox
The All Messages section unifies all the mail in all your accounts. You can see all unread and received messages; outbox, sent and draft messages; and those in your spam and trash folders.
There's also a folder for "pinned" items. Messages can be pinned from any account. It's a good device for keeping items that need immediate action in a place where they can be reached quickly.
The mailing list section is a good way to segregate newsletters and other informational material from the bulk of your email.
Mailing list did a good job of figuring out my list subscriptions, but it was not so good at naming them. Most of my lists were tagged with indecipherable letters and numbers.
Mail Labels
Opera Mail's Labels are similar to Flags in Apple's native email program. They allow you to tag items so you can find them when you're looking for them later.
There are a number of ways to flag items. If you control-click on a message, you'll get a menu that lets you choose a label for the message or create a new label for it.
You can also just drag a message to the list of labels appearing in the folder column.
Properties of a label can be changed by control-clicking it in the folder column and choosing its properties.
With properties, you can determine where you want the label to be applied -- to all messages, for example, or to messages in a particular account. You can also decide what the label should be assigned to -- messages with the word "Apple" in the subject, for instance, or "iPhone" in the content of any message.
Time Saver
There are a few more options for labels. You can hide a group of labeled messages from other views -- a good idea for cleaning up visual clutter from your in-box -- and automatically mark a labeled message as read.
No modern email program these days can omit conversation threading, and Opera Mail is no exception. Threaded conversations are useful in keeping a conversation with an email correspondent together -- at least until they decide to alter the subject field.
Another nice feature of Opera Mail is the use of tabbed messaging. When you open a message, it's tabbed at the top of the program's main window. That lets you open several messages at a time and swiftly move among them. Believe me, it's a real time saver.
Time saving is what Opera Mail is all about. It gives you the tools not only to process your email fast, but also to close in on that elusive goal of zero mail in your in-box.

---