Pipeliner 5.2 Keeps CRM in Sync
After making its beta debut back in 2009, Pipeliner CRM software recently graduated to version 5.2, bringing with it the ability to automatically sync data in near real time -- for both Mac and PC computers -- locally or through the cloud.
"This is key for salespeople that work globally," Nikolas Kimla, founder and managing partner of Pipelinersales, told CRM Buyer.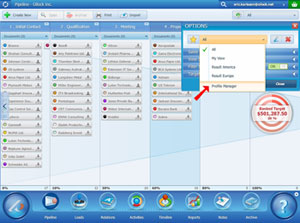 (click to enlarge)
"Very often there is not connectivity available," Kimla explained. "Pipelinersales automatically syncs the minute it identifies an available connection."
While many CRM systems offer synchronization, Kimla maintains that few if any match Pipeliner's dual functionality for both the PC and Mac platforms.
'CRM Has Sucked the Life Out of Sales'
Kimla, a salesperson at heart, built the application with this constituency in mind. In fact, all told, there are about 20 features designed specifically for sales reps to make their jobs easier, he said.
"What I see as my chief contribution to CRM is the idea that sales can and should be an entrepreneurial endeavor," he explained. Sure, CRM vendors purport to support this basic belief, but in truth the applications on the market today have "sucked the life" out of the natural sales process and cycle, he added.
Sales automation in most CRM applications has become all about the data and its management, he said; "what we have done is liberate the salesperson to do their jobs."
Visualizing the Sale
As one example, Kimla pointed to a tool that visualizes the pipeline and can be changed by tinkering with any number of inputs.
"It shows not only the opportunities but all of the logic behind these various leads or opportunities," he explained.
The numbers and images change depending on the probability of the stage of the deal and other factors that are subject to change.
"For example, when you change the perimeters of the opportunity, you can also see what that change means to the sales rep's target numbers, his revenues, his bonus, his commission and so on," Kimla noted. "It is all visualized in a matter of seconds."
Another tool helps the user build a profile of a sales lead.
Meanwhile, version 5.2 of Pipeliner also includes improved Office 365 integration, enhanced management reports and improved synchronization performance with its build-out of a local application for uninterrupted use. The local application allows the user to access data from anywhere, even when they are offline.

---