You, Mixtab, Are No Google Reader
MacNewsWorld

Mixtab Pro is available from Mixtab for US$3.99.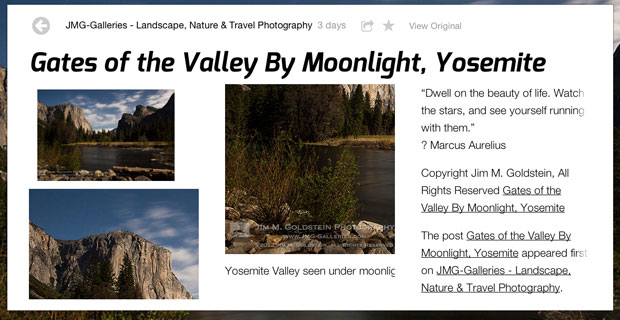 With Google Reader's demise, makers of software to subscribe to Really Simple Syndication feeds have hustled to fill the void.
The biggest winner in the RSS sweepstakes so far has been Feedly, which attracted a large portion of Google Reader's orphans. Feedly has been so successful, in fact, that some RSS makers, like Reeder, are connecting to it, much as they plugged into Google Reader.
A more conventional way to attract Reader orphans is to allow them to import their feeds from the defunct service into a new reader. That's the approach tried by Mixtab Pro, available for US$3.99 from the Mac App store.
At the end of last year, we reviewed the free version of Mixtab and were impressed with its visual audacity. Unlike some drab RSS readers, Mixtab uses a magazine-style approach to displaying the content of feeds -- an approach pioneered by Flipboard, one of the first super apps for the iPad.
Miss List View
However visually arresting the magazine metaphor is, it has its drawbacks for hard core Reader users. That's because it trades screen real estate for information.
Google Reader's list view packs headlines from RSS articles on the screen. The view may have the all the allure of the agate on the stock pages of a newspaper, but it allows you to scan lots of information quickly.
With magazine layouts, articles have large headlines, photos and text that take up more room on a page. That's sweeter for the eye, but it means fewer articles on a screen.
To some extent, the drawbacks to not having a list view can be offset by the program's gesture support. With a trackpad, for example, you can slide your fingers across the pad to move left or right through groups of feeds.
When they work, the swipe gestures allow you to quickly flip through feed screens as fast as you would flip through the pages of a magazine. The problem is that you sometimes have to swipe two or three times before you can advance a screen, which can be annoying.
Clumsy Gestures
In the free version of Mixtab, there were arrows on the sides of the feed screens that could be clicked to advance them. Those don't appear in Mixtab Pro, so if a swipe doesn't succeed, you have no choice but to keep on swiping until it does.
It's easy to understand why Mixtab's developers removed the arrows -- why do you need arrows if you can do something with gestures? -- but in this case, the arrows would have provided some just-in-case redundancy that could make navigating in the app less vexing.
This latest version of Mixtab Pro was released just in time to be touted as an alternative to Google Reader. Unfortunately, we couldn't get the RSS viewer to digest our Reader feeds.
Before our Reader account expired, we saved our feeds as instructed by Google. Reader exported all our account information into a Zip archive.
There's a bunch of files in the archive, but the only important one is subscriptions.xml. That's the equivalent of an OPML file, a format used for tree-style applications.
Import Choking
Mixtab choked on the XML file. It wouldn't import it, generated a lengthy error message, and crashed.
The same thing occurred when we changed the file's extension from XML to OPML -- a trick that sometimes works with fussy RSS readers.
Since all our Google Reader feeds had been exported to Feedly, we tried exporting them into an OPML file created by that app.
Mixtab wouldn't have anything to do with it. It flashed a message stating the file wasn't a proper OPML file and then crashed.
So Mixtab Pro definitely didn't make it as a Reader altrernative for us.
Attractive Feed Reader
Although Mixtab's new gesture support and feed import features leave something to be desired, the app remains an attractive way to organize and view RSS feeds.
Feeds can be organized in "tabs," which appear as tiles on the program's home screen. Each tile contains a title for the group of feeds under it, along with a headline and graphic from a recent article in the feed stream.

In addition to navigating to your tabs from the home screen, you can view a gallery of tabs created by the Mixtab community, view any articles from your feeds that you marketed as a "favorite," or create a new tab.
To reorder tabs on your home screen, you can enter the edit mode and drag the tiles where you want them to appear on the home screen. You can also delete tabs in edit mode.
Rich Reader
Where an RSS article is viewed can be a matter of taste. We like to view them inside the RSS reader, but others prefer to see them in a Web browser. Mixtab gives you both options.
If you want to share an article with your friends on the Internet, Mixtab lets you do that, too. You can email an article link, ship it to your Twitter feed or post it to Facebook.
In order to start using Mixtab, you need to set up a free online account for the program. You can piggyback that on a Facebook or Twitter account, if you're trying to avoid account proliferation.
An advantage of having your tab information in Mixtab's cloud is you can access it from any device with a Web browser. That can be handy when you're away from your Mac.
As a Google Reader alternative, Mixtab Pro stumbles, but as an RSS reader that provides a rich way to view syndicated articles, it still excels.
Want to Suggest a Mac App for Review?
Is there a Mac app you'd like to suggest for review? Something you think other Mac users would love to know about? Something you find intriguing but are hesitant to buy?
Please send your ideas to me, and I'll consider them for a future Mac app review.
And use the Talkback feature below to add your comments!

---