Ember for Mac May Fire Your Imagination
MacNewsWorld
If you're the kind of person -- a designer, perhaps -- who finds visual inspiration on the Web, where photos and layouts and color schemes feed your soul and generate sparks of ideas, you may warm to Realmac Software's Ember for Mac, a digital scrapbook now available in the Mac App Store for US$49.99.
Ember lets you generate and store images from websites -- photos or just snaps of areas of pages -- and then lets you organize and categorize them into collections. You can annotate images with built-in drawing and text tools, letting you provide feedback to others or simply communicate the elements of design that you like -- or dislike, for that matter.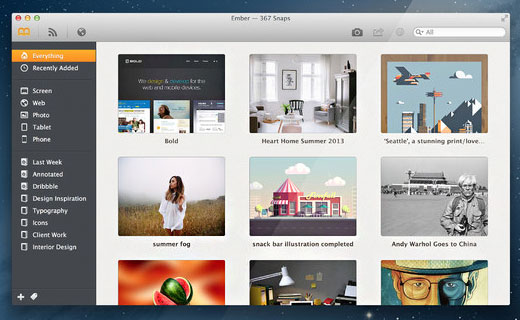 While Ember can be used for digital scrapbooking, it's also meant for collecting online images to act as catalysts for projects. What kind of project? Any that lends itself to design, art, space, light, usability, mood or function.
Ember is for "creatives," according to Realmac Software, and it's an evolutionary re-creation of LittleSnapper, which was a similar tool for organizing and storing images. Ember for Mac, it turns out, has far more features than the discontinued/renamed/rebuilt LittleSnapper.
Key Features
Organization:
Drag images into collections, give them tags, and build Smart Collections based on the tags and metadata in your library.
Subscriptions: One of Ember's particularly interesting features is its ability to let you subscribe to websites visually, letting you browse the images from your subscriptions.
Built-in Browser: Ember includes an integrated responsive browser, which lets you save pages from responsive websites at any width wanted -- for instance, to match iPad or iPhone views.
Browser Extensions: With extensions for Safari and Chrome, Ember doesn't have to be running in order to send images directly to collections inside Ember.
Screenshots: Ember lets users take a variety of screenshots, including full-screen, timed full-screen, area and windows. Plus, Ember will automatically name the screenshots.
Annotations: Text and freehand sketch tools make it easy to write on images, as well as crop or rotate them before sharing.
Sharing: Of course, Ember lets users send and post their images via email, AirDrop, Messages, Twitter, Facebook, Flickr, CloudApp and Tumblr.
LittleSnapper Imports: Previous LittleSnapper users can import their LittleSnapper libraries into Ember, as long as they are importing from the 1.8.5 version.
More to Come
For LittleSnapper users, Ember for Mac should bring more heat and light than pain. There are new features, and Realmac is alluding to even more on the way. However, the Mac App Store doesn't allow upgrade pricing, so everyone will have to start fresh at $49.99.
Ember for Mac requires OS X Mountain Lion, version 10.8.3 or higher.