Arq Saves Your Data for a Rainy Day
MacNewsWorld

Arq: Online Backup for Mac to Amazon AWS Glacier and S3 by Haystack Software is available at the company's website for US$39.95 (free to try for 30 days).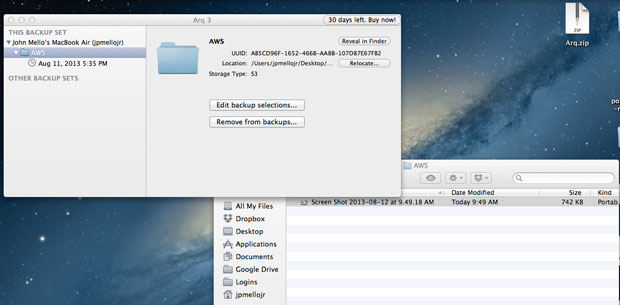 There are lots of free places and free programs to back up data from your Mac so why would you want to pay $40 for software plus $0.095 a gigabyte monthly for storage?
The answer to that question may be a no-brainer for you if you only have a few gigs of data that need backing up. For people with larger demands, though, the answer may not be so obvious.
Many free storage services -- iCloud, Google, Dropbox, SkyDrive and such -- have limits to how much space in the nimbus they'll let you occupy before they start charging you for it.
Those limits are typically in the 4-to-10 gigabyte range, which may be fine for someone who wants to store a few years of photos or a few home videos. For someone who wants to do a true computer backup, though, which could have a hard drive of 350 GB or more of data on it, those limits just won't do.
In addition, when you're backing up that much data, you want to make sure it's going to be there when you need it. In other words, you want to sleep soundly knowing your cloud provider has your back.
Challenging Set Up
Arq aims to meet the needs of users with larger online backup demands.
Made by Haystack software, Arq works with Amazon Web Services to provide industrial strength storage at relatively reasonable prices.
Setting up Arq takes more effort than a typical cloud service. Most of the time, all you have to do is set up a user name and password. The extra effort with Arq is required because you not only have to activate program, but also need to set up an account with Amazon.
If you already have an account with Amazon's online marketplace, you can use that user name and password for Amazon Web Services, too. However, it's best to use a separate user name and password for your AWS account for security reasons.
In order to talk to AWS, Arq will require two ID keys that AWS will generate for you -- an access key ID and a secret access key. It also asks for an encryption password. That password is needed for Arq to encrypt the data it sends to AWS.
Needless to say, that password should be strong -- include a number, a non-alpha-numeric character and an uppercase letter -- and should be stored in a safe place. If you lose it, you'll experience some major hassles.
No Teeth Gnashing
Since only you know your encryption password, you don't have to worry about anyone at Arq or Amazon decrypting and peeking at your data.
In addition, the encryption is done by Arq on your computer. That means that when the data is in its most vulnerable state -- when its unencrypted form is being transformed to encrypted form -- it's not exposed on someone else's server.
Something that's always bugged us about some backup programs is that they store data in proprietary formats. That can make it difficult to view the backed-up data.
Arq doesn't do that. It stores backups in an open document format. Moreover, it has created a utility that's available at an open source website that lets you view your backups without using the company's software -- a good safeguard should Google decide to swallow the company or something.
Since Arq is a business breed program, it has some features found on higher-end backup systems. For instance, when it makes a backup, it only backs up changes made to your data -- a good strategy for keeping network traffic and disk usage down.
However, the software also maintains multiple versions of your files. That means if a file is corrupted or accidentally deleted, you'll be able to recover it without hair pulling or teeth gnashing.
Reliability Matters
Since Apple has gone to all the trouble of creating a backup program with Time Machine, you may well ask yourself, "Why do I need to use someone else's program?"
For one thing, Time Machine is only as good as the hard drive that it's connected to. Even the best hard drives fail eventually. What's more, with Arq, you can back up data when you're away from your Time Machine drive -- a plus for road warriors.
Arq is plugged into one of the most reliable storage providers on Earth. Its Simple Storage Service, or S3, offers almost 100 percent durability -- the system can lose two data centers without you losing your data -- and 99.99 percent availability.
Amazon Glacier -- Arq's other option -- is as durable as S3, but itis made for cobweb data. It can take from three to five hours to retrieve data from Glacier, and Amazon will charge you for retrieving large amounts of information from it.
That's why Glacier monthly storage costs a penny a gigabyte. S3 costs 9.5 cents per gig a month, although you get 5 GB for a year free after signing on.
Arq isn't for everyone, but it is for anyone who is serious about performing a full backup to the cloud and not just a few folders and files. Sure, free cloud storage is tempting, but you need to ask yourself what your data is worth. If a gig of it is worth less than a dime a month, then maybe Arq isn't for you.
Want to Suggest a Mac App for Review?
Is there a Mac app you'd like to suggest for review? Something you think other Mac users would love to know about? Something you find intriguing but are hesitant to buy?
Please send your ideas to me, and I'll consider them for a future Mac app review.
And use the Talkback feature below to add your comments!

---