New Filters Give Flickr More Flash
MacNewsWorld
Yahoo raised the ante in its high-stakes competition with Facebook, Twitter and Google for the hearts and minds of mobile photo sharers with Thursday's release of a Flickr for iOS update.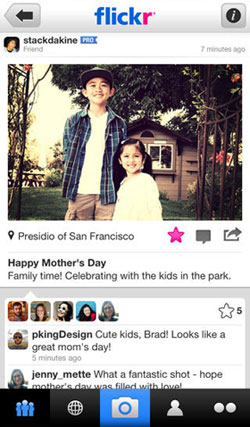 The new edition of the app is loaded with features aimed at photo sharers with artistic proclivities.
"We want to empower creatives," Flickr Head of Product Markus Spiering told MacNewsWorld.
Flickr for iOS now has 14 filters for turning images into mono color shots -- black-and-white or sepia -- as well as a number of color and contrast variations. It also has a filter that emulates the quirky "lomo" effect and lets you "vignette" an image.
In addition to having more filters in its iOS app repertoire, Flickr lets users see their effects live, while taking a shot. Better yet, you can customize the filters to suit your taste.
Better Tools
The Flickr app lets you shoot photos from directly in the program, and the camera software within it has some features not found in a typical smartphone camera.
For example, it lets you display a grid for better composition. You can spread your fingers to zoom in on an object you're shooting and pinch to zoom out.
You can also lock the exposure and focus in a shot. That's when you choose an area in an image, lock the focus and exposure there, and then recompose the shot without losing that exposure and focus.
A number of features that were in-app purchases are now free in the program. They allow you to have a mini photo lab in your iPhone.
You can automatically enhance photos. You can crop them, too, with a crop tool that includes a set of standard crop sizes for faster resizing.
An image's brightness, contrast, saturation, exposure and white balance can be modified with slider tools. There are also tools for controlling color balance and histogram levels, as well as for sharpening images.
Changing Paradigm
When Flickr launched in 2004, DSLRs were the most popular camera on the service; now it's the iPhone.
"The paradigm has shifted completely," Flickr's Spiering said.
"What is really interesting about this for us as a company is that we can build our own camera software," he added. "That's something we advanced with our release this morning."
Beyond that, Flickr has a Kindle strategy for its service.
"Our goal is to have Flickr on all your devices," Spiering explained. "We want Flickr on all form factors that people are using."
Every major Web player needs a photo app these days.
"That's a large part of what people do with mobile devices," Carl Howe, research director for the Yankee Group, told MacNewsWorld.
"What's easier to do -- write a one-paragraph blog entry or take a picture and share it?" he asked.
"Flickr is a major Yahoo property," noted Howe. "It's as important to Yahoo as Instagram is to Facebook."
Titanic Bound?
One feature Instagram has that Flickr's app doesn't is video. That could hamper Flickr in its battle for the hearts and minds of mobile shooters.
"It hurts Flickr as a go-to source for instant sharerers," Ross Rubin, principal analyst with Reticle Research, told MacNewsWorld.
The importance of Flickr's role in Yahoo's future hasn't been lost on the company's higher-ups.
"It's one of the few sites that Marissa Mayer inherited that Yahoo is pouring resources into, trying to reinvigorate," Rubin said.
"They're trying to make it more relevant to mobile," he continued. "That's why we're seeing all this app development -- it's where Yahoo is trying to steer the ship."
However, it might be steering the ship toward an iceberg.
"Mobile is very important, but making artificial fences between it and the desktop is a recipe for disaster," Trip Chowdhry, managing director at Global Equities Research, told MacNewsWorld.
"Segmenting mobile is not a good strategy, because a user could be a mobile user at the same instant they're a desktop user," he explained.
"Yahoo is getting too myopic by focusing on mobile," added Chowdhry. "Yahoo should be focused on ubiquitous computing -- offering products in a frictionless way to users irrespective of what device they're on."