All Things Appy: Top 5 Map Apps for Firefox
This week, TechNewsWorld's All Things Appy looks at the top five free map apps for the Firefox platform. These are power tools that will make it faster to look up addresses and gain new perspective on the locations you want to visit.
We look at pop-up maps, unique map-related search add-ons and one alternative to common old Google.
About the Platform: Find the add-on that you need in the Search box in the Add-ons browser page or browse for the add-on that you need, allow it to install and then restart Firefox if you're prompted.
Note that add-ons can be called "extensions" when they have been installed.
No. 1: Quick Maps

Quick Maps has 4 stars out of 5 from 38 user reviews in Firefox's add-ons library. The add-on has a total of 45,048 users.
This app from Mapify adds in-page Google Map frames to website street address listings. Just hover your mouse over or highlight and right-click on the physical street address listing on a Web page within Firefox and an elegant Google Maps frame will embed on the Web page with the map and location label.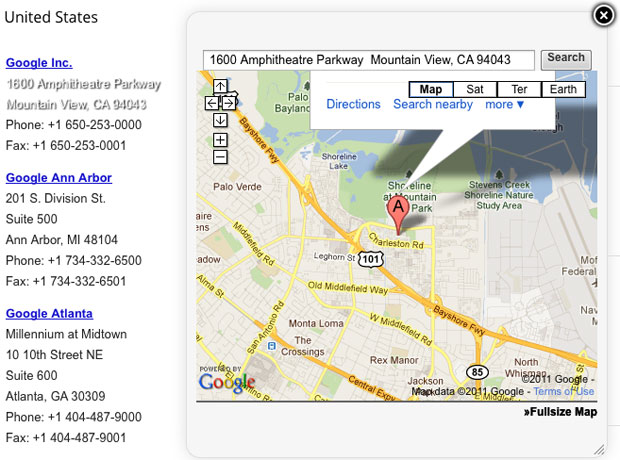 It also provides a highlight and one right-click Google search based on the address highlighted. Pretty.
No. 2: Google Shortcuts - All Google Services at a Glance

Google Shortcuts has 4 stars out of 5 from 311 user reviews in Firefox's add-ons library. The add-on has a total of 124,912 users.
Soeren Rinne's Google Shortcuts app simply adds Google services buttons, including one for Maps, next to the address bar on the Firefox browser.
The default setting is to create multiple buttons, including ones for Maps, Gmail, the now defunct Google Reader, Calendar and so on. However, from the app's settings icon, remove the ones you don't use. Retaining the Maps button only provides a speedy one-click Google Maps launch.
No. 3: Bing Maps powered by Microsoft Silverlight

Bing Maps Powered by Silverlight has 5 stars out of 5 from one user review in Firefox's add-ons library. The add-on has 70 weekly downloads.

If you're a little bored with Google Maps, BillVo's Bing Maps for Silverlight may make a welcome change. This app simply adds a Bing Maps SL option in the Firefox Search dropdown next to the address bar. Choose it to generate fluid map results from an alternative provider.
Both Microsoft's Bing Maps and Google's Maps use their own, unique aerial shots, so you'll see subtle detail differences, including clarity related to lighting based on time of day and other variables.
No. 4: Google Maps Terrain View
Google Maps Terrain View is not yet rated and has no user reviews in Firefox's add-ons library. The add-on has seven weekly downloads.

This app offers functionality similar to that delivered by our No. 3 spot, Bing Maps Powered by Silverlight, except that this is a Google Maps Terrain option for the Firefox Search dropdown.
Simply choose the option to have the search engine default to Terrain rather than Satellite or Map. It's a useful solution if you're performing multiple searches for locations for the purposes of outdoors activities in which hills are important.
No. 5: Locator - Locate on Google Map
Locator has 4 stars out of 5 from 32 user review in Firefox's add-ons library. The add-on has 7,672 users.

Here's an alternative to our No. 1 position Quick Maps that uses a highlight-and-right-click selection method rather than hover-over. It also produces a pop-out map in a new window rather than a map in an embedded frame.
It's a slightly less elegant solution, which is why it's in a runner-up position. At the same time, however, the new-window functionality does allow for map repositioning on the screen and is consequently good for the screen real-estate-challenged.
Want to Suggest an Apps Collection?
Is there a batch of apps you'd like to suggest for review? Remember, they must all be for the same platform, and they must all be geared toward the same general purpose. Please send the names of five or more apps to me, and I'll consider them for a future All Things Appy column.
Don't forget to use the Talkback feature below to add your comments.

---