HP Seeks Chromebook Sweet Spot With $279 Device
Google and HP on Tuesday unveiled the latest addition to the Chromebook family: the HP Chromebook 11.
Like its earlier counterparts, this Chromebook weighs next to nothing -- roughly 2 pounds -- and runs Google's Linux-based Chrome OS operating system. This new one, however -- priced at US$279 -- comes with some high-end touches and enough power to help HP and Google stake out some new ground in the low-cost mobile computing space.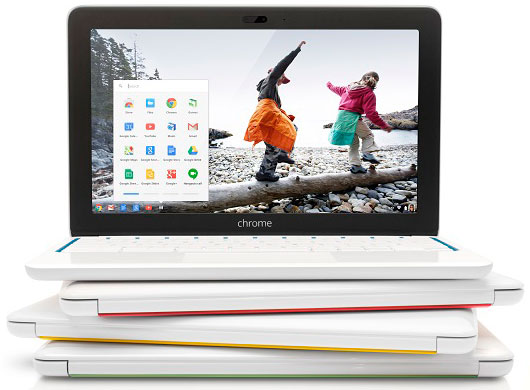 "This Chromebook is crafted with the same obsessive attention to detail as the Chromebook Pixel," said Caesar Sengupta, vice president of product management at Google, "but we worked hard with HP to keep the price low."
The device is available now at Best Buy, Amazon, Google Play and HP Shopping in the U.S. It is also available in the U.K. and will be on other store shelves in various markets around the world in time for the holidays, Google said.
The Comfort Touches
For starters, the ARM-based Chromebook 11 sports an 11.6-inch diagonal IPS screen that has a 176-degree viewing angle. Tapered edges, meanwhile, make working on the device easier on one's wrists; ditto the full-size keyboard.
The device is also the first to be powered by a micro-USB charger, which can be used to juice up an Android phone or tablet as well.
Battery life is up to six hours, and the device's speakers have been placed under the keyboard instead of on the bottom of the device.
"Many computers have speakers on the bottom," Sengupta explained, "which is great if you have ears in your lap." With the speakers under the keyboard, on the other hand, "the sound is crisp, clear and pointed up towards your ears," he said.
The Chromebook 11 also comes in different colors -- blue, red, yellow, green or black design, all sporting a lightbar on the lid. The chassis is made out of thermal-bonded magnesium to protect against falls or bumps.
'A Big Deal'
Taken all together, the features in the Chromebook 11 pack a powerful punch, especially for a device priced where it is, Nathan Toups, coauthor of Embracing Disruption, told TechNewsWorld.
"This is definitely the most advanced low-cost Chromebook yet," he said.
The Chromebook Pixel, Google's flagship, high-end offering, is still the gold standard of hardware, he noted, but it can be as costly as a MacBook Pro.
"This new Chromebook 11 is exciting because it scales many of the fantastic features of the Pixel down to an affordable machine," Toups said.
"I really see this laptop being a big deal in the education market and in businesses that are looking for low-cost production machines for staff like interns who don't need access to tools like Photoshop," he concluded.
'Low-Cost Alternative Technology'
To be sure, all of the technology is available in other devices, noted Dan Olds, principal of Gabriel Consulting -- but try finding it at the $279 price point.
"The price point is one of the main reasons why the Chromebook has done so well in the PC market, which overall is experiencing slow growth," Olds told TechNewsWorld.
For HP, a partner in this particular initiative, that is a particularly important driver. HP is clearly making a play for the low-cost PC market with this new entry, Rob Enderle, principal of The Enderle Group, told TechNewsWorld.
"HP is trying to do with Chromebook what IBM did with DOS and become the favored vendor for a low-cost alternative technology," Enderle explained.
It could work, he continued, but it isn't a strategy without risk, as "Google hasn't had the time to develop the needed processes" to take the Chromebook truly mainstream, he said.
The Marketing Question
Marketing is another issue, meanwhile, and Enderle noted that Google hasn't been willing to fund such activities.
"HP is used to [cooperative advertising] dollars to fund marketing, and Chromebook doesn't come with any," he explained. "This is likely to prove the biggest impediment because a different platform typically comes with a very high initial marketing cost."
All that said, however, if any vendor can pull off this play it is HP, Enderle concluded, with its "wealth of services, experience and enterprise sales."