Microsoft Circles Back to Halo
Microsoft is returning to one of its biggest franchises with the announcement of a new Halo game, set to debut next year for the Xbox One. Accompanying the release of the title is a new TV show based on the series.
The release of Microsoft's latest console, the Xbox One, provided the opportunity to rethink how to move the franchise forward while highlighting the console's assets, developer 343 Industries said.
The company is building Halo 5: Guardians from the ground up for the platform to ensure it runs at 60 frames per second on dedicated servers, while including the features, scope and scale it has hoped to include in a Halo game for more than a decade.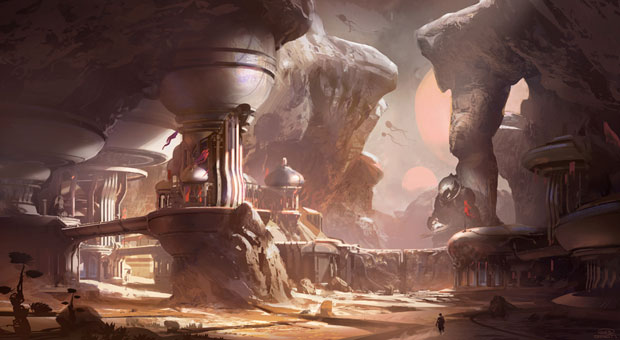 The game will hit the market in the fall of 2015 and is a much larger effort than Halo 4, said 343 Industries General Manager Bonnie Ross. The deeper undertaking relates to its content and scope, along with the technology of a new, more powerful game engine.
While core elements introduced throughout the franchise will remain, 343 Industries is overhauling its technology to take optimal advantage of the Xbox One hardware and platform, Ross noted.
Lessons Learned
Halo 5: Guardians will roll in with many of the lessons 343 Industries picked up from Halo 4 as relates to the potential the game's universe offers, as well as performance, scale, technology and aesthetics, Ross assured the game's community of fans.
Meanwhile, the debut of the Halo television series will occur around the same period. The developer is working with Amblin Television and blockbuster filmmaker Steven Spielberg -- a known lover of games -- who will act as executive producer on the series.
The show will work both as a standalone experience and one that ties in to the game experience, Ross said.
As for the game, 343 Industries plans to release more details on its plans for the Halo franchise at the Xbox media briefing at the E3 trade show next month.
Competitive Concerns
The timing of the announcement is causing some interest, given game developers typically make major reveals at E3. There might be competitive concerns at play, as the PlayStation 4 has outsold the Xbox One thus far.
"E3 is the time to make headlines and go on a full media blitz," said Lewis Ward, games research director at IDC.
"I view it in the context of where they stand in relation to PS4. It made a string of announcements recently, and I want to say they're trying to pull out all the stops early to prevent people from buying a PS4 who may buy it in the next couple of months and potentially lose them for this generation," he told TechNewsWorld.
The Xbox One soon will be available for a cheaper price without the Kinect motion-sensing peripheral, and subscribers to Netflix and other online services will be able to access them on Xbox One without needing an Xbox Live subscription, Ward noted.
Right Strategy?
There doesn't seem to be a pressing reason for Microsoft to reveal Halo 5 now, Ward added.
"The only thing I can think of is they are doing everything possible -- which is probably the right strategy long term -- to do everything to retain gamers on the Xbox platform," he said.
"If they lose them between now and the time that the new [Kinect-less] bundle arrives that puts it on price parity with the PS4, or if they lose them before some key franchises arrive, then they've basically foregone not just hardware revenue, but all of the software and service revenue associated with it. That's the only context to me in which this makes sense," Ward added.
"In theory, it's a very big deal, but as it stands, this isn't so much a reveal as a teaser to generate appetite for Microsoft's E3 showing next month, where they'll doubtless add a little more colour," Steve Bailey, senior games analyst at IHS, told TechNewsWorld.
The Halo franchise is one of the largest of all time in the games industry. The games have sold more than 50 million copies since the first Halo was released in 2001 as a launch title for the original Xbox. Halo 5: Guardians will be the 10th game in the series.
Bungie Studios created the franchise, which 343 Industries took over in 2007 after Bungie split from Microsoft to become an independent company.
System Seller
"Halo is a series that, since its inception, has been a system-seller where the Xbox hardware family is concerned. Without the original game in 2001 and its sequel in 2004 to drive uptake of Xbox Live, the landscape of modern console gaming could be looking very different indeed," IHS' Bailey said.
"It's arriving in the fourth quarter of 2015, so it won't be the sole draw for that period -- there will also be new SKUs, price drops, expanded services and other major titles arriving," he pointed out.
"Microsoft will be expecting to build serious sales momentum around this time, and Halo 5 will be a critical part of that. The Halo TV series will also serve a secondary function, which will be to help paint the Xbox One as more than a games console, and deepening its role as a living-room linchpin," Bailey observed.
Expanding Universe
As for the game itself, few details have been confirmed, though it seems as though the title will expand on the Halo universe exponentially.
"I think it's going to be huge. 343 by all accounts did a pretty darn good job of taking over for Bungie," IDC's Ward offered.
"I think they want to put their own stamp of philosophy on the franchise, so there's going to be some differentiation. Of course, they're going to want to show off -- it's going to be the type of game that Microsoft is going to watch very closely and wants to take full advantage of the onboard hardware and software, and try to be a marquee title," he added.
"I expect it to be beautiful to look at," Ward continued. "I expect to be something that has huge legs. In other words, there will be constant updates and new map packs. It will kind of become a permanent MMO (massively multiplayer online game) in some sense."

---