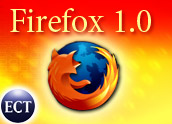 The non-profit Mozilla Foundation has placed an ad in today's edition of the New York Times. The open-source advocacy organization is pleading its alternative case with a two-page spread that asks readers the direct question: "Are you fed up with your Web browser?"
Spread Firefox, a volunteer-run Mozilla advocacy site, coordinated the ad, which features the names of approximately 10,000 people worldwide who contributed to Mozilla's fundraising campaign to support last month's successful launch the Firefox 1.0 Web browser. The ad had originally been expected to run close to the launch in early November, but publication was delayed due to design challenges.
The ad's placement has been paid entirely by the contributions of "volunteers and friends of Mozilla," the Mozilla Foundation said.
In the ad [view image], Mozilla assures readers that they are "not alone" in their browser frustration. It formally introduces residents of the Big Apple and beyond to Firefox 1.0 and invites them to download the browser. Mozilla reports that more than 11 million people worldwide have downloaded Firefox to date.
Firefox Hungry For More
Mozilla is already doing damage to mainstream players like Microsoft's Internet Explorer. Over the past month, Firefox's U.S. browser usage share has grown by more than a third, according to the latest independent study from WebSideStory, a provider of on-demand Web analytics. (See story.)
Since June 4, when IE's usage share first began to drop due to security concerns, it has lost a total of 3.38 percentage points. It's 1.09 percent loss in the November period compares to a loss of 0.32 percent in October.
But Mozilla fans are hungry for more, as evidenced by its more than 50,000 registered members dedicated to organizing grassroots marketing activities to raise awareness and promote the adoption through Spread Firefox.
Officials from Mozilla and Microsoft were not immediately available for comment.
Browser Security Issues
While Microsoft has been flagged for security concerns, the question of whether alternative browsers are actually safer than Explorer is open for debate.
Lead analyst Michael Cherry of Directions on Microsoft told LinuxInsider that a perception that alternative browsers like Firefox and Opera may be less vulnerable to attack could come back to haunt some over-confident consumers.
"Granted, these other platforms do not appear to be getting the attacks that Internet Explorer endures," Cherry said. "But I think you have to be very careful and add the word 'yet.'"
Cherry cautioned that we are moving toward a new kind of attack that goes beyond embarrassing Microsoft and into criminal intent. In other words, said Cherry, it's no longer about hackers bragging about their ability to break through security. It's about stealing people's money.
"Criminal-minded hackers want to be silent," Cherry said. "They don't want to be detected until they have stolen as much money as they can. I am concerned about the smug attitude from some people who use alternative browsers who don't think they are open for attack."