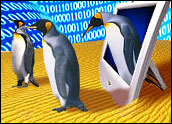 Well President's Day week was a fairly quiet one on the Linux blogs, as geeks far and wide hunkered down to recover from the excesses they indulged in on 1234567890 Day. Sigh — it was a wild ride, but now it's time to get back to work.
One interesting tidbit to emerge last week was that the mascot for Ubuntu 9.10, which was officially announced on Friday, will be the Karmic Koala. Mark Shuttleworth provides a detailed (and highly koala-ish) explanation for the choice in his announcement, along with goals for the upcoming version, which Shuttleworth says he expects in roughly six months.
Meanwhile, back to the present, the folks over at Phoronix put Jaunty Jackalope through its paces and found that the Ubuntu 9.04 Alpha 4 boots considerably faster than its predecessor, at least on an Intel Atom netbook.
The future's looking quick and cuddly at Canonical!
'How to Write a Linux Virus'
Much less warm and fuzzy — and yet no less useful — was the contentious discussion that came up on the blogs following a recent post by blogger foobar provocatively titled, "How to write a Linux virus in 5 easy steps."
Foobar set out to dispel beliefs that Linux is "virus-free" by pointing out potential malware infection risks in the .desktop file format used by Gnome and KDE. In so doing, the post elicited a virtual explosion of more than 100 comments on foobar's site alone — necessitating an update the next day, which generated a further 50-plus comments of its own — not to mention discussion on LXer, LWN, Slashdot and others, several of which pointed out that the problem had already been noted as early as 2006.
'We Need a New Answer'
"So we have a long-known, unaddressed vulnerability and easily accessible instructions on writing a Linux virus," quipped Slashdot blogger AlHunt. "Does this mean Linux is finally 'ready for the desktop'?"
Answer: "No, it means malware is finally ready for the .desktop," responded Anonymous Coward.
"Use Linux… wait, s***. We need a new answer, guys," chimed in Spazztastic.
The Wonderful World of Goo
Linux users may have their share of vulnerabilities to deal with, but at least they now also have a Linux version of World of Goo to console them. 2D Boy released the Linux port of the popular indie game just in time for 1234567890 Day — (coincidence? you decide) — causing much joy and excitement throughout the blogosphere. Praise, discussion and downright glee were to be found on the Blog of Helios, Hehe2, the Linux Loop, Slashdot and Digg, no doubt among many others.
"It's great!" enthused Takmadeus in the Hehe2 comments. "I was waiting for this game to be ported to linux for a long long time, actually (and just between us) it will be the first original game I'll ever own, curiously for linux 😉
"I am glad that the guys at 2D boy have had such a great experience with us linux users, I hope many many companies follow their example :)," Takmadeus added.
"Let's hope this is just the beginning for Games being ported to Linux," agreed blogger Rami Taibah.
Shadowgrounds: Survivor
Elsewhere in the world of gaming, Phoronix posted a review of Shadowgrounds: Survivor for Linux, which is currently being beta-tested by Linux Game Publishing.
"From our initial testing of this game on Linux, even with running the physics simulations on the processor, the physics are excellent and among the best we have seen in any Linux game," reviewer Michael Larabel wrote. "When it comes to the graphics engine, the image quality is nice but not superior to that of say 'Enemy Territory: Quake Wars.'"
Linux Game Publishing hopes to ship the game in March or April of this year, Phoronix reported. Another reason to be cheerful, especially if you love Linux and games!
Of course, if you love Linux and games *and* movies, you may want to try your hand at 2009 Oscar Interactive Photo Hunt on YouTube. The Linux connection is tenuous, but Ravi at All About Linux pointed the game out, along with instructions for installing the Flash player plug-in in Linux. Could be fun!
'A Good Start'
Anyhoo, this certainly isn't the first time we've looked at gaming on Linux — in fact, just last month we covered bloggers' discussion of the importance of gaming to widespread Linux acceptance. Nevertheless, wild enthusiasm over the World of Goo made us wonder if there was something more to be said.
"Games for Linux are a good start," Montreal consultant and Slashdot blogger Gerhard Mack told LinuxInsider. "Let's just hope they turn out to be good games with well-done Linux versions."
Wine, it turns out, figures prominently in many bloggers' gaming experience.
"I've used most of the Loki installers and even made my own deb for Micropolis, the Open Source version of A game whose name is something like S*mc*ty :)," Slashdot blogger drinkypoo told LinuxInsider. "Honestly, though, I think I've had at least as much if not more luck with Wine than with actual Linux games, which is of course a testament to the high quality of the Direct3D emulation found in Wine."
An Indie Trend?
"I'm somewhat happy to see games on Linux, but it really doesn't matter much to me," Monochrome Mentality blogger Kevin Dean told LinuxInsider. "Aside from playing 'World of Warcraft' on private servers, I don't do much gaming."
On a higher level, "I'm glad to see Linux native games, but I seriously wonder if it matters long-term," Dean added. "What I've noticed is that these aren't 'big names' porting to Linux."
Rather, this may be "less a case of Linux 'going mainstream' and more a case of small, developing game studios targeting a passionate and vocal niche market," he suggested. "There's absolutely nothing wrong with that, and I wish these developers much success and well-earned profit, but I don't think it's an indicator of anything 'bigger' as some might herald it.
Games A-Plenty for Kids
Linux may not yet have its fair share of games for grown-ups, but "there is a large selection of classic games for kids," Slashdot blogger Mhall119 told LinuxInsider.
Mhall119 runs QuinnCo, a nonprofit that aims to equip special-needs and low-income children with fully functional computer systems. QuinnCo just released the first official version of Qimo — a downloadable version of Linux customized for kids and bundled with a variety of games.
"From the educational ones I included GCompris and Childsplay," as well as "not-so-educational but still entertaining clones" including LinCity, Super Tux and Super Tux Kart, Mhall119 explained.
"For anyone who isn't fascinated by the latest FPS or MMORPG," he concluded, "Linux gaming offers plenty of variety and hours of entertainment."