There's been no shortage of gloom and doom here in the Linux blogosphere lately, what with Fuduntu's demise, a fresh round of anti-FOSS FUD, and even criticisms of Linux distros' girth.
So it was with particular joy that Linux bloggers received the news about the all-new BeagleBone Black.
"BeagleBoard.org on April 23 will officially announce a faster 1GHz version of its hackable, open-source BeagleBone SBC for only $45," read the report a day ahead of time from LinuxGizmos, and in no time at all every patron down at the blogosphere's Punchy Penguin Saloon was sitting up in rapt attention.
'Wow! Just Wow!'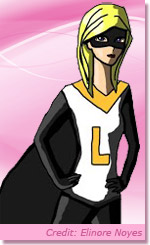 "The BeagleBone Black runs Linux or Android on a 1GHz TI Sitara AM3359 processor, doubles RAM to 512MB of DDR3, adds 2GB of onboard flash, and features a new micro-HDMI port," the report continued.
What began as stunned silence soon erupted into jubilant conversation that quickly spread to Slashdot and beyond. Linux Girl whipped out her Quick Quotes Quill and jumped into action.
"Wow! Just Wow! What more can you say about the value per dollar spent on IT?" enthused blogger Robert Pogson, for example. "So it's small. That's good, isn't it? So it's cheap. That's good too. So, it's cool and quiet? Wow.
"There are some weak points, like a lot less RAM than we usually have in PCs these days, but on the other hand a lot of us fire up one application, a browser, and keep just a few windows open, so RAM is not that large a drawback," Pogson went on. "Running GNU/Linux, the thing is a networked PC and can use resources on servers to do the heavy lifting. No one will edit a Hollywood movie on the thing, but they could if they connected a warehouse full of them together."
'One of the Best Values'
That, in fact, is precisely the idea, Pogson told Linux Girl.
"It's a very inexpensive node on a network doing almost anything, limited as much by imagination as RAM," he explained. "If RAM is a problem, there is a way around it. If you need more users on your LAN, there's nothing wrong with one user having a powerful PC and a bunch of others having these barebones units being clients.
"That's what networking is all about, putting resources in the best place to be used by everyone, and that doesn't have to be a hot box drying your hair," he added.
In short, "as a learning tool, a prototype, a PC, a server, or controller, the BeagleBone Black is one of the best values in the IT market," Pogson concluded. "There's no need to burden that price/performance with huge licensing fees from M$ or anyone else."
'This Is Great News'
Others were similarly enthusiastic.
"Nice!" began consultant and Slashdot blogger Gerhard Mack, for example. "More hobby project part suppliers are a good thing."
And again: "This is great news because it means more competition," agreed Google+ blogger Kevin O'Brien. "Beagle products have been available for some time, but I love to see continued innovation. Open hardware is a wonderful thing."
'I Think They're All Great'
Similarly, "BeagleBone Black or Raspberry Pi or something else? Well, I think they're all great!" enthused Google+ blogger Brett Legree. "They all have a use, a purpose, an intended audience. I don't think the Black takes away anything from the Pi."
Legree has not yet purchased anything like this himself, but "I do know that the Pi is not for me," he told Linux Girl. "It would be a wasted novelty item as it does not have enough power for my intended use."
Still, "that doesn't matter!" he hastened to add. "Just because the Pi isn't for me doesn't mean it is useless, right? The same thing goes for the BeagleBone Black, or anything else for that matter."
Bottom line: "It is nice that we have things like the Black; it is nice to see the OEMs improve the specifications and lower the price," Legree concluded. "Competition is a good thing, isn't it?"
'The More the Merrier'
Along similar lines: "The BeagleBone looks like it could be a valid contender, and I say the more the merrier," concurred Linux Rants blogger Mike Stone. "Competition makes for strong competitors."
In fact, "the more of these tiny little boards that compete with each other, the better it is for us, the consumer," Stone added. "The BeagleBoard has alluring specs compared to others in its market, and it may be enough to make a boring old guy like me splurge to get one of my very own."
Indeed, "I'm very interested in the new BeagleBone, if only I could find some information on its GPU performance," Hyperlogos blogger Martin Espinoza told Linux Girl. "An Antutu benchmark score would be interesting, for example, while running Android."
Since he can't find much information on that, "I am inclined to assume that it's not very good, but I am aware of the danger of making assumptions," Espinoza added. "For much of the target market, this isn't a big concern, so it seems like a very nice alternative to Raspberry Pi that will better solve certain problems for a lot of people."
'You Can Shave Every MB Possible'
This is an area in which Linux "makes perfect sense," Slashdot blogger hairyfeet opined. "In embedded you are never gonna be updating the OS anyway, and with Linux you can shave every MB possible to make a thin OS tailored for the device."
Hairyfeet isn't an ARM fan, he told Linux Girl: "I think that, like X86 before it, ARM is in the middle of a bubble that is getting ready to burst, as we have seen it doesn't scale worth a damned when it comes to IPC," he explained.
Still, "if all you need is a little brain for maker projects? This, the gumstix, the plug PCs, the RPi, you have a wealth of choices, and I think that is great," hairyfeet concluded. "Good for them."
'Ship Them With a Soldering Gun'
Last but not least, "I grew up on Lego," began Robin Lim, a lawyer and blogger on Mobile Raptor. "Later, when I was too old to play with 'toys,' I put together my own computers."
Current toys, however, are not likely to "generate the creativity needed to mold another Philip Don Estridge, Robert Morris, Dennis Richie, Steve Jobs, Martin Cooper, Bill Gates, Steve Wozniak or Linus Torvalds," Lim opined.
"I think we can all appreciate what products like the BeagleBone and Raspberry Pi can do for today's youth," he added. "Understanding how something works is important. These single board computers can even be the basis for some really creative school and commercial grade projects, which go beyond plugging them to a keyboard and monitor."
At the same time, "these single board computers are a bit too complete in my opinion," Lim concluded. "It would be nice if they at least had sockets for a SODIMM and a SATA port instead of onboard RAM and storage. Even better would be to make them bigger and ship them with a soldering gun. A few burnt fingers never killed anyone."