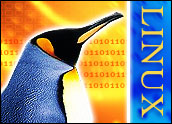 There's nothing like good news and good, clean Linuxy fun to perk up the dog days of summer, and that's just what the past few days have provided.
What's a little heat, after all, when you can cool off watching your favorite operating system on the silver screen? Yes indeed, Linux Today's Carla Schroder has put together a list of YouTubemovies that feature Linux, and they are not to be missed!
"Skydiving Tux," "Worm Detected" and "Linux Beauty" are among the gems Schroder includes; to those, we'd only add the recent clip of RMS dancing at FISL 10 in Brazil.
You just can't buy entertainment like that!
'Year of the Linux Stock Market'?
Then there was the news that Red Hat is soon to be a member of the S&P 500.
Red Hat will officially take the 500th spot in the index at the close of trading Friday, apparently making it the first Linux company to attain that honor.
"Congratulations," wrote SilverHatHacker on Slashdot, where the news was quickly picked up with glee. "Could this be the Year of the Linux Stock Market?"
'Making Significant Headway'
The United States Postal Service, meanwhile, boosted FOSS up a notch or two when it announced recently that it has moved its package-tracking system from a Sun Solaris environment onto HP machines running GNU /Linux.
"In today's sagging economy and economic downturn, it's good to see the U.S. Government tightening its belt and cutting costs by using open source software to help curb spending," wrote Lisa Hoover on OStatic, where the news was soon picked up. "FOSS is making significant headway and may be on the road to winning the race."
Slashdot, Digg and LWN were among the other sites that jumped on the good news, which had a distinctly refreshing effect throughout the blogosphere.
'Nice to Have Another Large Name'
"Cool," enthused Slashdot blogger yagu, for example. "I always like when anyone tries Linux and always welcome success stories."
Indeed, the USPS "must be happy with their other Linux systems," noted Chris Travers, a Slashdot blogger who works on the LedgerSMB project.
The fact that the USPS "bailed on Sun probably has more to do with people worrying what Oracle will do with Sun's OS and hardware divisions," but "it's nice to have another large name to point to for Linux users in the enterprise," Montreal consultant and Slashdot blogger Gerhard Mack agreed.
Of course, "I hope the USPS demonstrates that this was a good choice," yagu told LinuxInsider. "The USPS has so many other problems — e-mail, competition with other carriers, recession — that I worry they could crash and burn and people will point and try to blame Linux. Fingers crossed."
One-Second Boot Time
Then, finally, there was MontaVista's announcement that it has achieved a one-second Linux boot time in embedded industrial applications.
For movie buffs, there's even a YouTube clip demonstrating the quick boot in action!
Though the milestone "is unlikely to immediately benefit your average Linux user, previous real-time patches have eventually made their way into the main kernel," noted Sam on Slashdot, where — as on LXer and LWN — the news was met with tempered enthusiasm.
'Not the First on This One'
"Impressive and would be a huge improvement over the current state of things," wrote JonTurner on Slashdot, for example.
On the other hand: "MontaVista is not the first on this one and it's a shame they're pretending they are," countered synthesizerpatel.
"The one second boot time is also never going to benefit regular PCs, as they achieve it due to the nature of embedded systems — you build a distro for your specific hardware which means no probing, none of that BIOS junk," synthesizerpatel added. "Chalk this up to having a kernel built specifically for your hardware and a boot-loader that is set to only boot one way, ever."
'Not Very Interesting'
Indeed, "MontaVista is just using Intel's quick boot time work and removing the need for boot scripts by loading their application from Init," Mack told LinuxInsider. "It's cool but not very interesting since at this point my machines spend more time in the BIOS than booting Linux.
"If only PC makers would ditch legacy BIOS makers and switch to Open Source BIOS versions that all seem to boot faster than the competition," Mack added.Similarly: "There are basically only two things to be said about this," Slashdot blogger drinkypoo told LinuxInsider.
"One is that this is not the first time an embedded Linux system has been gotten to boot in one second," he noted. "The other is that this is entirely irrelevant to desktop Linux systems, since getting boot times this low involves stripping the kernel considerably."
It is possible to use many of the same techniques to make a desktop Linux system boot much faster than usual, but usually "the largest gains are to be had for dropping the PC BIOS for something more advanced, like coreboot with a grub payload, which again requires supported hardware," drinkypoo added.
'I Don't Much Bother With Reboots'
Boot times also simply aren't very relevant in the Unix/Linux universe, yagu asserted.
"Once I've booted a Linux machine, I don't much bother with reboots," he explained, since any time spent on the initial boot is far outweighed by the time Linux runs without intervention.
"Hey! Maybe the Linux guys can help Microsoft," yagu suggested. "That's an OS where I could *use* a one-second boot time, considering all the updates that require a restart. I spend a LOT of time waiting for that!"
'I Don't Think It Will Change Much'
MontaVista's was "an embedded, stripped-down kernel used for things like automotive computers, where such things matter," Slashdot blogger hairyfeet pointed out. "I honestly don't know of anyone who actually turns off the gear anymore, except for during storms. Everyone simply puts them to sleep, either to RAM or to hard disc, which in either case wakes so fast that most folks really don't notice," he explained.
"And while I'm sure the Linux guys will hate me for saying this, it is a fact: Windows and its traditionally slow boot times, which sadly are often caused by the users installing too much auto starting junk like Java and Quicktime and Real, have conditioned people to expect that the first boot is to be slow," he added. "That is why putting them to sleep is so popular."
Ultimately, "while I think Chrome may squeak out a niche and uber-fast boot times like those crazy overclockers using liquid nitrogen will always be good for a read, I don't think it will change much in the end," hairyfeet predicted. "Windows 7 will probably be the next XP; OSX despite its (US)$1,000 entry point will probably reach 10 percent; and, sadly, Linux gains will be almost nonexistent.
"Why? Because when users complained about Vista, MSFT listened," he asserted. "Ultimately it comes down to the customer — MSFT listens, Apple listens, Linux don't."
'We Should Be Careful'
Taken together, the one-second boot and USPS adoption are "demonstrations of the flexibility of a modular OS like GNU/Linux," blogger Robert Pogson countered. "People can tailor each part to do what they do best. This is the way computing should be. Assuming any single organization has the only valid vision is wrong and holding people back."
The shutdown of the London Stock Exchange and Conficker are both examples of what "the centralized vision of Wintel can do," Pogson told LinuxInsider.
GNU/Linux, on the other hand, compares favorably on all measures, he added.
"Cost of operation, return on investment, uptime, throughput, etc., all show GNU/Linux is a better way to go," he opined. "No matter what Wintel does, they cannot hide the benefits of GNU/Linux.
"Both M$ and Intel are hedging their bets with moves to exploit GNU/Linux as it grows share," he added. "They are welcome, but we should be careful that they do not call the tune or we will be bogged down again with MIPS-eating bloat instead of performance."