ReChild's Advanced Task Killer Pro app for Android is US$4.99 in the Google Play store.
Since time immemorial, the Windows computer has been subject to RAM issues — in particular, there's generally never enough. RAM is the fast-accessible headspace, or breathing room, in a PC that's used by programs to do their thing, as opposed to hard drive storage that's usually used for slower, mechanical file storage.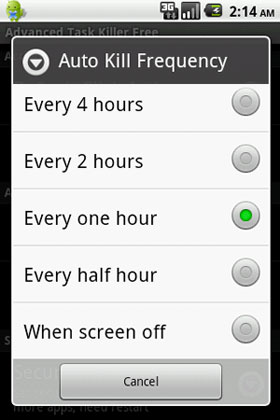 Without getting technical, the problem has always been that the more programs you run on a PC, the more breathing room gets used up. Over time, programs — particularly automatically starting programs — clutter RAM with unneeded resources, using space in memory accumulatively, and you have to reboot the Windows machine to kill the programs and recover the headspace — or add more RAM, because available RAM is good.
However, Android is designed differently from Windows in that Linux-based Android, like Ubuntu Linux and others, likes to quickly use up its memory, or RAM, and keep it in use all of the time, freeing it as needed through the OS.
The result? Well, it means that Windows and Android can be thought of differently when it comes to manual management of memory. Whereas in Windows you want to be releasing RAM as much and as often as you can in order to make the breathing room capacity available, in the Android environment, the OS is supposed to do all that on demand.
Herein lies a much-debated argument: Should we be using add-on memory management tools in Android to free memory, or should we let the OS handle it? In Windows, and historically in the PC environment, manual clearing makes sense. Many argue that in Android it doesn't.
Conveniently for us, ReChild's Advanced Task Killer Pro app for Android bills itself as a task killer, rather than a Windows-esque RAM memory killer. This, fortunately, means that we can leave the theory and argument for another day, and concentrate on the question: Does this app work?
The answer is that it does if you get over Windows concepts and look at it as a tool for clearing hung programs.
I've had a version on my various Android devices for years, and for the purposes of this review have thought back through my use of the app. I've used it extensively to clear jams — and it's worked.
In Use
I have found that using the app involves a bit of pre-thought, because there's a risk of killing all tasks with an unthinking and sweeping kill-all. Although many apps will pop straight back into memory, or be invoked when needed, there's a danger that you may disable something important — like a background-running voicemail notifier app, say.
So, best results with this app will be when you've perused the available kill list and unchecked certain must-haves, thus creating an "ignore" list. These will be the apps that you know, through experience, aren't problematic and that you need to keep running.
Features
Features in addition to the ignore list include a one-tap widget and Auto Kill. Auto Kill harks back to the more Windowsy idea that you might want to free up memory. It allows you to kill apps on a schedule.
Options include: "aren't running, but are using memory"; "kill background apps"; or "kill everything." Hmm, I'll leave it to you to decide if you want to even bother to go there.
Force Stop Functionality
It's worth remembering that, post-Android 2.2, you can't kill services and some apps without using Force Stop — a native Android Settings option.
Advanced Task Killer Pro has a long-press function that lets you quickly get to Force Stop if you have to, which is a very nice feature.
Conclusion
I'm a fan. I think you have to look at it with Android eyes and accept it for what it is — and indeed what the publisher sells it as, primarily — a hung-task killer, and a good one.
Want to Suggest an Android App for Review?
Is there an Android app you'd like to suggest for review? Something you think other Android users would love to know about? Something you find intriguing but aren't sure it's worth your time or money?
Please send your ideas to me, and I'll consider them for a future Android app review.