Amazon plans to start selling an international version of the Kindle DX — its larger-sized e-reader device — in more than 100 countries.
The e-tailer began offering an international version of its standard Kindle last October.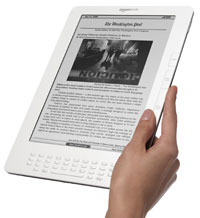 [Click Image to Enlarge]
It will start shipping the US$489 international DX to consumers in Italy, Japan, Spain and other countries on Jan. 19.
Amazon did not return the E-Commerce Times' call requesting comment in time for publication.
Global Markets
It may seem that this offering is, at best, an incremental play for Amazon. However, the evolution of the e-reader market over the past year or so has surprised more than one analyst — and it is not outside the realm of possibility that demand for the Kindle DX in overseas market could be underestimated.
The e-reader market will jump from an expected $800 million in device sales this year to perhaps as much as $2 billion by the end of 2010, suggest recent figures from In-Stat.
"I have been very surprised by the receptiveness and enthusiasm in the U.S. to these devices," Greg Sterling, principal of Sterling Market Intelligence, told the E-Commerce Times.
The market's trajectory is similar to that of smartphones, he said, noting that he would not have made that comparison a year ago.
"Especially as more e-readers come to market, I think we will see more people willing to buy what are essentially luxury items," he predicted.
Affluent Travelers
"The international market could prove to be very significant," said Frost & Sullivan Senior Consultant James Brehm, director of business development in the information and communication technology practice.
Although Amazon dominates the U.S. e-reader market, its global e-reader footprint is obscured by Sony's, according to Brehm. "Sony has had free rein outside the U.S. with its e-reader line."
By expanding its international presence, Amazon can level the playing field.
The global version will also give it access to an important constituency: international travelers. "They are more affluent and in a better position to buy more from the Kindle store and Amazon in general," observed Brehm.
A stronger international presence will enable Amazon to build out its relationships with carriers besides AT&T, he added.
Competitive Space
Aside from the market issues, Amazon cannot afford to give the impression that Kindle innovation is slowing down. The market is quickly becoming populated with other e-readers that could give it some serious competition.
Barnes & Noble's Nook holds promise. The fact that consumers can give it a test run before they buy it in a B&N store adds to its appeal. Sony's latest Reader, the Daily Edition, is also wireless and may compete well with the Kindle.
Then there is the Skiff Reader, which will be unveiled this week at the 2010 International Consumer Electronics Show in Las Vegas. Skiff, a Hearst-backed consortium, has partnered with Sprint to deliver content to the devices via its 3G wireless network.
Still, these devices have a high hurdle to clear, at least in the U.S. Amazon reported that the Kindle experienced its best sales month ever in November 2009.