Google on Wednesday announced the beta release of a GPS navigation application for Android 2.0 devices.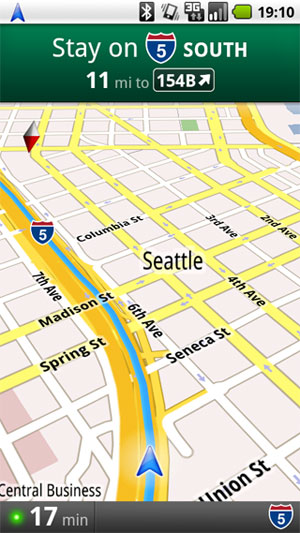 Google Maps Navigation for Android 2.0
The application is part of Google Maps for mobile. Android version 2.0 will appear on the upcoming Droid handset from Motorola and Verizon, and other manufacturers also plan to release handsets carrying the updated, Google-backed mobile OS.
Although Google makes other mobile applications that work on a variety of mobile platforms, it's unclear when or if its new nav app will make its way to Android rivals like the iPhone or Research In Motion's BlackBerry devices.
About Google Map Navigation
Built to leverage a smartphone's Internet connection, Google Maps Navigation provides users with up-to-date maps and business listings from Google Maps. The updates are free; GPS system vendors such as TomTom and Garmin often charge for their updates.
To search, users have the option of entering the name of a business or landmark into the search box instead of the exact address of a location.
Travelers may like the following features, which leverage their smartphones' Internet access: Live traffic data; satellite view; street view; and search along route.
A blinking light in the corner of the smartphone's screen will glow green, yellow or red depending on traffic conditions along the user's route. Users can get more details by zooming out to an aerial view. Like other GPS systems, Google Map Navigation lets users choose alternate routes.
While driving, users can search for a business by name or type, or they can locate gas stations, restaurants or parking by activating pre-installed layers on the map. Double-tapping the map takes users into Street View. Google Maps Navigation can also show travelers a picture of their destination so they know what to look for when they arrive.
Doing It by Voice
Google Maps Navigation also has a search-by-voice function that lets users navigate through voice commands. That sounds like it could be helpful when driving a car and typing in commands may present a dangerous distraction, but it might not be quite as useful as it sounds, according to Allen Nogee, a principal analyst at In-Stat. "I've been using voice recognition for many years," he told TechNewsWorld. "It's not so easy in the best of conditions, and it's going to be even worse in your car because there's lots of ambient noise."
Voice recognition issues are common and should eventually be resolved, according to Rob Enderle, principal analyst at the Enderle Group. "This is a technology in progress across all devices, and it will likely take five or more years to fully refine it," he told TechNewsWorld.
Beating the Tom-Toms
Although the idea of using a smartphone for navigation is interesting, for now, users may still prefer standalone GPS systems such as those from TomTom and Garmin, Enderle said. "Standalone GPS systems are preferred because they are relatively inexpensive, they have larger displays than smartphones, and they don't interfere with phone use," he explained.
Eventually, users might opt for smartphones instead. However, the smartphones must be better integrated with car screens and sound systems. "These changes haven't been made yet," Enderle pointed out.
Smartphones may have to make a technological quantum leap before they can replace standalone GPS devices. "Navigation is old hat," In-Stat's Nogee said. "The next stage will be incorporating your location in the rest of your life. Say you're traveling to the airport, and your device will know that and warn you ahead of time that traffic is heavy and you need to leave earlier."
Spreading the Navigation Love
Google describes its Maps Navigation app as "part of Google Maps for mobile." Maps for mobile is a general mapping application available for a wide variety of smartphones, though as a standalone program, it does not offer the same features as Maps Navigation. As far as Google Maps Navigation is concerned, the company has only promised that it will be available for Android 2.0 devices.
Whether the nav application makes its way to other mobile platforms will depend on whether Google will develop versions for those platforms and whether the controllers of those platforms will approve.
For example, Google Maps Navigation may be delayed on the iPhone since the software will have to gain the favor of Apple's App Store managers. Though iPhones are sold with preinstalled Google apps like Maps for mobile and a YouTube portal, not every Google application gets an automatic Apple rubber stamp — a Google Voice app, for instance, has still not been approved by the App Store. Google did not respond to requests for comment by press time.
On the other hand, Google may extend the navigation app beyond just Android phones. "Android is being put on e-books and other devices which actually might be better for navigation, depending on the display size and primary use of the device," Enderle explained.