Well temperatures have climbed discouragingly of late here in the Northern reaches of the Linux blogosphere, with the result that there's often been standing room only down at the frostily air-conditioned Broken Windows Lounge.
Linux Girl's most dreaded month is now officially upon us, so it's time to hunker down with a chilly beverage — preferably a few — and while away the dog days of summer chewing the fat with some fellow FOSS fans.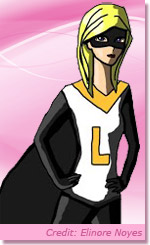 Luckily, there's been a particularly intriguing topic to keep Linux lovers' minds occupied. Forget all those tiresome and endless distro debates and name-calling disputes — good grief, it's time to grow up, people!
Take note: A new Linux just arrived on the desktop, and it's none other than Android!
'It's Happening!'
"Well, it's happening!" enthused Google+ blogger Rodolfo Saenz from his barstool right next to Linux Girl's.
"This is a clear sign that mobile and stationary hardware and software are merging — soon the laptops and desktops will be a thing of the past, transforming into hybrids like this one from HP," Saenz said.
"It is a good thing for those of us that like to keep our computing as mobile as possible, and the best thing is that Linux, through Android, is getting a head start!" he added.
'Nothing Else Offers That'
"I think that it's pretty cool, and with some of the new cloud technologies that Google has announced, it has a real shot of working," agreed Linux Rants blogger Mike Stone.
"Consider that you can start playing a game on your phone while you're waiting in line at the grocery store, and then resume it on your computer at home after you've put your groceries away," Stone suggested.
"Nothing else in the world currently offers that capability," he pointed out. "With its low cost, sizable software library and integration with Google's services, I'm excited to see where Android will go in the future."
'This Makes Sense'
Indeed, "'bold' is how I describe HP's Android/Linux on ARM huge tablet," blogger Robert Pogson told Linux Girl. "The size and low power consumption are features consumers will love.
"They are familiar with Android/Linux on smartphones and smaller tablets, so this makes sense," Pogson explained. "The world does not need huge expensive boxes running huge displays. That's a dead concept invented by the vacuum-cleaner salesmen who ran Wintel."
In fact, "I predicted long ago that 2013 would be the year that small cheap computers running */Linux invaded client-side computing, and smartphones and tablets are just the beginning," he added. "We saw tiny desktop machines like the TrimSlice back in 2011. Their time has come."
Needed Features
The only thing holding back */Linux on ARM or x86 then, in fact, "was retail shelf space and salesmen," Pogson suggested.
However, "HP has both," he added. "The large screen and mobility are all the features the concept needs to sell well.
"For the rest of 2013 expect to see a push by retailers to sell such products, because '8' is not selling well at all," he predicted. "The concept of one OS for all device formats has been around a while, and the FLOSS community did it first."
Microsoft is "reinventing the wheel and trying to sell square versions," Pogson concluded. "OEMs and retailers who sell Wintel cannot compete on price/performance with */Linux on ARM."
'A Smart Move'
This is good news, Google+ blogger Gonzalo Velasco C. agreed.
People are already aware of Android, "so another device powered by the same system is no source of doubt or fear," he explained. "It's a smart move by HP, Samsung, Motorola, Asus and others, and it is welcomed."
Google+ blogger Brett Legree was also optimistic, for the most part.
"I have two Android devices, and my experience has been that there are more apps than I'd like to see that DON'T look very nice when scaled up to a mere 7 inches, let alone 10 inches, so I'm imagining how these might look on a 21.5-inch display," Legree explained.
At the same time, "this can be addressed by app developers," he noted. "Now that we have a huge Android computer, app developers will start to receive feedback on how their software works, and if they want to stay in the game on that display size, they'll do something about it."
'A Good Thing'
Assuming that "all the apps I want to use are looking great on such a large display, would I use it?" Legree went on. "Sure, why not?"
It might not be optimal for some tasks — "unless they build in a windowing mechanism, of course," he added. "A lot of the time I do single task with full-screen applications."
Still, "on the whole, this is a good thing," Legree concluded. "The price is nice, and a lot of people would be able to use this computer."
'Likely to Be Disappointed'
Similarly, "Android has a rich smartphone ecosystem, but a weaker tablet ecosystem," asserted Robin Lim, a lawyer and blogger on Mobile Raptor.
"Not enough apps are optimized for larger 10.1-inch displays," Lim explained. "This is the main reason why larger Android tablets have not been very successful."
With HP's Slate 21, "the problem of the absence of optimized applications will be multiplied dramatically," Lim predicted. "Hopefully HP has customized the Android 4.2.2 operating system on the Slate 21 to make the operating system and applications more useful on a large display. If not, early adopters of the Android desktop are likely to be disappointed.
"Still, everything has to start somewhere," he added.
'This Should Not Surprise Anyone'
Google+ blogger Kevin O'Brien took a similar view.
"This should not surprise anyone," O'Brien told Linux Girl. "We used to start with the device as the central factor in computing, but it is moving to the data and how we want to interact with it.
"I would never use this kind of device for serious writing, or serious media editing, but if I want to watch a movie on Netflix, check my e-mail or post to social media, this kind of tablet is just fine," O'Brien explained.
"What I have not seen yet is any evidence that this device is ready for serious work," he added. "For instance, if I am writing a long document I will want to use LibreOffice and I will want a full-size keyboard. Anything less would just get in the way of my productivity."
Similarly, "it is yet another Android tablet and nowhere near a desktop replacement," consultant and Slashdot blogger Gerhard Mack charged. "I would never want to write a long email or edit software on a touchscreen."
'Windows Programs'
Slashdot blogger hairyfeet was even more skeptical.
Android on the desktop "will run smack into the same problem Linux has on the desktop: Windows programs," hairyfeet told Linux Girl.
"Why can MSFT not get into mobile? Windows programs," he added. "The reason why nobody has been able to challenge MSFT on the desktop still remains, billions of dollars in Windows programs that are extremely difficult if not impossible to run on another OS and certainly aren't gonna run on ARM.
"Why do you think all those places that have built themselves around having lower costs than the other guy, like Wal-Mart, don't carry ultra-cheap Linux desktops and laptops? Windows programs," hairyfeet said.
"Does that mean these won't sell? Nope, there is a niche that can live with a dumb terminal — sales of ChromeOS shows there is a niche that can live on JUST the Internet," he pointed out.
'Everybody Has Must-Have Programs'
Nevertheless, "as a retailer, I can tell you that niche is pretty small," he said. "Everybody from the HS kid to grandma has some 'must have' programs, and they are ALWAYS Windows programs: Yahoo Chat, Skype, that software they use to make the little flyers for their church group.
"You will ALWAYS get bitten right on the behind when it comes to replacing the desktop," he concluded.
"Will this always be the case? Not necessarily," hairyfeet added. "MSFT seems to be doing a good job at turning people off with that cellphone OS called Metro being jammed onto the desktop."
Still, "Windows 7 gets updates until 2020," he said. "It's gonna be seriously hard to get past the niche that only uses FB and blogs."