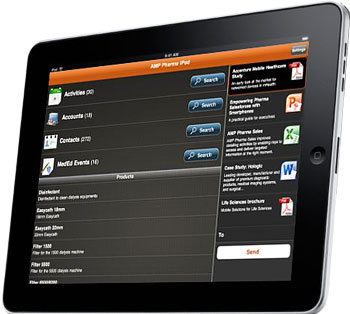 Antenna AMP Pharma Sales
CRM applications for the pharmaceutical vertical are complex andhighly tailored for this unique space. Building a comprehensive mobileCRM app that takes into account the varying needs of a pharma rep,therefore, would be a major undertaking.
Antenna Software, which offers a mobile CRM app called "Antenna AMPPharma Sales," skirted that issue by building a mobile user interface –with several value-add touches — that can integrate into just aboutany pharma CRM application. These include Siebel's pharmaceuticalvertical, now under Oracle's umbrella; SAP's vertical; and a number of home-built applications that many reps use, according to Matt Torgersen, director of Antenna life sciences.
The value-add the company embedded in the app includes sampletracking functionality, digital signature capture, the ability to readbarcode, the ability toincorporate non-CRM systems into the workflow, and a feature thecompany calls "smart copy," Torgersen told CRM Buyer. The latter featureenables a sales rep to generate a form or brochure on the fly,populating it with the relevant data.
Other add-ons include integration with GPS location-based services to provide turn-by-turn directions, he said.
There is also integration with hardware, such as a camera,enabling reps to send or take pictures relevant to their sales rounds.
"Basically, what we have done is put a mobile face on the back end of anenterprise application and then added more value," said Torgersen.
Today's Hot Gadget
Antenna's AMP Pharma app can connect to just about every smartphone and is compatible with the iPad, said Jason Wong, director of product marketing. The iPad upgrade was delivered a few weeks ago.
"We also support Windows,Android, RIM [and] most laptops," he added.
Getting the app on the iPad was important from a marketing perspective,as well as to meet demand, Wong told CRM Buyer.
Physicians tend to likegadgets, and having the latest device can be a conversation point fora rep, he said.
The iPad is the hot gadget right now — both as an item of interest for doctors and as a new business tool, observed Wong.
"Many organizations areputting iPads in the hands of their reps," he said. "But six months from now, thatdevice could be the RIM tablet, for instance. The point is, we stay onthe leading edge of devices."
A Sales Rep's Life
Antenna AMP Pharma Sal`es is tailored to a pharma sales rep's life in other waysas well.
"A meeting with a physician could take place in the hallwayas he runs from the OR or in a pre-arranged meeting in his office,"noted Torgersen. "Either way, the device and the application have to beready to perform — to answer any questions that might arise."
It also has to be equipped with the latest data to prepare a rep for ameeting, he said. "For example it is very useful to look at aphysician's prescribing history to see if she has been using yourpharmaceuticals or your competitor's."
The rep in the field can then either reinforce the sales message of adrug that is being prescribed — presumably the one he is recommending — ortailor the content to show why his competitor's products are not asgood a choice as his.
Common Features
There are some common features to the mobile app, but much of theinterface — and the functionality — depends on the back-end system andthe type of information the company makes available to the rep,Torgersen said.
The typical features one can expect to see include calendaring,content management, and so forth. Features that might differ includeknowledge management — the type and level of research and data that isavailable to the rep.
Integration Questions
Given the app's foundation — it is a mobile interface to a back-endsystem — integration is a concern for users. Theoretically it can runstraight out of the box, but much depends on how customized the back-end systems are, Torgersen said. "If a lot of work has been done to aback-end system, then you can expect that a lot of integration work will be necessary for the mobile app."
A pharma sales application that uses Oracle OnDemand for its back-endwould likely need little integration or customization work, he pointed out. ASiebel pharma app, on the other hand, in which a company likely invested millions ofadditional dollars in customization, would be more work.