Snapguide Makes Creating a How-To a Snap
MacNewsWorld
Snapguide is an app for iPhone and iPad by Heavy Bits, and is available free from the iOS App Store.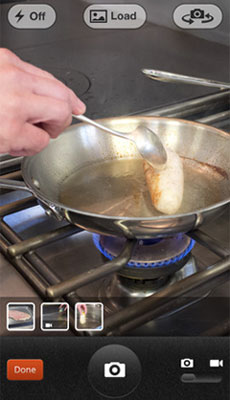 Snapguide offers an easy platform for creating how-to guides for just about anything.
In late December, Snapguide updated its iOS app to include iPad optimization, joining the previous iPhone and website versions that somehow slipped my notice. Or maybe I did notice them months ago but walked away disinterested, which happens. I don't remember -- but now I'm interested.
Apple highlighted Snapguide as a "What's Hot" selection in the iPad section of the App Store, and looking more closely, a couple thousand users have ranked the app with an average of 4.5 stars. Something is going on with Snapguide.
Snapguide is basically an app that creates a framework for discovering, sharing, and even creating how-to guides. The guides cover everything from how to keep bananas fresh longer to braiding survival wristbands and dog collars with paracord.
There are also quite a few guides on how to cook -- pizza, celery/apple salads, eggs -- so many that I at first thought Snapguide was primarily for food enthusiasts. Maybe food is just easier for people to create guides for, a fairly low bar to entry. I could, for example, create a guide on how to make a peanut butter and onion sandwich (best with sweet Walla Walla onions) if I were so inclined.
There are lot of household tips, too, like how to avoid using rubber bands and instead use the top of a plastic soda bottle with a cap to seal open chip or bread bags. Another guide, "How to Descale & Clean Your Keurig Brewer," seemed awfully dubious to me, partially because it seemed crazy specific, but it turns out more than 50,000 people viewed that guide.
Are there really that many dirty and scaly Keurig brewers out there in the world? I had no idea.
Brilliant and Inane
Because Snapguide is user-driven, it has the potential to be brilliant or inane. If you find things you want to learn how to do, it's amazing. Cool. But if you see a few things you don't care about, suddenly you're wasting time. While you can search and refine your topics, you're going to run into some that will utterly disinterest you. For me, it's how to create glittery fingernails for the new year or how to get beautiful no-heat curls overnight, which got more than 100,000 views, by the way.
Fortunately, Snapguide is fast. It loads fast, it flicks fast, and it's actually fun to browse around. The gorgeous magazine-style layout is what makes Snapguide truly shine. On the iPad, the photos grab your attention, and when you decide you don't want to fry up jalapenos today, despite the pretty photo, you can flick your way onto something else entirely.
Because Snapguide is user-driven, I'm not always sure about the quality in the guide itself or in the outcome. If you're a word guy like me, it doesn't take long to see dozens of spelling errors. And some guides have leaps in logic -- missing steps -- while others really walk you through every detail. Clearly these guides aren't being edited, and sometimes the errors will confuse you as you try to figure out the intent of a particular how-to step.
Fortunately, the space for descriptive text is limited, which forces users to use plenty of photos when they create their guides.
Upload Your Guides
The only way for an app like Snapguide to really take off is if a lot of people are putting out great guides. The app requires users to sign into it, which enables social networking, sharing, and commenting, but it also lets users create and upload their own guides. I seriously considered creating a "How to Make a PB&O" sandwich guide, but since I didn't have any sweet onions on hand, I just walked through the steps to see how easy it would be.
Answer? It's easy. As near as I could tell, I could have tapped the publish button and quickly published a guide. In fact, I think I could have taken a photo of a toilet handle and published a guide on how to flush a toilet.
Or maybe not. Snapguide says it reviews and moderates content, but it's not clear exactly how that happens behind the scenes. The Application License Agreement seems to cover just about everything so that you don't freak out or launch some lawsuit over inappropriate language, images, or guides to doing things like skating on thin ice. (For the record, while I saw pictures of toes for pedicures that I didn't particularly enjoy, I ran into nothing offensive or dangerous.)
On the FAQ page of the developer's website, Snapguide points out that you're granting them a license to publish your work, but that you retain all the rights to the guides you create. That's cool, and I'm sure it has something to do with all of these people sharing handy tips for the good of others.
Astounding Lushness
If there's one takeaway about Snapguide that I think is most important, it's that Snapguide has been able to create a platform that not only makes it easy to create photo and video how-to guides that novices can use, but they made it a visual feast, too.
Oh, and here's another plus -- the user comments tend to be very positive, rather than negative. Lots of kudos and lots of extra tips. For instance, remember the celery and apple salad I mentioned above? You can add chopped walnuts to it. Nice.

---