March Madness App Brings Its 'A' Game
MacNewsWorld

NCAA March Madness Live is a free app available in the iTunes App Store. A cable/satellite subscription is required to watch some games.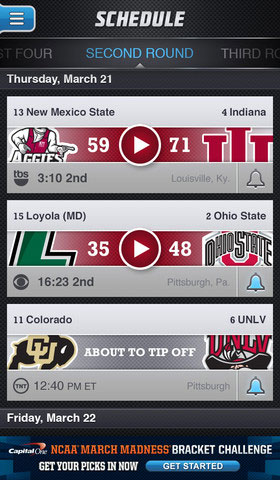 NCAA March Madness Live
I've previously avoided most big sports and event streaming apps for simple reasons -- they tend to bombard you with glitchy ads or make you jump through hoops to view the content, such as proving that you're a cable or satellite subscriber.
In March, however, NCAA basketball grabs my attention. Because I'm always traveling during the tournament, I decided to give the NCAA March Madness Live app a fresh look -- despite the mediocre 3-star review from iTunes users.
Previously, the event-based app flirted with user payments for access to the games. This year it's free with a catch: To get full unfettered access, you still need to be a cable or satellite subscriber for the games that are broadcast on cable. If a game is on CBS, you can stream it freely without any need to prove your subscription status.
Why is the app set up that way? Produced by NCAA Digital, the core of the app still relies on the association's broadcast partners -- CBS, TBS, TNT, and truTV. Those last three are cable channels owned by Turner Broadcasting System.
When you stream a game, you get the same experience as the one you watch on old school TV. That's great if you like the announcers, their commentary and the fancy graphics. However, the broadcast rights are now tied up between both CBS and Turner, which is some sort of basketball fan-confusing strategy for sharing the games during the tournament. As near as I can tell, it's going to even more convoluted and unpredictable (from a fan's perspective) for the next several years.
A Free Pass to Madness
Fortunately, NCAA Digital doesn't force you to log in to use the app itself, and while the CBS-based games are all free, you start out with a 4-hour courtesy pass to games broadcast on the three Turner cable channels. After four hours, you'll have to log in to continue watching, but if you're careful you can save this free cable window for those team matchups you really want to see.
The NCAA website streams all the games free if you've got a Mac or PC, and you can even watch replays online. (By the way, if you want to troubleshoot or give yourself a headache, head over to the app's support page. It's great to have, but clearly illustrates why this app has a 3-star rating. It's now 2013, and you would think a person would be able to watch a game on a smartphone without a bunch of rigamarole.)
While it hurts my head to have to explain this whole mess, you may be wondering: How well does the app actually work?
Pretty well. I was generally pleased and surprised, and while I was waiting in a parking lot in my car, I was surprised at the quality of video that was streaming to my iPhone 5 over my not-particularly-fast AT&T LTE service. Better yet, once moving at speeds up to 35 MPH, the game continued streaming with acceptable video quality.
Walking inside my home, the streaming seemed to handle the switch from AT&T to my home WiFi just fine, except for a drop in video quality. Go figure. The ads, however, tended to be shown at a higher quality than the live streams, so don't get too excited when the Buick or Capital One commercial looks pristine.
More to the App Than Video
I generally prefer not to receive push notifications from needy apps, but I allowed it with NCAA March Madness Live. What did I get? So far, mostly "Upset Alert" notifications that tell me a higher-ranked team is getting kicked around on the court along with the exhortation to "Watch live now!"
To some extent, this makes you feel like you're part of the action, even if you're stuck in a meeting and have to discreetly glance at your iPhone. (I know guys who work extra shifts just so they can take a few March Madness days off work.)
Of course, there are scores, schedules, and bracket features. In addition, if you miss a game, the NCAA provides a recap. That's quite handy for those who like to pay attention but aren't total fanatics. As for the social media features, there's a section for tweets, which as you might expect stays busy. You'll see people moaning about their brackets getting destroyed and comments about shots clanging on the rim at the buzzer. You can connect your Twitter and Facebook accounts, if you so desire.
Overall, NCAA March Madness Live is a slickly produced app that handles the basics pretty well. It's hampered by a messy broadcast rights system, but that doesn't make it a failure. In my experience, it worked pretty well and made me appreciate access to the games when I could not be in front of my Mac or HDTV.
If you're going to be out and about (and not a sports bar) while your favorite or local team is playing, get the app. It's not as good as watching in your living room, but sometimes basketball on a small screen is better than none at all.

---