Be-Bound is available in the Google Play store for free.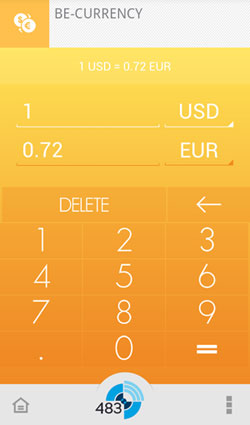 As someone who regularly explores the back-roads of desert-adorned Southern California, I'm acutely aware of massive, gaping holes in wireless network coverage as soon as you leave blacktop in rural America.
You can sometimes off-road all day out west with no mobile data coverage. Moments of connectivity might be the occasional hilltop-occurring set of phone handset signal bars, indicating a scattering of iffy lifeline-geared voice and SMS text service.
The Web via SMS
Connectivity-head that I am, I've put numerous solutions into play over the years, including a bulky Wilson 3-Watt amplifier, unsuited to traveling on foot, and an Inmarsat satellite phone — good for voice and SMS, including free Twitter-over-SMS, but cripplingly expensive for Internet data, even with compression.
So I was intrigued to come across the newly updated Android beta app Be-Bound, which promises to provide Internet services over SMS text.
The idea is that when you're in an area with no WiFi or 3G service, in-app requests like the weather forecast in Los Angeles, say, are instigated via SMS text messaging to Be-Bound servers, which then return a text, or texts, with the data. That data is then translated into a graphical app-ish looking screen image.
The app also can be used while on 3G networks, or indeed on WiFi too, to reduce bandwidth costs. The query and returned data are extremely bandwidth-lean.
Existing Be-bound services include weather, stocks, email, Twitter, language translation, currency conversion, flight arrivals and departures, and navigation. Future services include news and search.
Associated Costs
The app itself is free, and it's available in the Google Play store. Be-Bound can be used without any in-app Be-Bound charges on 3G or WiFi networks. Your usual network bandwidth data charges apply though.
Using the alternative stripped-down SMS method requires in-app acquired credits called "Be-Miles," along with any standard message rates that your carrier charges you. Ten Be-Miles are included when you sign up.
I bought the mid-level Azure Pack United States, which cost me US$7.08 and was supposed to give me 190 Be-Miles. Each simple query — like weather, for example — uses one Be-Mile. More data-intensive queries, like email, use more.
Unfortunately, I did not receive my Google Wallet purchase of 190 Be-Miles as of review time, so I was stuck with the 10 free miles — barely enough for a full play-around.
However, after switching off the WiFi and 3G data radios on my phone, leaving the bare 2G voice and SMS radio turned on, I was able to obtain weather forecasts separately for Los Angeles and London, some Twitter posts, and the actual flight arrival time for VS007, that day's just-landed Virgin flight out of London's Heathrow airport into LAX.
It worked.
Because it worked in my limit-enforced test environment, I see no reason why it wouldn't function as well in the California desert — or any other 2G, non-data saturated desert, for that matter.
Plan Ahead
Having said that, it would be prudent to check for any telco-gouging SMS roaming fees imposed by your carrier before you try it overseas. Also, Be-Bound has limited regional access numbers for the SMS queries and responses, so check its website for territories where the service is proven to work.
I encountered a few problems in addition to not being credited for my Google wallet in-app purchased Be-Miles. There was no way to check the balance in-app. I had to go to a full-fledged Internet-enabled Web browser to do that. To give the benefit of the doubt to Be-Bound, it is quite clear that the app is in beta.
Assuming my credits appear, I look forward to checking a Gmail account, which I successfully connected to Be-Bound while on WiFi at home base, campfire-side on a starry desert night.
This service has intriguing possibilities. Although there are many ways to obtain information via text, including Twitter's text-based delivery service and news media outlets' now aging weather via SMS, this all-in solution takes information commonly obtained by Web and squirts it down an extremely narrow pipe.
It's not necessarily all that useful in now well-connected cities, but it's clearly great for expeditions in data-challenged areas — and it could be a lifesaver in certain humanitarian, information-requiring scenarios like disaster relief.
Want to Suggest an Android App for Review?
Is there an Android app you'd like to suggest for review? Something you think other Android users would love to know about? Something you find intriguing but aren't sure it's worth your time or money?
Please send your ideas to me, and I'll consider them for a future Android app review.