In 1998, Napster took college campuses by storm and quickly ushered in an era where anyone could download any song they wanted without paying for it. The record labels were caught off guard and spent years debating the best way to respond.
A flurry of lawsuits directed against consumers generated plenty of ill will and bad press but did not stop the flow of unauthorized tracks. Licensed digital music, conversely, trickled into the market, and it was not until 2002, four years after the advent of peer-to-peer file trading, that authorized digital tracks made their debut on iTunes.
As a result, the recording industry has still not recovered. One in 10 Internet users still downloads music files from P2P (peer-to-peer) networks on a monthly basis, and recording industry revenues remain flat and far from their pre-Napster peak of US$14.5 billion.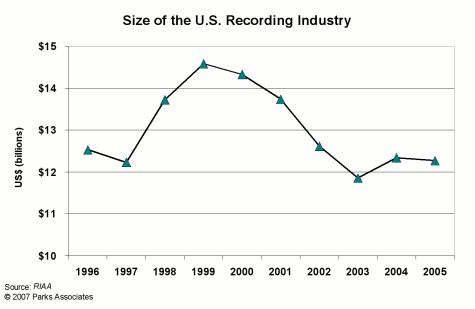 Is Hollywood Next?
Music is obviously not the only type of content swapped over peer-to-peer networks. Seven percent of all Internet users download full-length movies from P2P networks on a monthly basis, and six percent download TV programs. Will Hollywood go the way of the music business?
Data indicate Hollywood's problem is much more manageable. For one, online piracy of movies is much more limited. Fewer people download unauthorized copies of movies (10 percent vs. about 7 percent), and the number of titles downloaded is considerably lower. A music downloader will have nearly 75 tracks stored on a computer, on average, while a movie downloader will have just 10 titles.
Music downloaders, in other words, have built up a notable library of tracks, while video downloading appears more experimental. They have a few titles rounding out their video collection, but digital copies have not yet replaced packaged media.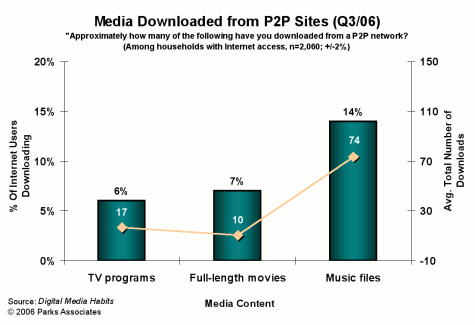 Staying Alert
Video downloads are also less useable than music downloads. Consumers can easily listen to pirated music tracks by transferring them to an iPod or burning them to a CD. On the other hand, few households have digital media adapters (less than five percent at last count), and DVD burning is not as common as CD burning.
Likewise, differences in quality are more apparent with video than music, which discourages the use of pirated video.
Despite these factors, which have helped keep piracy in check thus far, Hollywood should not rest easy. The march of technological progress will inevitably make digital video easier to consume. Hollywood is not yet in the dire straights the music business found itself in the late 1990s, but piracy is a real and growing problem that this industry will have to address … and the clock is ticking.
---
John Barrett
is director of research at
Parks Associates
. E-mail John Barrett at
[email protected]
.
---