We've looked at personal tracking products before, including stolen-phone locators and a breadcrumb-tracking, mugging-alarm combo for Google's Android mobile operating system.
Where some of these kinds of products have disappointed is that they have needed daily user intervention to make them functional. The personal attack alarm required turning on before entering crime-infested neighborhoods, for example.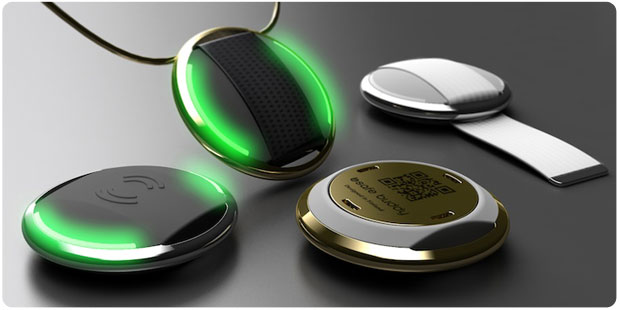 That's why we were intrigued when we came across personal safety product BiiSafe Buddy, which is in the midst of a crowdfunding pitch on Indiegogo right now.
BiiSafe Buddy promises that once you've paired its rather svelte, tactile, pebble-like module with your smartphone or tablet, you don't need to worry about it again — other than to change the battery every three to 12 months.
What Is It?
The robust-looking device is a Bluetooth radio-enabled tracker. It's round about the size of a free bar of luxury hotel soap — in other words, pretty small, but appealing and pocketable — and designed to affix to a keychain, or to be worn around the neck or wrist.
Simplicity is the name of the game — or should be, if the creators get their message right. SMS sharing of location is accomplished with a short press on the device; an SMS alert is sent with a long press. Users can instantly report their location or request help.
As one would expect in our feature-creep-laden world, there are also some secondary functions. They include dropping the accelerometer-equipped device to obtain an alarm on device or on smartphone — supposedly useful if you've attached the Buddy to a key-ring and you're prone to dropping keys without noticing. Also available are a lost-device notification; thermometer; daily activity tracker; automatic speaker phone; and a motion alarm for use as a thief-alarm for a bike or bag.
Technical Details
Weighing less than one ounce and featuring a solid metal back plate, Buddy uses device-unique QR codes for Bluetooth 4.0 pairing with iOS or Android smartphones. Operating range is 50 meters between device and smartphone, at which point a disconnect notification triggers.
Motion detection is through a three-axis accelerometer; device size is 1.45 inches in diameter.
The Numbers
Finnish BiiSafe currently has 81 funders for its Buddy project who are contributing more than US$9,400 of a $35,000 goal. The funding period ends on Dec. 24, 2013.
A contribution of $39 gets you an early-delivery BiiSafe Buddy with silver rim. This includes the mobile app. A $209 contribution gets you a four-pack family kit — all in different colors.The estimated shipping date is February 2014.
The Downsides
Interestingly, we are seeing other Bluetooth-based item finders, like the popular Chipolo belongings-locator crowdfunding project, currently seeking backers on Kickstarter.
Chipolo claims a 60-meter range — that's 10-meters more than this one — and a lower estimated retail price of $35 versus the BiiSafe Buddy's $69, though Chipolo doesn't have the same on-device alerting and message sending controls.
However, anyone who suggests the smartphone and periphery market isn't price sensitive is kidding themselves.
The Upsides
We see this one-way device as being useful for families who want to stay in touch. For example, children can be instructed to check in regularly, and only the child needs to have the Buddy. The parents just need phone and a free map-embedded app to get the location messages. Or, spouses can request assistance, for example.
The manufacturer is experienced in the safety accessories market and has developed a unique subscription-based home monitoring app previously.
The Conclusion
If the creator can clarify its message, we think that this project has advantages that cheaper belongings locators and complicated breadcrumb alert apps don't.
There's likely to be something reassuring about the tactile and instant-survival nature of this particular device, fondled in-pocket on drizzly evening walks home from work or while exercising on remote running trails: One button-press and knight-in-shining-armor appears.
The creator needs to figure out a way to sell that and forget the automatic speaker phone and thermometer feature creep — leave that to the others.