Boxfish TV Guide from Boxfish is free at Google Play.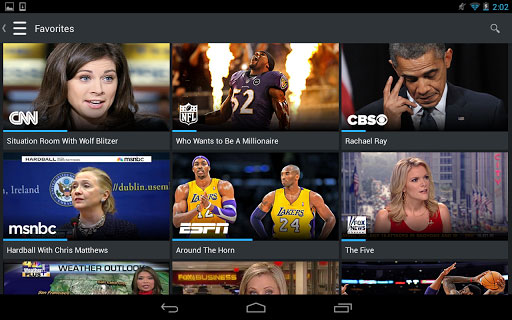 Here's an app that re-invents the TV guide — yet is about as far from the newspaper TV listings of old as you can get. Boxfish shows what's trending on TV by indexing every spoken word on TV — live. In theory, this lets you see trends in events, news and sports.
The idea behind the app is that you should be able to find out what's happening on television live and then choose what to watch rather than guessing or working off a classic TV guide grid.
It's an important app because it brings an almost Twitter-like urgency to television watching, which is something we've not see before.
The Boxfish app consists of a classic guide, but you can create favorites, and there's also a remote control for Google TV. The most interesting elements, however, are Trending and Search.
Cable or Satellite
I had mixed results, which I'm going to suggest are teething problems caused by an overly ambitious launch. This is a large project, and Boxfish would have been smart to have made sure it could handle the number of local TV stations.
Still, they're on to something, and I can see why the enthusiasm could have gotten them carried away. If it works as they say it does, it changes everything.
Firstly, despite what Boxfish says, it doesn't appear to function with plain-old local over-the-air broadcast television as a source, so you'll have to pretend to have a cable or satellite television setup to play with Boxfish.
However, Boxfish does appear to do what it says it does.
I performed my testing a few hours after the devastating mile-wide tornado had just ripped through Moore, Okla., by placing a search term alert for the word "Oklahoma."
As expected, Boxfish correctly indicated that live mentions of the word were appearing on MSNBC, the Weather Channel and CNN.
Live Search
I was especially interested, however, to see how fast Boxfish would pick up mentions as the late afternoon news shows came on air — things could get busy as the first batch came on at four o'clock.
My test was the early news show on KABC in Los Angeles. As you might expect, KABC mentioned Oklahoma early in the first minute. I had to use the Time Warner cable stream, rather than over-the-air.
Boxfish was spot-on, though, and alerted me of the mention well before the first minute ended. Not immediate, but within seconds. A slew of outlets followed. Well done, Boxfish.
TV Wall
The TV wall worked well with news too. Nine still screenshots captured periodically from the major news channels are represented on a tiled wall.
As the Oklahoma tragedy unfolded, I could see the devastation on a half-dozen of the tablet-displayed tiles at one time, complete with red banners and serious-looking anchors.
With one glance you could see the current top story: the Moore tornado.
I can see that there would be the same benefit for the Boxfish Sports TV wall in that you should be able to see which games have started, are on commercial break, and so on. Maybe afternoon soap fans could use a wall too?
Boxfish needs to work out its issues, which are almost irrelevant and make me feel nit-picky, because this idea is an important second-screen concept.
Boxfish is right. Why use classic channel lineup-type listings ever again? In the days of time-shifted, on-demand drama and soaps, we logically search for programs now by name, not time of day; then why not search news shows by trending topic if you can?
Want to Suggest an Android App for Review?
Is there an Android app you'd like to suggest for review? Something you think other Android users would love to know about? Something you find intriguing but aren't sure it's worth your time or money?
Please send your ideas to me, and I'll consider them for a future Android app review.