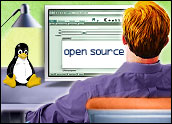 Now that President Obama has taken office at last, hopes are high around the globe for an era of recovery and change.
Coincidentally, similar hopes were evident on the Linux blogs in recent days following last week's lambasting of the Wisconsin college student who claimed that Ubuntu forced her to drop out of school. Throughout the blogosphere, Linux geeks not only pondered the ferocity of the verbal attacks that greeted her claim, but also turned their thoughts to related topics such as technology policies in higher education and Dell's apparent open source ambivalence.
For example: Much lively discussion — not to mention more than 1,500 Diggs and 400 comments — was generated by a Blog of Helios post titled "Enough is enough. Higher Education…? Wake Up."
"I think that schools should require their vendors to support the big three of OSes… Win, Lin, and Mac," asserted buckrogers1965 on Digg.
On the other hand: "Linux doesn't donate buildings," robrohan pointed out.
Dell (Heart) Linux?
Similar notions were explored over on the Linux Loop in Thomas Teisberg's post, "Realistically Allowing for Numerous Software Preferences in Education."
Then there was the post, also from Blog of Helios, asserting that "the Linux Community is having an on-again off-again love affair with Dell." More than 700 Diggs and 150 comments followed from that one, along with many more on the Helios site, and Teisberg addressed the issue on the Loop as well.
All this controversy, even as bloggers celebrated the fact that Ubuntu 9.04 boots in only 21.4 seconds!
IE's Loss, Open Source's Gain
In fact, more cheerful news emerged recently in the form of a report indicating that Internet Explorer continues to lose market share to open source browsers such as Firefox and Google Chrome.
More than 1,700 Diggs and 300 comments greeted the Ars Technica article on the topic, as bloggers cheered Redmond's loss.
"I'm not surprised that IE keeps losing market share," Slashdot blogger Mhall119 told LinuxInsider. "Browsers are a commodity now — almost every Web site works exactly the same in Firefox, Safari, Opera and now Chrome. If anything, IE just doesn't fit in anymore."
'Not Something to Sneeze At'
Actually, "the only thing that kept IE set apart — ActiveX — is now viewed as a blight on the World Wide Web. Its selling point of the past is now considered a defect, even by newer versions of itself," he added.
The lack of "a serious Linux port" makes it hard to think of Google Chrome as an open source browser, Monochrome Mentality blogger Kevin Dean told LinuxInsider.
It's also important to note that "IE still holds an 89 percent share, and that's not something to sneeze at," Dean pointed out. "I think it goes to show just how powerful pre-installation is, and — more than that — with all the alternative browsers out there for Windows users, most people don't know they have other options."
Free Software Song
Nevertheless, "it's great to see that Microsoft is slipping," he said. "Internet Explorer 7 is actually decent enough that I'm able to use it without trying to claw out my eyes, but that's mainly because it incorporated some features of Firefox."
Firefox is also building on the some of the things that made IE 7 nicer than its predecessor, Dean added. "I love to see the competition: It generates an all-around better internet experience for everyone," he said.
With so much good news and optimism, it's enough to make a geek want to burst out singing a spirited rendition of Richard Stallman's Free Software Song. Go ahead — join in anytime!
A 'Linux Killer'?
We'd be remiss not to mention, however, a discussion that's been going back and forth on the topic of Windows 7. The debate has been going on for some time now — but even in the last week or two, it continued unabated.
Specifically, two separate articles on Digg — one focusing on a ZDNet blog and the other on a NetworkWorld.com article — pondered assertions that Windows 7 will be a "Linux killer," while the Linux Loop's Teisberg tried to cut through some of the surrounding hype.
"Windows 7 will probably be a good release as far as I am concerned, if only for the performance improvement," Teisberg concluded. "It just won't be the ground breaking, new and amazing release that some people say it will be."
'I Think Not'
Yet there are those — perhaps most vocally of late, Network World's Ron Barrett — who believes Windows 7 will "crush" Linux. Them's fighting words, so we here at LinuxInsider belted out one last refrain ("join us now and share the software…") and then took to the streets for some more insight.
"Linux killer? I think not," Montreal consultant and Slashdot blogger Gerhard Mack told LinuxInsider. "It will take more than a new interface to make Linux users switch back."
In the meantime, "Windows 7 still requires a more powerful system than XP while Linux can manage Vista-style effects on a machine fast enough for XP," he said.
"The Linux folks aren't relaxing, either, and now that they have the pretty graphics they are working to make Linux less resource-intensive — so expect things to only get better from here," Mack added.
Microsoft 'Is Killing Itself'
"I believe GNU/Linux has been making progress over that other OS since before XP — only now, in 2009, is M$ beginning to implement some of the security/performance features we have enjoyed all these years," blogger Robert Pogson told LinuxInsider. "Vista was so bloated that even normal users of that other OS were shocked. They were getting performance similar to malware-infestation out of the box."
Windows 7 may be "a service pack of Vista or it may be the result of removing some excess bloat — a nip and tuck job — but it will not likely be anywhere as good as what we get with GNU/Linux," Pogson said.
In fact, "if 7 is as similar to Vista as described, there is no need to migrate to it, just away," he added. "I think M$ is killing itself. GNU/Linux does not have to do much except pick up the pieces from the collapse."
Two Markets
Similarly: "I predict that Windows 7 will be spectacular in exactly how irrelevant it is long-term," Dean said. "The general tone of the reviews I've seen so far kind of emphasize that not much has changed from Vista except for performance. Why, then, do the speculators think it is going to do anything significant in terms of attracting users?"
Others saw it differently: "Since Windows 7 isn't designed for servers or phones, it really has two markets: desktops/laptops and netbooks," Mhall119 asserted. "I see it doing very well on the desktop, because of market share and OEM commitment, and it will probably slow the adoption of Linux on the desktop as the remaining XP holdouts will switch to 7 instead of Linux."
'I Don't Think 7 Can Compete'
In the netbook market, however, "I don't think 7 can compete," he said. "As Windows advocates have been saying for years about the desktop, people use applications. Even if 7 will run on netbooks, the applications that keep people on Windows won't."
Vista, and now 7, "come with lots of new features and visual effects, and the computers they run on come with more memory, bigger hard drives and more powerful graphics cards," Mhall119 pointed out. "Windows application and game developers have and will continue to take advantage of them.
"As a result, most Windows applications and games won't be running on a slow processor, small SSD drive and little memory," he concluded. "And without the applications, there's no incentive to use Windows."