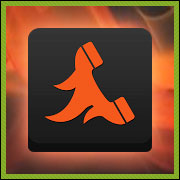 Burner from Ad Hoc Labs is free on Google Play.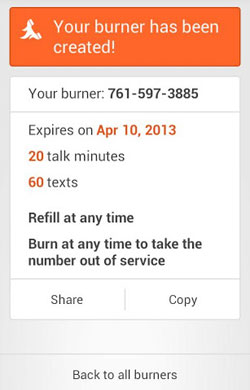 If you've ever hesitated when giving out your phone number to someone, Burner may be for you.
The app provides disposable, short-term phone numbers that you can use if you feel the need for some number privacy and don't want your real number known. Use the temporary number, or "burner," for as long as necessary and then "burn" it when you're done to eliminate excessive interruptions in your life.
You don't have to be a drug dealer straight out of Central Casting with a bag full of low-end disposable Nokias to need some privacy. Buying and selling on classified websites like Craigslist can benefit, as can dating.
Amusingly, one of the Burner app founders used to work for Nokia.
Pricing
Download the app from the Google Play store and you get one free burner for a day. The pricing structure is convoluted because you use credits to create or extend numbers.
It's likely you will need more than one day for most things, so anticipate paying — a Craigslist post likely has a life of at least a few days, and one would expect any good dating prospect will be given at least that time-frame to call.
Eight credits cost US$4.99 — you can buy more or less — but that five dollars will buy you a large burner that lasts for either 60 days, 75 voice minutes or 225 texts, or for 30 days, 90 minutes or 270 texts. Credits are obtained through an in-app purchase.
A referral code system lets you earn credits — and many are doing just that by publishing their code within the Google Play Burner User Reviews section. Code users get two free credits on sign-up, not just the one.
Numbers are available in any area code, but not internationally like other like-minded apps. AffinityClick's Hushed, for example, says it offers numbers globally.
Burner works by tying your Burner number to your main phone number. It's worth noting that, according to Burner, the service is designed for "user-to-user privacy," not anonymity. So be aware that some data will be retained by Burner in logs and backups if you are considering this app for a life on the lam.
Other features include voicemail, call history and notifications of missed calls. Ringer notifications can be customized for each number.
Testing
Setup is reasonably simple, although my verification SMS took some time to come through. After a reboot I got the text. I also ran into delays getting the in-app paid credits applied to the account. I'd suggest setting Burner up well before your next speed-dating session or large appliance disposal.
I occasionally received an error message from the server, but re-touching the button corrected the issue.
One thing that wasn't delayed was a trouble e-mail I sent to the developer querying the delayed verification SMS. Burner responded immediately. Good show.
Call quality and functionality were excellent. Placing calls and texts displayed the burner number, not my real number, and when receiving calls it was clear which calls were to the burner number and which were my personal calls.
I couldn't identify any audio difference between Burner and the native calling from the wireless network. Making calls uses minutes from your regular wireless plan, but texts don't.
Burner numbers can be taken out of service at any time with one button touch. Touching the button removed the burner immediately in my case, and sure enough, when I tried to call the disabled number, it was indeed unobtainable and provided an official-sounding message.
Conclusion
Burner, the actual service, worked fine for me. Problems with refill credits and the initial verification marred a good calling product that does do what it says it does. Hopefully, the eager support is indicative of a responsive organization, and they will fix these issues. Burner is suggesting that I install the app again.
Want to Suggest an Android App for Review?
Is there an Android app you'd like to suggest for review? Something you think other Android users would love to know about? Something you find intriguing but aren't sure it's worth your time or money?
Please send your ideas to me, and I'll consider them for a future Android app review.