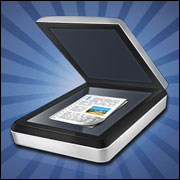 CamScanner is available for free in the Google Play Store; a licensed version costs US$4.99. If you've been trying to keep an aging all-in-one printer out of the graveyard, forget it. Move on.
I've been banging my head against the wall with a bunch of space-hogging Dell printers. I had an 8-year-old, office-grey laser printer for manuscripts and an equally old and grumpy faded-white scanner-fax-printer inkjet combo for which the cartridge nozzles kept drying out, still half full of ink.
I've hardly used either printer over the last few years, and I for sure don't need a laser or a fax anymore thanks to Dropbox and Adobe Acrobat, with its formatted PDF document files.
I did the math while pondering the latest printer resuscitation, and a new laser toner cartridge was going to cost me as much as a new printer, as was keeping-on-keeping-on buying flawed Dell ink cartridges online for the creaking all-in-one.
Consequently, I threw the two behemoths into the creek near my home. Just kidding — but I did spend $65 on a wireless Canon Pixma scanner-printer combo at Fry's. No fax, no laser, who cares.
App Alternatives
An alternative in my thinking at the time — one that I ultimately dismissed because I do print the occasional document — was to scrap the entire $65 all-in-one-printer idea and go free scanner app for Android smartphone or tablet, turning the Android device's camera into a document and image scanner.
If you've been thinking along those lines too, IntSig Information Co.'s CamScanner (License) PDF Creator for phones or CamScanner HD (License) for tablets — each available for $4.99 in the Google Play store — may well be the right choice.
I recently took a look at both paid apps. Free versions are also available, but the licenses unlock a limitation on the number of documents that can be scanned in batch mode along with the number of pages, and they remove a watermark and advertisements.
First up, you can see why the Cam Scanner products are more popular than any of the other scanner apps in the Google Play store: The user interface is logical, and you're not left wondering which email recipient is receiving what document — as I've found with another scanning app in the past.
I captured a document and sent it to PDF in a couple of button presses.
The Features
The feature sets include batch scanning along with automatic cropping and enhancing. I found that the automatic cropping actually worked.
As one would expect, output can be to email via PDFs or JPEGs but also to a local printer via a supposedly simple-to-set-up Google plug-in. I jammed the printer spool by forgetting to turn on the new printer and then tried reinstalling the app, but still have a clogged spool at the app.
Fax is also an option, but it involves extra cost at $0.99 per page. I didn't try it.
Other features include optical character recognition for search and cloud sync, where any changes you make on one device become mirrored on any others.
Some storage is included, but a $4.99-a-month premium upgrade gets you more. The somewhat hidden up-sell also gets you possibly important OCR text extraction and higher-resolution scans.
The Conclusion
Look at a dedicated desktop printer-scanner all-in-one like the Canon Pixma for combined high-resolution scanning, OCR and printing, and a tangible flat, glass bed to produce wrinkle-free documents — all of which can be squirted easily into a PC for editing.
Portable CamScanner, on the other hand, is likely more suitable for life on the road as well as sharing and cloud functions. Beware the $4.99 a month up-sell, though.
Want to Suggest an Android App for Review?
Is there an Android app you'd like to suggest for review? Something you think other Android users would love to know about? Something you find intriguing but aren't sure it's worth your time or money?
Please send your ideas to me, and I'll consider them for a future Android app review.