Cisco on Tuesday unveiled the Cisco Cius, an Android-powered tablet that targets business users.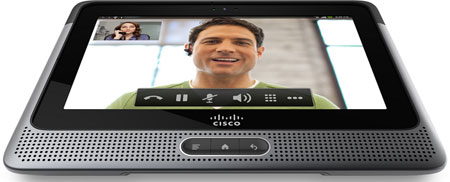 The Cisco Cius Android tablet
Billed as a "mobile collaboration business tablet," the Cius delivers virtual desktop integration with access from anywhere to the full range of Cisco collaboration and communication applications, including HD video.
The ultra-portable device weighs in at just 1.15 lbs. and offers multiparty conferencing, email, messaging, browsing and the ability to produce, edit and share content stored locally or centrally in the cloud. Its combination of applications and flexible computing options, in fact, provides "a compelling alternative to today's PC-on-every-desktop paradigm," Cisco said.
Customer trials of the Cisco Cius will begin in the third quarter of this year, with general availability in the first quarter of 2011. Pricing was not announced, and Cisco did not respond by press time to LinuxInsider's request for more information.
'Cisco Got It Right'
While it may be tempting to view Cisco's entry as an attempt to take on Apple's wildly successful iPad, that's actually not the case, Jim McGregor, chief technology strategist with In-Stat, told LinuxInsider.
"Cisco is not trying to compete with Apple," McGregor explained. "The two companies are targeting completely different segments and usage models. And like Apple in the consumer segment, Cisco offers complete solutions for businesses."
With the Cius, "I think Cisco got it right," he opined. "Since the first inceptions of MIDs (mobile Internet devices) several years ago, I have been advocating targeting vertical segments because they have much more defined usage models. And the Android platform continues to gain momentum."
In short, "the tablet is a great tool that could be used in a variety of ways for communication and information, and with Cisco's emphasis on corporate WiFi solutions, this just adds another compelling reason for using Cisco solutions," McGregor concluded.
A 720p HD Camera
The Cius will be offered with an optional HD audio station equipped with a telephone handset speakerphone, HD DisplayPort and USB ports.
A front-mounted 720p HD camera refreshes at up to 30 frames per second, while a 5-megapixel rear-facing camera can transmit streaming VGA-quality video and capture still images.
Also included in the Cius are a seven-inch, high-resolution widescreen super VGA touch-target display and single-button TelePresence interoperability that can be used either when the tablet is docked or remotely via WiFi.
SDK on the Way
Dual noise-canceling microphones are designed for audio conferencing, while an on-board accelerometer readily orients applications for viewing in portrait or landscape mode.
With a battery life of eight hours, the Cisco Cius supports 802.11 a/b/g/n WiFi for enterprise campus mobility and 3G cellular services when off-campus; 4G services will be available later. Bluetooth and Micro-USB means users can work untethered and share data with a PC, Cisco said.
In addition to supporting a full suite of its own collaboration applications, Cisco will help expand the range of Android-developed apps by offering Cisco Collaboration APIs to developers through an SDK (software developer kit).
'We're in Early Days Here'
"I think Cisco's use of Android for the Cius is indicative of Android's broad interest and use across smartphones, tablets and other devices, including those in the enterprise, where the Cius and Cisco are most likely to have an impact," 451 Group analyst Jay Lyman told LinuxInsider. "There will most certainly be enterprise iPad use, but I do think we will continue to see Android aimed at a range of more specific users and use cases."
Indeed, "I think the most important thing to remember about the tablet market is that we're really in early days here," Charles King, principal analyst at Pund-IT, pointed out.
Most tablets so far have been positioned as "complementary devices," King told LinuxInsider. The iPad, for instance, is "very good at consuming content, but less effective for creating content."
'It Could Become a Formidable Player'
Most devices have also been aimed squarely at consumers, he added.
"I think that's the opening Cisco sees here," he explained. Specifically, there's a real opportunity "for vendors including Cisco to make a case for the tablet as a business device."
Of course, "having the platform is one thing," King added. "What will really make the difference for Cisco and other vendors is the developers it attracts.
"If Cisco can get some of its large developer partners on the Cius bandwagon," he concluded, "it could become a formidable player in the business tablet market."