Building on the B2B targeting and personalization ad platform it launched about a year ago, Demandbase last week debuted a new ad tool called "B2B Retargeting."
Like the Company-Targeted Advertising solution Demandbase launched in 2012, B2B Retargeting is a rare breed of online ad software in that it focuses specifically and solely on businesses — not consumers — as customers.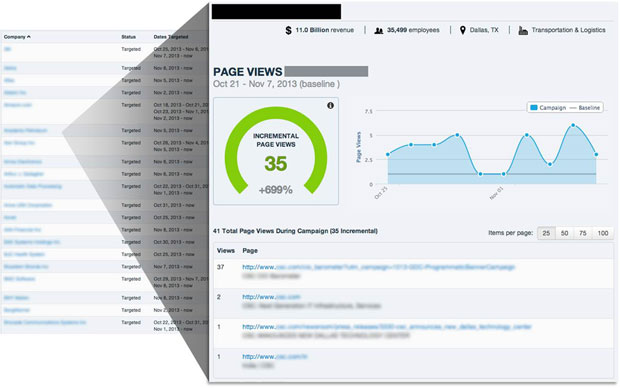 "Retargeting is a technology that has been strictly used for consumers, not on B2B outreach," Greg Ott, Demandbase's chief marketing officer, told CRM Buyer.
How Retargeting Works
Online retargeting is a strategy in which a company displays an ad to an online visitor who has somehow signaled an interest in a product. Perhaps he has visited the site a number of times looking at the same product, over and over. Or perhaps she has even gone so far as to put the product in the shopping cart, but then didn't carry through on the purchase.
Either way, that point is where a retargeting platform swings into action, displaying an ad for that product to the customer.
There are a number of platforms that offer retargeting for consumers; many can jump from online property to online property so that someone who viewed, say, a purse on eBay might find that same purse advertised while checking out the news on Google News.
How Retargeting Works, B2B-style
B2B Retargeting works on a similar premise, but there are important distinctions because of the different audience, Ott said.
"Our solution uses proprietary tech that identifies the company on a website and then allows the advertiser to filter who it wants to retarget based on that company's attributes," he said.
Also, Demandbase's B2B Retargeting will retarget not just a particular person, but that person's company, he said. That, actually, is a more reliable way to retarget, Ott added, because it is based on an IP address — the system has patented methodology to associate visitors' IP addresses with companies — and not cookies, as most B2C retargeting platforms are.
The system is able to identify the company in real-time and evaluate that specific target's buying signals based on the filters indicated by the advertiser, and then target impressions.
A Typical Transaction
A typical transaction for a B2B marketer would begin with the definition of a target company, Ott said. Demandbase has a database housing information on all mid-sized and larger companies as a starting point.
The customer then defines the attributes he or she wants to target. So, for example, a lessor of farming machinery might be interested in retargeting smaller-sized agricultural operations in the farm belt — entities, in other words, most likely to lease a tractor instead of buying one.
Then the marketer selects the criteria it feels best signals purchasing intent, Ott said. That could be anything from downloading a white paper to visiting a site, say, six times within a week.
"Not all visitors are equal in value," he explained. "For this particular marketer, a hot lead would be a company that downloaded a white paper on the benefits of leasing versus owning machinery and is located in the Iowa."
From that point, the sales team would take over.
One factor that B2B Retargeting has in common with its consumer-facing counterpart is that it works. Customers in the application's beta period reported a 50 percent increase in engagement when it retargeted companies with a signal of interest, Ott said.
"In a nutshell," Ott concluded, "the application gives the user the ability to understand a company, filter for the types of companies it wants as customers, and then see if buyers from these companies are showing enough signals of interest to place an ad in front of them."