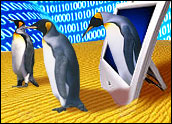 User choice is one of the hallmarks of the Linux world, and most seem to agree that it's a good thing. One might even go so far as to say it's a big part of the reason so many of us embrace Linux.
Every once in a while, however, a naysayer pipes up with concern that the choice is too much, and that's just what happened earlier this month.
"The trouble with Linux: there's too much choice" was the title of the post that sparked the debate this time around, and quite a debate it has been.
'Redundancy and Duplicated Effort'
"It's often overwhelming, needlessly complicated and an easy excuse for change," wrote Graham Morrison in the piece on TechRadar. "Choice goes hand-in-hand with redundancy and duplicated effort."
Citing Fedora's recent decision to drop photo manager F-Spot in favor of Shotwell, for example, "thousands of new Fedora users are going to think that the best photo management application on Linux has about as much functionality as Microsoft's image preview," Morrison wrote.
"If the wider community can't decide for itself what a solution should look like, the power to make those decisions will be taken out of its hands," he warned.
'Hogwash!'
Such was the strength of the reaction to Morrison's thesis that it has sparked at least two separate blog posts elsewhere, along with a virtual stampede of comments.
"I look forward to a day when there are as many Linux distributions as there are cities on Earth," shot back Bradford White on the Eleven Is Louder blog, for example.
"Hogwash!" was the response from Caitlyn Martin in the O'Reilly Community, meanwhile.
'Should We All Just Eat Corn Flakes?'
"I pose the following questions to Mr. Morrison and to all the others who share his views. Are you intimidated by the breakfast cereal aisle in [the] supermarket?" Martin added. "After all, there are so many choices. Isn't it confusing? Should we all just eat corn flakes?"
The reader comments were just as sympathetic.
"This type of story is so typical that it's revolting," wrote olefowdie on LXer, for instance. "Linux is not Windows or OSX. The best part about Linux standards is that are so many from which to choose!"
Similar sentiments were to be found on a separate LXer thread as well, in addition to elsewhere in the blogosphere. Linux Girl knew she had another incendiary debate on her hands, so she headed down to the blogosphere's Broken Windows Lounge for some cooling refreshment.
'100% Fact-Free Zone'
"I feel sorry for this guy," said Barbara Hudson, a blogger on Slashdot who goes by "Tom" on the site. "If the guy has been using linux for 12 years and still finds clicking on 'Install Software' confusing, someone must have given him a PC running Windows 3.1 and swapped the wallpaper. He just *thinks* he's running linux.
"Either that, or maybe someone should, just to see if he notices the difference," Hudson suggested.
In short, "this article could probably have benefited from a '100% Fact-Free Zone' warning label," she concluded.
'I Have No Choice but to Disagree'
Similarly, "does Linux offer too much choice? I have no choice but to disagree with Graham," Slashdot blogger yagu told Linux Girl over an icy Peppermint Penguin. "Thankfully, I have choice."
Morrison's thesis "flies in the face of 'Open,' as in 'Source,'" yagu charged. "I encourage [him] to standardize in any way he sees fit, create his own Linux distro, and perhaps call it 'Gnu-No-Choice Linux.'
"Fortunately, the Linux community grants him that choice," yagu continued. "Try arguing his points in the Windows world, and good luck!"
'Why Bother With Mac OS X?'
Taking Morrison's argument to its logical end, however, "it really makes no sense for Linux to exist at all, since it's simply one more inconvenient 'choice' from Windows," yagu argued. "Linux is completely Windows-non-standard, and it simply muddies users' waters when picking a computing platform.
"For that matter, why bother with Mac OS X?" he continued. "We already have a standard and it's Windows."
In other words, "see where things go when we stifle choice?" yagu concluded.
'Nothing to Do With Choice'
It's not actually clear what point Morrison is trying to make, "because it really seems like his issues have nothing to do with what he is ranting about," Montreal consultant and Slashdot blogger Gerhard Mack opined.
For example, "dropping a package because of possible legal issues has nothing to do with choice," Mack explained. "I'm also not sure what point he is trying to make about Android having its own app store, since apps designed for small screens would be a lot different from apps designed for a PC."
'The Right Way to Make Choices'
"Too much choice?" began blogger Robert Pogson. "Choose a distro suited to your purpose/style of IT; stick with it, and you should have a simple way of searching repositories and finding what you want semi-automatically. That is not too much choice; it is the right way to make choices."
Most distros have "nearly the same kernel, so you can do anything you want with almost any distro," Pogson added. "I like Debian GNU /Linux because I can find what I want in seconds and install it in seconds."
'One of the Biggest Reasons to Use Linux'
Linux doesn't offer too much choice, "but it may not organize its choices well enough," Slashdot blogger David Masover offered. "Trivial example: Ubuntu removes the 'Gnome or KDE?' choice, but I can still run Kubuntu or Xubuntu, or go down to Ubuntu-minimal if I want."
The ideal situation "is to provide sane defaults so that people aren't forced to make choices," Masover opined. "But if you remove choice, you remove one of the biggest reasons to use Linux in the first place."