Imagine you're walking down a city street heading for a vegan restaurant that you've heard good things about. You get to the address only to discover it has gone out of business. Hungry and disappointed, you pull out your smartphone and wail to the Twitterverse, "Veggie Delight is closed! I'm starving and there is nowhere to get a vegan meal!"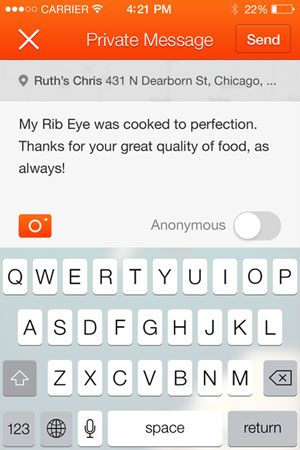 Now imagine what could unfold next: A few minutes later, you get a response from an upscale Mexican chain restaurant two blocks over. "Have lunch here!" it tweets. "Some of our dishes are vegan. How does a bean, rice and salsa bowl sound?"
That, in a nutshell, is the scenario Earshot envisions for its newly launched location-based social CRM platform, which is designed to help companies hone in on tweets, Foursquare check-ins and Instagram posts made within a certain geographic radius.
'An Intelligent Filter'
The beauty of Earshot's application is that companies can reach out to nearby customers even if they don't hashtag the names of their businesses, said CEO David Rush.
"What we are doing is providing an intelligent filter to manage and respond to inbound social media signals," Rush told CRM Buyer. "To do that, we use a geofence around the locations of the businesses."
The application also includes a client dashboard with a map of social activity at different locations, along with sentiment and other data.
How It Works
The national Mexican food chain in the example above could have a geofence around all, say, 15 of its locations in a metro area, extending anywhere from one to three blocks in all directions from the locations. Once the system is up and running, the system alerts the business if there is a tweet or post that is within "earshot" of the business.
The store or restaurant or business then uses the Earshot engagement platform — which is available either by Web or by a mobile app — to communicate with nearby people who might have an interest in stopping by.
Targeting Big Companies
Because monitoring the platform is a real-time — if not full-time — occupation and requires some sensitivity to corporate goals, Earshot is best suited for large companies that can devote resources to the application, Rush said.
"We are targeting national companies," he said. "We are finding they are staffed properly to manage and take on a solution like ours."
That said, a small business could use it if it wanted to, Rush added.
"We have a program that could accommodate a small business," he explained. "We just make them aware that it requires someone on their end to manage and respond to folks in real time."
Building Intelligence
There's also more to come, Rush promises: "We are building our own intelligence and prioritization filters that will allow for other variables such as Klout scores," for example.
"The company might want to know if the person is a loyalty club member or has downloaded one of its apps," he suggested. "We could apply that data as the social media signals are prioritized."
There are "traditional listening platforms on the market that do a great job of looking across all of social media and picking up mentions," Rush pointed out. "This is helpful but it is not actionable.
"Because we are geospecific, we can pick up signals, giving marketing teams location-specific insights into what people are doing," he added.
A Licensing Scenario
Earshot also has developed a flexible API and is currently in discussions with potential partners to license its software, Rush noted.
"Theoretically we would plug our solution into a tool that manages inbound social media," he said. "It would be another way of presenting tweets or social signals to a company."