TreeHouse Brings Content Marketing Into Its CRM Fold
TreeHouse Interactive recently updated the core functionality in its Marketing View marketing automation platform by adding a new tool called "Content Marketing Manager."
Marketing automation -- along with TreeHouse's other play in the CRM space, partner relationship management -- is one of the company's raisons d'Ítre.
"We shipped our first marketing automation platform in 1997, which makes us an elder statesman in this space," Erich Flynn, TreeHouse CEO, told CRM Buyer.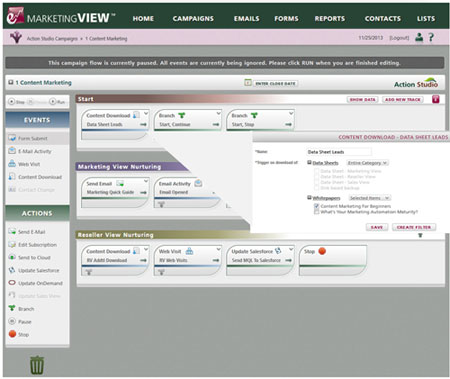 Content Marketing Manager is the newest addition to TreeHouse's Marketing View suite. (click to enlarge)
It is telling, therefore, that the company has updated its marketing automation suite with technology that enhances one of the fastest-growing digital marketing activities: content marketing.
"Numerous statistics show how important content marketing has become to companies," Flynn said. "We have seen it ourselves among our own customer base -- content marketing is starting to exceed most other avenues of marketing in importance, except perhaps lead nurturing."
That's also telling, because TreeHouse beefed up its lead-nurturing functionality as well in an update earlier this year.
Content Marketing Manager
Users can access TreeHouse's Content Marketing Manager via its Action Studio, a suite of multichannel tools launched in March that are designed to facilitate lead nurturing.
The included tools, which are embedded in a drag-and-drop interface, run the gamut from campaign creation to providing access to behavioral and contact data.
Now, tools introduced in Content Marketing Manager are aimed at specific pain points associated with this genre of marketing, Flynn said, starting with the issue of whether or not to gate content for users.
This is a sensitive question for companies, he noted.
Just One Page
"If you don't put any gate around the content, you don't know who is interacting with it," Flynn explained. On the other hand, if there are too many hurdles for consumers before they can get to the content, then people won't bother to jump over them, he added, referring to the forms and contact sheets typically required to gain access to free content.
Content Marketing Manager provides just one page or form that can be associated with any piece of content from a company. So, once an end user downloads, say, a white paper from company A, every time he returns to the site, he automatically gets access to case studies that are subsequently posted, for example, or updates to that original white paper.
"The user will never have to fill out another contact form again," Flynn said.
The application also tracks users' downloading behavior and -- this is key, Flynn said -- guides the company in nurturing those leads based on the contact file that was filled out and any other metrics the company wants to use.
So, to use the white paper example, the company could set up a metric that calls for additional marketing to anyone who downloaded that paper and has visited the site more than six times over a one-month period because such behavior, the company has determined, indicates a high buying potential.
Early users are seeing very encouraging results from this feature, Flynn said
Reporting and Conversion
Content Marketing Manager also comes with reporting tools and conversion intelligence, Flynn continued.
Those features allow users to track conversions by URL, determine which social media sites are performing the best with a particular piece of content, and summarize and rank performance by any number factors, including search engine.
"I can score on email open, link click, purchase events or dollars purchased," Flynn said.
The company focused on making the tool as easy as possible to use.
"The average person can create a campaign in about an hour," he concluded, "configuring it all on one screen."

---