Ever since the advent of the first radios and TVs, home entertainment has been a relatively high-tech enterprise, but in the past few years, there has been a revolution in the quality of sights and sounds available.
This arena continues to be an experimental space for new and improved technologies that enhance viewing and listening experiences.
Home Theatrics
These days, going to the theater can sometimes mean staying home, where advanced home theater systems come complete with large-screen TVs, professional-quality sound systems, and seating that can rival or top that of "real" theaters.
Part of what makes these home theater systems particularly competitive is their focus on high-tech sound systems, according to Jeff Cowan, vice president of training and customer insight for D&M Holdings.
"As TV sets have gotten thinner and thinner, there is less space for speakers, so sound quality in the sets themselves has inevitably been compromised," Cowan told TechNewsWorld.
"This, along with the proliferation of audio and video content with great audio potential, has created consumer demand for surround-sound systems capable of delivering all the power and impact of Blu-ray movies and other sources, as well as the new generation of video games," he said. "People are looking for an impactful, surround-sound experience from a system that is both simple to set up and easy to use."
D&M Holdings includes various brands, including Denon and Boston Acoustics, giving it a range of technologies and products from which to draw.
"While most HTiB systems simply use a normal A/V receiver and pair it with the kinds of loudspeakers that allow them to offer the system at a low price point, we're able to combine a true Denon-quality receiver with powerful, high-quality BA loudspeakers — and ensure that all five channels are electrically and acoustically tuned and matched for optimum performance," said Cowan.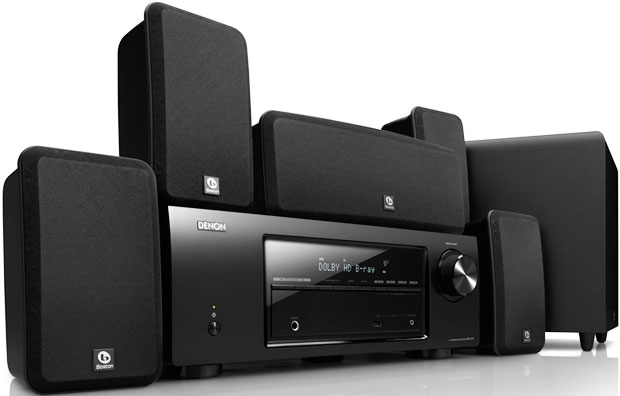 Digital Radio
Another technology changing the nature of home entertainment is digital radio signals and the equipment that capture them.
"Much like the transition to HDTV, the broadcast system for radio is moving into the digital era," Jeff Jury, chief operating officer with iBiquity Digital, told TechNewsWorld. "This allows for a wider range of new consumer services and channels."
Digital technology has revamped what it means to listen to the radio, Jury said.
"HD Radio technology offers new services in digital sound quality that you cannot get in analog. The consumer gets new channels where none existed before, song title and artist, images, the ability to store information through a bookmark function, traffic and other similar services and iTunes Tagging — the ability to tag a song in select radios with iPhone/iPod connections and purchase the song when the device is connected to the iTunes store," he noted.
"Consumers now have a much wider range of content to choose from than in an analog world," Jury said.
To take advantage of these signals, consumers need HD radio-enabled receivers, which are becoming the norm in both homes and cars. The technology is making its way into mobile devices, as well.
"As the technology moves into smartphones, you will see more opportunities with interactivity and new features tying together the over-the-air broadcast content with IP-delivered content," said Jury. "This will create a richer radio experience for consumers. And you will see a continual expansion of radio stations in North and South America and Asia broadcasting with HD radio technology."
Accessible Entertainment
Home entertainment technologies have also been evolving for the hearing-impaired. When her father suffered hearing loss, Michele Ahlman, president of ClearSounds Communications, began to see the need for such technologies.
"My dad was a tank commander in the Army and lost his hearing through noise exposure," Ahlman told TechNewsWorld. "His experience with hearing loss, coupled with my mom's desire to make a difference and have a positive impact, inspired the launch of our company."
One of the company's bestsellers is the ClearTV Infrared System, which uses infrared technology to enhance TV and audio listening experiences for the hearing-impaired.
"The sound quality is amazing, really bringing the listening experience to life," said Ahlman.
Another popular product, the Quattro Connect360 System, uses Bluetooth technology to connect consumers to TVs, audio systems, phones, mobile devices and laptops by turning hearing aids or cochlear implants into headsets and thus delivering customized sound to the listener.
For those who don't wear a hearing aid, the system comes with a patented headset that delivers enhanced sound while protecting the listener's hearing.
"These products are popular because they keep people connected to their family, friends, community — to their lives," said Ahlman.
"It's not just about the connection; it's about the quality of the listening experience," she emphasized. "Our products reduce the stress and frustration those with hearing loss have when they strain to hear clearly. They bring sounds to life for those without hearing loss. They motivate and inspire people to connect and enjoy life."