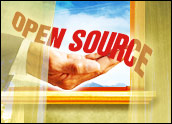 Perhaps it was the unofficial arrival of summer earlier this week; or maybe it's simply the overwhelming beauty of FOSS. Either way, Linux bloggers far and wide have seemed inspired to accentuate the positive, and to celebrate all that's wonderful about free and open source software.
TuxRadar, for example, recently posted a list of "100 open source gems," highlighting its picks for some of the best new open source releases and updates.
From AgendaXML to Zile, the alphabetical list provides a nice introduction to a wide variety of apps worth trying out one of these lazy summer days. It's not beach reading — it's beachside tinkering. What could be better?
"What a great list of software — really really cool," enthused ThorstenS in the comments following part 1 of the article. "After reading this article, too many tabs in my browser are open and wait for further reading. ;-)"
Ah, the joy of it — that collection of open tabs is like money in the intellectual bank, we say!
'Apps Worth Bragging About'
Along similar lines, Carla Schroder recently began a review of "8 great Linux apps worth bragging about" over at LinuxPlanet.
Sneak peak: Audacity, Zoneminder, Kile and KompoZer are the first four Schroder reviews; stay tuned for the second installment!
Zeroing in on distros, Will Kraft at MaximumPC recently posted an article entitled, "There's WAY more to Linux than Ubuntu: 8 distros compared." Some 30 comments greeted the article there before it was picked up on Digg, generating more than 900 Diggs and a further 270 comments.
Our favorite quip: "Can someone please help. I installed Ubuntu and I can't find iTunes or MS Word. Please help, thanks."
Thanks to FruitFocker on Digg for that one!
'Best Distros'
On TechRadar, meanwhile, came a post entitled, "Best Linux distros for power users, gamers, newbies and more." Digg bloggers soon picked up on that one too, to the tune of more than 800 Diggs and 140 comments.
Last but not least, we can't resist also mentioning one more TuxRadar tidbit — this one entitled, "How to build your own Linux distro." Stellar apps are all good and well, but for the truly determined hacker, there's just nothing like *really* doing it yourself!
All in all, it's been a virtual showcase of FOSS's best and brightest gems, sparkling like never before in the unofficial summer sun.
Could there be any diverging opinions out there as to their worth? We here at LinuxInsider took to the streets to find out.
'A Right of Passage'
"I love reading about new Linux apps without having to troll through SourceForge for them," Montreal consultant and Slashdot blogger Gerhard Mack told LinuxInsider. "I think these sorts of stories will help show new people the advantages of Linux more than anything else."
Now that distros are "getting more point-and-click easy to install and admin," meanwhile, "I think it's important that those that want to learn the true guts if their system still have the option to do so," Mack added. "Rolling your own distro should be a right of passage for geeks who really want to learn their system."
As for the distro comparisons, "I think articles like this are great, in that they show the value of competition inherent in open source software," Monochrome Mentality blogger Kevin Dean told LinuxInsider.
'They Don't Pigeonhole Me'
One thing such articles neglect, however, is "one of the most important strengths of Linux: flexibility," he added.
"Every Linux distro offers the potential to be tweaked and customized to the user behind the keyboard," Dean explained. "It's why I have always found that the Debian-derived distros suit me best: They offer the largest repository of installable software up front, and they don't pigeonhole me by assuming I'm a 'gamer' or a 'newbie' or a 'hacker' or a 'developer.'"
All of the distros reviewed "offer the extendibility that Linux is famous for, and rather than focusing on the distro's default configuration, I think the real value in all of them is how the default can be broken to meet the needs of the user," Dean concluded.
'The Other White Meat'
"Not only are there plenty of replacements available for users wanting to hold onto the functionality of Word/Outlook/PhotoShop, etc., but in addition to the 'other white meat' packages, there are plenty of serious power tools, often with functionality that Windows/Apple programs can only dream of," Internet marketing consultant and Slashdot blogger tjonnyc999 told LinuxInsider.
"It's nice to see more lists of promising software for Linux, both for the convenience factor and as an additional 'weapon' or educational tool in the Windows-to-Linux conversion process," he said.
OSalt.com is another place to send any doubting Thomas, tjonnyc999 added. "There may not be an exact Linux replacement for every Windows application — yet — but there is a replacement for every function of Windows applications. And then some."
'There Is a Solution'
Then, of course, there's the fact that such applications are free and tend to be associated with user communities "that offer a much greater chance of answering an esoteric question, or discovering a better way of doing something, than standard tech support lines," he noted.
"Besides the powerful heavyweights, the Linux universe is alive with thousands of small, focused, agile tools designed to 'do one thing, and do it extremely well,'" tjonnyc999 opined. "Whether you have a craving for a chemical formula calculator or a real-time hard-drive benchmark, a utility to secure your computer based on the proximity of your Bluetooth phone, or even a scheduling/time-tabling program to manage teachers/workers/volunteers, there is a solution."
Indeed, "there are so many good things to find in GNU/Linux that no list of gems or best anythings will do it justice," educator and blogger Robert Pogson told LinuxInsider via email.
'What Joy Is in My Heart'
"When I have a new task I need to get done, I type, 'apt-cache search some keywords' and I get a list of packages from the Debian repository with those keywords somewhere," Pogson said. "I then filter with grep and expand the detail with the -f option, and I usually have some good hints within 60 seconds.
"'apt-get install package' followed by 'dpkg -L package|grep bin' and I can run the new stuff and get what I want without downloading/agreeing/paying/requisitioning/waiting for mail," he continued. "I keep my own repository so I can have instant gratification or whatever a RAID or gigabit/s link can give. How cool is that?"
GNU/Linux terminal servers, meanwhile, are "technological magic making computing affordable for schools," Pogson noted. "I have seen XP pegged so many times doing little, not bringing joy to a single user. What joy is in my heart seeing shared memory and file caching working so well for kids who just want to learn and not 'wait, please wait.'"
In all, the joy is right up there with "maple-walnut ice-cream, smelling flowers, fishing and loving," Pogson enthused. "All those kinds of good things in life are what a computer user enjoys when they use GNU/Linux."